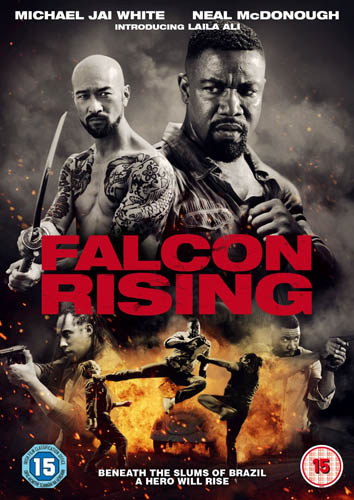 FALCON RISING (2014)
Directed by Ernie Barbarash
On DVD and VOD in the UK from 18th May 2015
Marine veteran John 'Falcon' Chapman is suffering from post traumatic stress disorder and struggling to cope with life as a civilian after his service in Afghanistan and Iraq. Haunted by visions from war, Chapman is on the brink but when he receives news that his sister Cindy has been attacked and left for dead in the Brazilian favelas whilst working at a charity organisation there, he focuses his efforts on finding those responsible.
Action thriller FALCON RISING stars martial artist Michael Jai White (Undisputed 2: Last Man Standing, Black Dynamite) as the talented former marine John Chapman who finds himself travelling to a place where corruption is rife, children are lured into prostitution and drug dealers rule the streets. Finding the culprits for his sister's almost-fatal attack will prove difficult but if anyone can do it, it's John, and he won't stop until they're brought to justice for their actions.
Michael Jai White isn't the only martial arts actor to star in this movie. Muhammed Ali's daughter, Laila Ali, an accomplished unbeaten boxer in her own right stars in her second movie performance as John's sister Cindy who's trying to help the youth and families in the favelas of Brazil who are struggling to get by. Lateef Crowder, a skilled Capoeira martial artist who you might recognise from Warrior King/Tom Yum Goong starring opposite Tony Jaa, plays Brazilian police officer Carlos Bororo who works alongside Detective Thiago Santo (Jimmy Navaro) as officers investigating Cindy's attack and attempting to clean up the favelas.
The story of one man's self-destruction turned hunt for justice is a simple but effective one, layered with other minor plot threads to add depth and to give the lead character something to really fight for. Chapman might be fighting for his sister but he's also unearthing more scandal then he had first anticipated, creating him into a hero, a man who gets things done and fights the good fight.
Speaking of fights, martial arts enthusiasts will be pleased to know there's plenty of hand-to-hand combat action on display as expected from a film starring Michael Jai White. White's muscular physique and tall stature make Chapman an imposing character who you wouldn't like to cross. I almost feel sorry for the bad guys as their encounter won't turn out pretty for them. White showcases his skills against the bad guys of the movie with a varity of kicks, strikes, blocks and wrist locks. White's techniques are fluid and impressive, with the force felt with each strike. He even performs a few jump kicks and reverse kicks that really burst off the screen and in some cases, provide a couple of laughs too. Lateef Crowder is another star who gets to show off his amazing skills, going one-on-one in a Capoeira duel with a local drug dealer gang member. As with most martial arts movies, the big fight is saved til last and FALCON RISING is no exception. White's Chapman must face the onslaught of three villains of the piece including one armed with a katana. It's just as well that Chapman is handy with a pair of makeshift tonfa.
Michael Jai White's performance, not just as a martial artist but as an actor too, is a tremendous one with the star adding an emotional depth to his character who constantly strives to overcome his demons. This isn't some big brave man from the get go. John Chapman is a broken human being who needs help but his life is given purpose when his sister is in danger. White conveys this struggle within Chapman and shows Chapman's devotion and love for his sister and for justice. Luckily for Chapman, he has a former colleague, Manny Ridley (Neal McDonough), who works at the U.S. Embassy in Brazil, to help him on his quest for truth. The chemistry between White and McDonough is terrific and the two really bounce off each other, convincing as old friends. Similarly, although brief, White's performance opposite Laila Ali as Cindy is convincing, offering up a tender yet honest relationship only siblings have.
With most of the action set in the favelas, the colourful beauty of Brazil creates a stunning backdrop and contrast to the murkiness of the crime that goes on within the movie. As we find out, it's not all sunshine and beaches.
An action-packed, intense thrill ride with an emotional story you can invest in, FALCON RISING is an impressive first entry into what will no doubt be a 'Falcon' franchise. More please!
Rating: