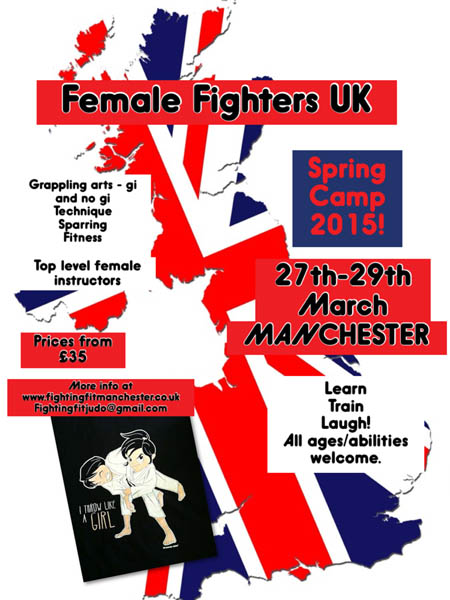 From 27th to 29th March 2015, a Female Fighters UK training camp will take place at Fighting Fit in Manchester.
The camp is open to all ages and abilities and will feature grappling technique in the gi and no-gi as well as sparring and fitness, with technical sessions lead by female high level coaches and players (black belts or pro fighters) such as Olympic Judoka Sophie Cox, BJJ black belt Anna Mayne and MMA fighter Rosi Sexton.
Prices start from £35 for those who book early. Take a look at the price list below.
Early Bird – up to 1st March 2015

 Day pass £35
Weekend pass £60
3 day pass £75
AFTER March 1st 2015

Day pass £40
Weekend pass £65
3 day pass £80
To book your place at the camp or to find out more info, email Sophie at fightingfitjudo@gmail.com
A rough timetable of events during the weekend is below but is not final and may be subject to change.
Friday 27th March – Gi
Saturday 28th March – Gi
Sunday 29th March – No Gi
3.00pm

Arival and check in

8-9.15am

Drill, dynamic stretching

8-9am

Open mat

4.00 – 5.00pm

Technical

9.15-10.15

Breakfast

9.15-10.15

Breakfast

5.00 – 6.00pm

Open Mat

10.30-11.30

Workshop – nutrition

Or

Functional training – Outdoor activities

10.30-11.30

Workshop – psychology

Or

Functional training – Outdoor activities

7.30

Evening meal (not included)

Activities

11.30-12.00

Technical

12-1.30pm

Lunch (not included)

12.00- 1.00

Open Mat

1.30-2.30

Technical

1-2.30

Lunch (not included)

2.30-4.00

Open mat

2.30-3.30

Technical

4-5pm

Close

3.30-5pm

Open mat

6-9pm

Meal and activities