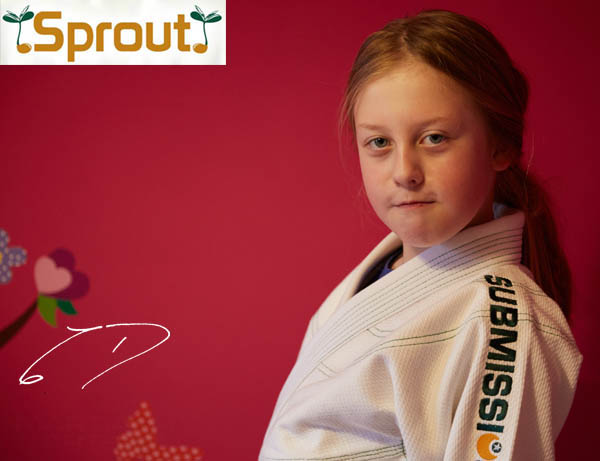 Jiu-Jitsu and grappling isn't just for us adults. It's a great hobby and sport to get children into, not only to keep them fit and healthy but also to teach them self defence and boost their confidence whilst having fun and making new friends.
Compared to adult jiu-jitsu uniforms, there's not as much choice for children on the market when it comes to gis. A lot of the children at our club wear quite thin gis, almost like karate ones, whilst some others wear the BJJ style uniforms.
In this review, I'll be taking a look at Submission Fight Co. Sprout Kids BJJ Gi.
Design and Appearance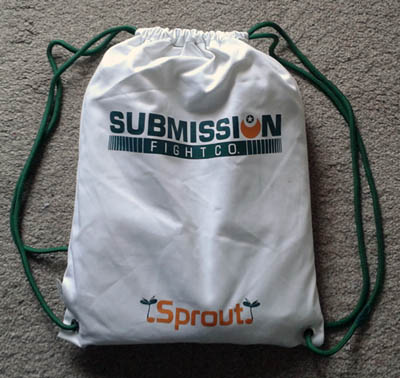 The Submission Fight Co. Sprout Kids Gi comes packaged in a simple yet smart drawstring gym bag. With the white Sprout gi, you get a matching white cotton/polyester blend drawstring gym bag with green cord straps and printed with the Submission Fight Co. logo and the Sprout logo, both of which are green and orange. The gym bag is a lovely addition to the gi, as not only is it handy to carry the gi to and from class and for other usages, but it's made from the same fabric as the gi pants.
Whilst I love a strong gi which has a bit of weight to it for myself, I was a bit unsure how heavy the Submission FC Kids Sprout Gi would be. Kids in general don't like heavy uniforms, at least I didn't as a child anyhow. Fortunately, the Sprout BJJ Gi is quite light despite its appearance.
The Sprout gi jacket is made from soft, lightweight, yet strong and durable 350gsm single weave polyester cotton blend. The jacket features dark green stitching to match the dark green and orange embroidery of the Submission logo on each shoulder and the sprout embroideries near the hem of the gi jacket. The lower left Sprout embroideries consist of orange text bookended with two little sprouts whilst a large sprout sits at the side slits on both the left and right side of the jacket. The side splits are hemmed in dark green to match the green of the embroidery too. The jacket's collar is quite wide (2 inches) and thick yet flexible and is decorated with a stitched on Submission Fight Co. logo patch towards the hem.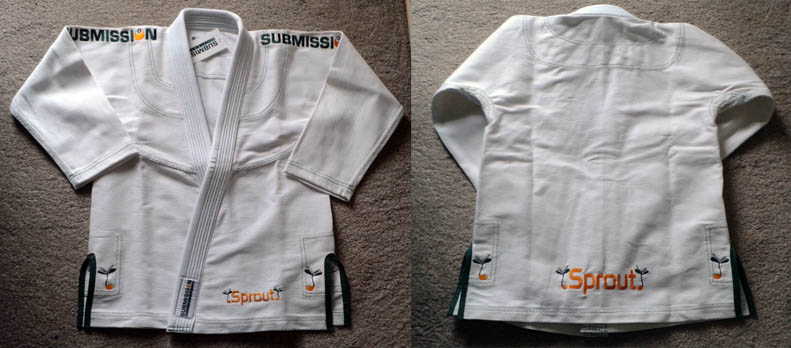 The back of the gi jacket is fairly plain, except for the bottom where the sprout embroideries are repeated next to the side slits to mimic the front design, and a large Sprout text in the middle, once again bookended with two sprouts. The orange of the embroideries is a lovely shade and when the light hits it, it shimmers. The fact that Submission Fight Co. have opted for embroidery rather than patches is to be applauded, as embroidery looks 10x better than patches and gives off a premium finish and slick design.
The Submission FC Sprout Kids BJJ white gi pants are made from durable, lightweight 10oz cotton/polyester twill and are reinforced at the knees which is where the gi is likely to wear most during grappling. Like the gi jacket, the pants are decorated with dark green stitching and two orange and green sprout embroideries, one at each knee, with Sprout script bookended by sprouts embroidered at the top of the left leg. The back of the gi pants are plain, without embroideries, except for the green stitching seen throught the BJJ uniform.
The gi pants are fastened using a thick dark green rope drawstring which is threaded through five matching green loops – double loops on the left and right side with one in the middle. The ropes have a little stretch to them which helps when tying them in a bow.
The fabric content and washing instruction label on the the Submission Fight Co. Sprout Kids BJJ Gi advises to wash at 30 degrees, whilst tumble drying afterwards is a strict no-no. Instead, the gi is better hang dried on the maiden or washing line if you have the weather for it, though it does recommend to dry in the shade probably so the sun doesn't bleach it. You don't want a yellow gi, do you!
Made in Pakistan, the gi looks and feels high quality with neat stitching present throughout.
Fit and Measurements
The K3 gi was requested for Caitlin, a young girl of 9 years old who's 4'6″. The K3 Sprout Gi jacket is currently a bit too big on Caitlin, with her hands only just past the elbows of the jacket and the width a bit too large for her as of yet. I'd imagine the gi jacket would fit a child with a stockier build. The pants, however, are a better fit. Although being a touch long, the length of the pants come up to the ankle when fastened an inch heigher up towards the belly button which means they're great for use now and will fit even better when she grows a little more and can be fastened properly at the hips.
As a small individual myself, but taller than Caitlin at 5'2″, I tried the gi to see what the maximum size this gi would fit. The gi comes up a little short on the wrists and ankle but the jacket is a much better fit on the body for my 34″ chest, which leads me to believe that the gi might be suitable up to 5ft in height for a slender individual.
Below are the measurements of the K3 gi which is advised by Submission Fight Co. as to be suitable for children from 4'5″ to 4'9″ in height and between 75lbs and 90lbs in weight, though this is always an approximation.
Jacket Measurements
Length from neck to hem
26.5 inches (28 including collar)
Chest (armpit to armpit)
20 inches
Sleeve Length from shoulder
23.5 inches
Wrist width
6 inches (12 inches circumference)
Trouser Measurements
Waist
18 inches adjustable (36 inches circumference)
Leg Length
32 inches
Inside Leg Length
22 inches
Leg Width Hem
8.5 inches (17 inches circumference)
Wearing the Sprout Gi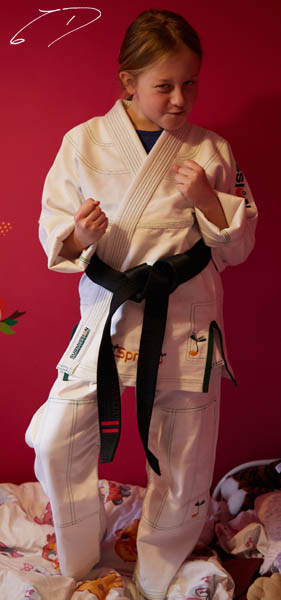 Caitlin is newish to the ju-jitsu game but is eager to learn and has a great teacher in her father, 2nd Dan black belt Chris Davies, who teaches grappling at our club. And the best thing about having a black belt instructor as a dad is that you get to inherit his belt and wear it prematurely, especially when he's not looking! 🙂
Caitlin has spent quite a few sessions rolling and doing technique in the Sprout Kids gi, albeit with the jacket sleeves rolled up until it fits better. She commented on how soft it is and how it feels really nice to wear. When I asked her what she liked about it, she said she loved the Sprout embroideries, especially on the back and shoulders, and the gi bag to put it in. When I asked her if there was anything she didn't like about it, she answered "It's too big!".
Kids grow up so quickly these days that it's often better to buy bigger. In this case, although the size K3 was right for her height bracket and pretty much perfect in the pants length, I'd say that the gi jacket is more aimed at the height of 4'9″ for a slim child. The extra room is no big problem though as she'll grow into it in the near future. If you're looking to buy a gi to fit your child straight away, it might be preferable asking for measurements from Submission Fight Co. before ordering, just to be on the safe side.
I asked Caitlin's father Chris his thoughts on the Sprout. He was really impressed with the gi and the quality of the uniform, which mimics that of gis available for adults. He said Caitlin really likes the gi and looks forward to training in it compared to her usual gi.
As I often review BJJ gis on this website and had experience of various gis, I thought it would be a great opportunity to test the Kids Sprout gi to see if it could hold up and how it compares to the likes of the adult BJJ gis. The first thing I noticed was the weight. It's exceptionally lightweight but without feeling flimsy. The fabric is of a good quality and you can grip and pull it quite a bit without issue. The chunky collar is a great feature as some kids gis have the cheese cutter collar, as we like to call it, that will make chokes effective in a second.
Wearing the gi, it feels airy and you can move around easily in it. Kids hate weight or feeling heavy, but with this gi, it has the BJJ gi qualities without the additional mass that you tend to get with adult BJJ gis. The light fabric also keeps you cool when training and if you're entering any competition, it'd make an ideal gi especially with its IBJJF approved cut.
Overall Opinion
Having seen and experienced the Sprout Kids BJJ Gi for myself, I'm very impressed by Submission Fight Co.'s effort in making a quality kids Jiu-Jitsu uniform. It's a smashing gi that still looks great after use and makes me wish I was a kid again just so I could wear it!
I've seen my fair share of kids gis in the class from various brands, but this one is a particular standout in terms of comfort, softness, weight, decoration and quality. Caitlin's comments on the gi were positive too and that's what matters because it's the kids which this gi is aimed at, and if they're happy and comfortable wearing it, it makes for happier and productive training.
At just shy of $100 (£65), the Sprout may be priced higher than most other kids BJJ gis, but the quality and attention to detail in this particular gi is worth the extra dollars. As they say, "you get what you pay for" and in this case, you certainly do.
Submission Fight Co. Kids Sprout BJJ Gi is available in black ($109.95/£72) and white at SubmissionFC.com