When I've been training, I'm usually on the rampage for snacks that evening or a few days after. Though I always try to eat as healthily as possible, it's sometimes hard to resist those chocolate treats, especially when my body craves it so.
Fortunately, there's a range of protein snacks out there that do just the trick in a much healthier way, and one of those is GoNutrition Original Protein Flapjacks.
With an impressive 18.6g of protein per slice, GoNutrition Original Protein Flapjacks provide a substantial hit of protein when you need it most, be it before, during training or post-training, to help repair and grow muscles, along with a carbohydrate boost for energy. To be honest, the flapjacks are a great snack to munch on at anytime of the day as a snack between meals.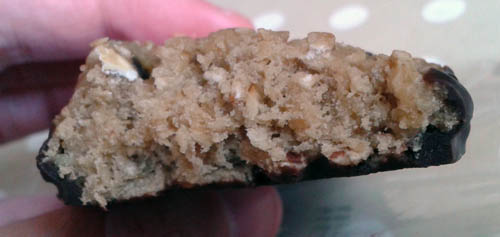 Appearance and Taste
Taking the GoNutrition Original Protein Flapjack out of its transparent wrapping, it's clear to see what the protein snack is made from. Dark chocolate chips upon a bed of oats, sat upon a chocolate mount. Whilst it's not the prettiest of flapjacks out there, it's the taste that truly matters.
Taking a bite of the flapjack, I can instantly taste the ingredients. The baked flapjack is soft and chewy, but not overly so, just the right amount to allow one to savour the flavour. It also tastes a bit moist, allowing the flavour to seep through whilst keeping the flapjack together. There's nothing worse than eating a snack which is dry as a bone. GoNutrition do not have this problem with the Protein Flapjack. It's soft, chewy and tastes rather good! The chocolate base is delicious, as are the oats and choclate chips. There also seems a sweet yet subtle fruity flavour within, which I'm not sure of the origin or whether my mind is interpretating different flavours as being fruity, but either way, it's a tasty addition to the snack.
Nutritional Info
The GoNutrition Original Protein Flapjacks consist of Oat Blend (Jumbo Oats, Rolled Oats, Toasted Oats [Oats, Sugar, Vegetable Oil]), Milk Protein, Glycerine, Maltodextrin, Glutamine Peptides (Wheat), Dark Chocolate Chips (7.6%) (Cocoa Mass, Sugar, Emulsifier [Soy Lecithin], Flavouring), Chocolate Flavour Coating (7.5%) (Sugar, Vegetable Oil, Cocoa Powder, Emulsifier [Soy Lecithin], Flavouring), Soy Protein, Vegetable Oil, Flavouring, Sweetener (Sucralose).
Those particular ingredients listed in bold are ones to watch out for should you suffer from allergies.
Per 75g serving, the flapjack provides 18.6g of protein, 38.1g of carbohydrates (8.5g of which are sugars), 8.6g of fat (4.3g of which are saturates), 2.8g of dietary fibre and 1295 kJ/310 kcal of energy.
Overall Opinion
The flapjacks really are a tasty treat and are a lot easier to chew than some other protein snacks I've had in the past, which is great as the last thing you want is jaw ache to get your hit of protein. The chocolate chips are a nice addition on top along with the chocolate base, providing a 'sandwich' of sorts, with the blended oats acting as the filler. The flapjack is also a decent size, neither too big nor too small, and fills an emptiness inside when waiting between meals or when you have that hunger pang for something sweet.
The GoNutrition Original Protein Flapjacks are available with chocolate chip topping only, and come in a box of 12. The flapjacks are available directly from GoNutrition.