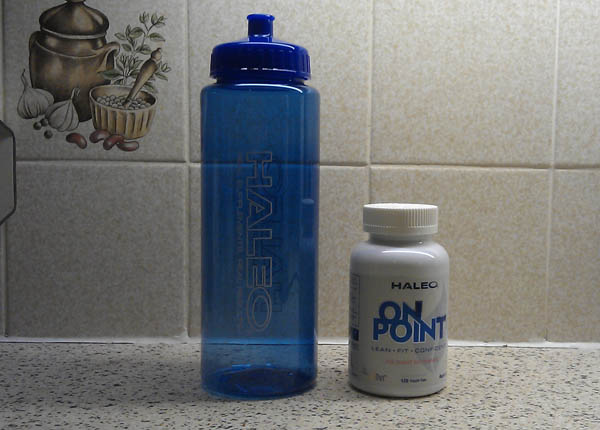 Ever looked at yourself in the mirror and thought "I wish I was more defined"? Or maybe you've stood on the scales and wished you'd lose a bit more weight. Whilst exercise and a healthy diet is the answer, what if you're doing that but you're not quite making as much progress than you'd hoped? That's where fat loss products called Fat Burners come in and in this review, I'll be taking a look at American brand Haleo's own fat burner, OnPoint, along with the Haleo Water Bottle that comes free with a purchase of Haleo On Point or Aqua Red from British sports supplements store, Predator Nutrition, whilst stocks last.
Haleo OnPoint
Fat burners can get a bit of negative press from those who aren't familar with them. Mention you're taking 'fat burners' and some people think you're off your head on speed and you'll come out of the house one day looking like skeletor. This isn't the case.
Haleo OnPoint is a fat loss products which contains natural ingredients to speed up the body's metabolism, helps to suppress appetite and increases the release of an exercise-mimicking hormone called Irisin. Unlike some other stimulant-based fat burners, On Point contains a mild stimulant in comparison to its competitors and the caffeine it contains helps to boost energy levels.
My Experience with Haleo OnPoint
I'm probably not the most ideal candidate to try fat burners. This is the first time I've taken any fat loss products and as I'm already at a pretty good weight and slim, I've never felt the urge or need to take any. However, I decided to trial them for a week to see just how effective this 'healthy' fat loss product is and how it works.
To give you a little background on me: I'm 24 years old, female, 5′ 2″ and 61kg (134.48lbs). I'm pretty heavy for my height, which I put down to dense bones and muscle which I've packed on since returning to Ju-Jitsu over 18 months ago.
Following the instructions of the 'smart fat burner',  adults are recommended to take 2 capsules twice daily with 12oz of water. Once in the morning, and once in the afternoon. Ingest the afternoon dose no later than 4pm else it may interfere with sleep, and we don't want that! As I'm quite petite and already at a good weight that I'm happy with, I decided to opt for half the daily recommended dosage and took 2 Haleo On Point capsules in the morning, but none in the afternoon for a week. Weighing myself on the scales, I was 61kg. The time starts now!
The Capsules
Opening the push-and-screw lid, that you tend to find on medicine bottles to keep out of reach of little hands, the Haleo OnPoint tub is sealed with a thick, paper-foil seal. Breaking the seal reveals a wad of cotton wool, along with a tiny bag of StripPax sorbent to help keep the fat burning capsules fresh. Pulling the cotton wool and StripPax out of the tub reveals 120 veggie caps of Haleo OnPoint, waiting to be consumed over a period of 30 days.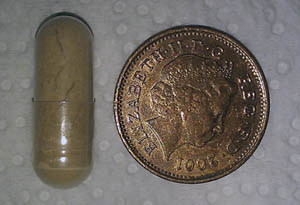 Sometimes when I'm taking capsules, I get a little concerned on the size as some can be quite large. The Haleo On Point capsules are regular in size, measuring 2cm in length and 0.5cm in width. They are a soft capsule containing a sandy brown powder which can be seen through the clear, soft capsule shell. They are really easy to swallow and do not leave a taste in your mouth that the likes of Cod Liver Oil capsules can do. The On Point capsules do not require to be taken with a meal, just 120z of water but I never like ingesting any form of medication on an empty stomach, so chose to take my 2 capsules with a drink along with a nice big bowl of Cheerios at breakfast.
Effects
Immediately after swallowing the pills, I didn't feel any different. Two hours later and they began to kick in as I felt extremely alert and fresh. I became much more focused, driven and aware with everything, including my daily writing. Whilst seeing friends in the afternoon, I felt different. I was buzzing with energy and constantly felt the urge to talk. I can be quite a chatterbox naturally, so this put me up a gear which was pretty noticeable to those around me. My spirits were high and I was chirpy, and when it came to training in the afternoons and evenings, I was working into a sweat with ease and able to push myself more without becoming tired. Sometimes I have issues staying alert in the evenings and I can get a little sleepy, but whilst taking the Haleo OnPoint, I was fully aware and able to remember and digest the techniques shown to me during my JuJitsu class with complete clarity, as well as being able to show others who were struggling. Unlike when I took beta-alanine once, I did not feel any weird side effects at all either from taking the capsules – no jitters, no shakes, no tingling sensations, and no burning.
Come night time and ready for bed, my body seemed to naturally and comfortably progress to a level that sleep was easily attainable. Clearly the mild caffeine hit had an effect on me during the day, though caffeine drinks such as Red Bull don't quite seem to have that same effect.
This experience happened each of the 7 days that I took Haleo On Point, and I was only on half the dosage a day – 2 capsules just in the morning. Containing green tea extracts and caffeine, the fat burners are said to help suppress appetite. From my experience, I still ate as much as I did before taking them, but I didn't feel the hunger pangs which I usually feel prior to my usual consumption times. There was no grumbling tummy shouting for a bacon toastie, but I ended up feeding it one anyway. I know I could have gone without food, or had a smaller meal and be happy with it. But force of habit and routinely eating at certain times means I eat whether I'm hungry or not.
One thing that I was concerned about whilst taking the Haleo On Point fat burners was whether or not my boost of energy would die down before bedtime, and if it did, would it suddenly just drop me into oblivion. Fortunately, it did exactly as the label promised, with no crash whatsoever. I'd sleep like a log and wake up bright-eyed and bushy-tailed in the morning.
Weight Loss
After the final day of taking Haleo OnPoint for a week, I once again checked my weight. Granted, I'd been eating as much as I normally would do, even though my body wasn't 'hungry' for it as such. So I was a bit curious on what weight, if any, I'd lost over the week, considering I was on half the recommended dosage too. I stepped on the scales and weighed in at 60kg – 1 kg lighter than the week previously. That's a loss of 2.2 lbs. If I'd resisted eating food just for the hell of it, and took a full dosage, there's no doubt I'd have lost much more, maybe even an extra kilogram. The combination of fat burners and exercise (I trained 5 days out of 7) no doubt had the positive effect of dropping weight. Had I been sat on my backside, stuffing myself full of food regardless, the fat burners would have a hard time helping me lose weight. Remember, these are no miracle pill. You have to put the effort in with exercise and a good diet for the fat burners to help you burn off extra weight. It doesn't just magically disappear.
Ingredients
So what exactly does the Haleo OnPoint fat loss capsules contain? For each serving of two capsules, On Point contains 350mg Green Coffee Bean Extract, 250mg of Green Tea Extract, 200mg of Caffeine, 100mg Capsimax Capsicum anuum extract (fruit), and 10mg of IriThin. other ingredients also include rice flour, magnesium sterate, silica and microcrystalline cellulose.
Green Coffee Bean is high in chlorogenic acid (which is said to aid weight loss and reduce blood sugar levels), slows glucose formation in the liver and regulates blood sugar, all of which helps to support a healthy body and metabolism.
Green Tea Extract provides antioxidant and antihypertensive support, helping to maintain healthy blood pressure . As well as being a safe, effective ingredient to fat burners, the green tea is also high in EGCG, the natural active catechin in fat burning which also said to help prevent disease.
Caffeine, as we all know, is a stimulant that provides a boost of energy when we need it. It does a good job in making you focused and alert, and also supports fat loss in combination with the other ingredients.
Capsimax contains hot chili pepper extract, but you won't feel any burning sensation. This is because of the Capsimax patented technology which delivers the fat burning capsaicinoids without the burning and GI distress. Capsimax helps to suppress appetite, so you won't feel the same urge to consume as you usually do, as well as stimulating an increase in energy expenditure. Capsimax also increases the mobilisation of fat to be used as a fuel source, where the body would usually focus on carbs.
IriThin is Haleo's exclusive secret weapon in their Haleo OnPoint fat burners. Containing PQQ from fermented soy bean, IriThin is said to increase exercise-mimicking hormone Irisin in the body, helping to improve muscle mass and fat oxidation whilst reducing fat and appetite.
Final Thoughts
Being TSP quality assurance tested as well as being tested to a world leading anti-doping protocol, Haleo OnPoint proves itself to be a clean, healthy fat burning product. The ingredients appear to support a healthy body, with the green coffee bean regulating the blood sugar levels and the ingredients providing a pretty healthy experience with no jitters or crash. It's even said to support anti-aging, which obviously, leading a healthy lifestyle with a good weight, will keep you and your body feeling younger.
As previously mentioned, a tub of 120 capsules will see you through 30 days if you take the recommended servings per day. Haleo OnPoint capsules have a decent expiry date of around 10 months, at least with my experience. The addition of cotton wool and StripPax helps to keep the content fresh too until you're ready to start a tub, should you decide to buy a few tubs at a time.
Haleo OnPoint is priced at £54.99 and it does appear that Haleo are offering quite a unique fat loss product, with its clean, jitter-free, crash-free experience.
Until stocks last, you can get a free Haleo Water Bottle when purchasing the Haleo OnPoint or Aqua Red products from Predator Nutrition, by using the code haleobottle at checkout.
The blue semi-transparent Haleo Water bottle can hold a litre of liquid and features a screw-on lid with pull-up nozzle to allow the user to drink. Made in the USA, the bottle is recommended to be hand-washed only, due to its soft plastic construction.
Rating:
Haleo OnPoint 120 caps  is available from Predator Nutrition with Free UK delivery.