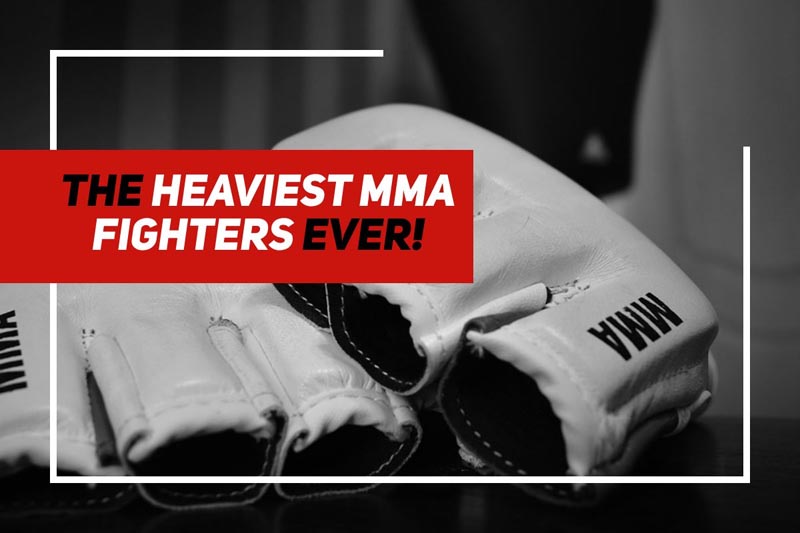 Watching heavyweight MMA fighters slug it out is always an exciting time as there's more of a chance of a knockout, such is the power these men hold in their strikes. Just look at UFC Heavyweight champion Francis Ngannou who's punching power is like being hit by a Ford Escort at full speed.
This got me thinking: who are some of the heaviest MMA fighters to grace the sport? I'm not talking heavyweights here but SUPER heavyweights.
The heavyweight limit in most MMA organisations is 265lbs with anyone weighing-in over 265lbs classifying as a Super Heavyweight.
Let's take a look at some of the heaviest MMA fighters ever to have competed professionally!
Emmanuel Yarbrough
Pro MMA Record: 1-2-0
College footballer and wrestler Emmanuel Yarbrough competed as a sumo wrestler and represented the sport at UFC 3 in 1994 where he faced Kempo martial artist, Keith Hackney, who was much smaller than Yarbrough weighing 416lbs less. Despite the whopping size difference, it was Hackney who triumphed.
Losing his UFC match did not deter Yarbrough who went on to fight for Shooto and Pride, as well as returning to his amateur Sumo career where he is said to have increased his weight by over 280lbs. His super heavyweight status earned him a sport in the Guinness World Records for the heaviest living athlete at 704lbs!
His MMA career spanned just three fights but he was truly one of the world's heaviest MMA fighters.
Eric Esch (Butterbean)
Pro MMA Record: 14-10-1
If there's one professional fighter most people know, it's got to be Eric Esch, most commonly known as Butterbean. Sporting his American stars and stripes flag shorts, Butterbean was ever the showman in the ring, having had a career in boxing and kickboxing before making his way to MMA in 2005. With stints in Cage Rage and even Pride, Esch notched up a number of wins as well as losses.
Always known for being a heavy fighter, Butterbean's final outing in mixed martial arts came at Prestige FC 3 where he lost to Sandy Bowman. Butterbean weighed in at 377.8lbs for that fight with his opponent Bowman weighing 223.4lbs. However, that was by no means Esch's heaviest weight fighting mixed martial arts.
In 2010, Butterbean faced Mariusz Pudzianowski in an openweight match at KSW 14 scheduled for 2x 5 minute rounds. For this fight, Butterbean weighed in at a hefty 440.9 lbs whereas Pudzianowski came within the heavyweight bracket of 261.5lbs.
Sean McCorkle
Pro MMA record – 17-7-0
Starting a professional MMA career in the heavyweight division with Legends of Fighting in 2005, it was only in the latter end of his fighting career did Sean 'Big Sexy' McCorkle bump up the weight to compete in the super heavyweight division and open weight divisions, including two fights with Mariusz Pudzianowski.
Sean McCorkle last fought in 2014 where he lost to Richard White at Island Fights 30. Despite McCorkle weighing a whopping 334.6lbs for that fight, the lighter White (268.6lbs) managed to pick McCorkle up during the fight and dump him on his back where he controlled his opponent for the rest of the match. McCorkle had previously fought White in Bellator two years earlier as a heavyweight where he finished White with a neck crank.
Bob Sapp
Pro MMA Record: 12-20-0
Having made his entrance to MMA in 2002 at Pride, former college football standout Bob 'The Beast' Sapp started and finished his career as a super heavyweight though there were times he met the 265lb heavyweight threshold. His long career in mixed martial arts has seen him fight for Strikeforce, K-1, Rizin and One FC, with Sapp having also competed in kickboxing matches as well as MMA.
One of his heaviest matches came at Strikeforce in 2008 against Jan Nortje, with Sapp weighing in at 356lbs versus his opponent Nortje who weighed 333lbs.
Imani Lee
Pro MMA Record: 2-4-0
Imani 'The Juggernaut' Lee took to kickboxing as a heavyweight before a brief stint as a professional MMA fighter, where he packed on the pounds to fight in the super heavyweight division. Lee weighed between 300-330lbs during his two-year mixed martial arts career.
Lee also starred in action movie Blood and Bone opposite martial arts star Michael Jai White.
Paulo Cesar Silva
Pro MMA Record: 2-6-0
Fighting in Japan for Pride, and later for K-1 fighting promotions, Paulo 'Giant' Silva stood at a whopping 7'2″ so it's little surprise that he would spend most of his career in the super heavyweight division. Topping out at 385lbs, Silva managed to secure two submission wins during his three year MMA professional career, both by kimura.
The Brazilian fighter finished his career in 2006 after beating Hawaiian sumo wrestler Akebono Taro.