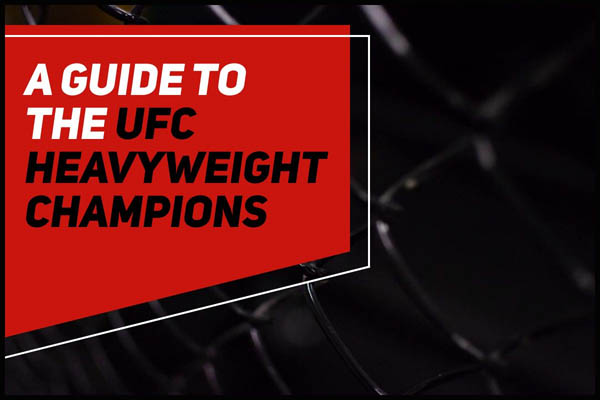 Who Is The Current UFC Heavyweight Champion?
https://twitter.com/francis_ngannou/status/1433503872127930369?s=20
Weighing in at 113kg, MMA fighter Francis Ngannou from Cameroon is the current UFC Heavyweight Champion, winning the title from two-time heavyweight champion, Stipe Miocic via knockout. The fight took place on 27th March 2021 at UFC 260 and was a rematch between the pair, with Ngannou having previously lost the first fight to Miocic.
Francis Ngannou is a real threat to those on the roster, in particular due to his punching power. With punches equivalent to being hit by a Ford Escort going at top speed, nobody wants to be on the end of Ngannou's fists when they start flying. You only need to ask Alistair Overeem who looked like he'd been sent into orbit following an uppercut from Ngannou during their fight at UFC 218 on 2nd December 2018.
A History of the UFC Heavyweight Champions
In the history of the UFC to date, there have been 22 official UFC Heavyweight Championship runs and six interim UFC Heavyweight title holders.
Mark Coleman defeated Dan Severn at UFC 12 on 7th February 1997 to be crowned the first Heavyweight Champion of the UFC. He held onto the title for 170 days.
Maurice Smith secured the UFC Heavyweight title at UFC 14 on 27th July 1997 and defended his title against Tank Abbott at the following UFC 15 event to hold the championship for 147 days.
21st December 1997 saw Randy Couture become the UFC Heavyweight Champion at UFC Japan event, but he was later stripped of the title in January 1998 when he left the company following a contract dispute.
Dutch kickboxer and submission artist Bas Rutten became UFC Heavyweight Champion 7th May 1999 after defeating American Kevin Randleman at UFC 20 in Alabama. The Pancrase legend vacated the title following his decision to move down a weight class to light heavyweight, but retired shortly after due to training injuries.
Despite his defeat to Rutten, Kevin Randleman secured the title for himself following a win over Pete Williams in Tokyo at the UFC 23 event on 19th November 1999. He defended the title against Pedro Rizzo on 9th June 2000 at UFC 26, holding the title for one day shy of a year at 364 days.
Randy Couture became the two-times UFC Heavyweight Champion when he regained the title at UFC 28 in Atlanta on 17th November 2000. He defend the belt twice against Pedro Rizzo at UFC 31 and UFC 34.
Catch wrestler Josh Barnett secured the heavyweight title when he won at UFC 36 in Las Vegas on 22nd March 2002, which he held for 126 days. Unfortunately he was stripped of the championship after testing positive for PEDs.
Grappler Ricco Rodriguez defeated previous belt holder Randy Couture to secure the UFC Heavyweight Championship belt for himself on 27th September 2002 at UFC 39.
UFC 41 saw the rise of Tim Sylvia as the new title holder on the leap year date of 28th February 2003. Sylvia defended the belt once against Justin Elliers at UFC 53 before having to relinquish the title due to testing positive for PEDs.
Frank Mir faced Tim Sylvia for the belt on 19th June 2004 at UFC 48 in Las Vegas. He was victorious and remained UFC Heavyweight Champion for 419 days until he was stripped of the title for inactivity due to injury. This saw Andrei Arlovski promoted to champion having secure the interim title following a fight against Tim Sylvia at UFC 51 on 5th February 2005, a title he'd defended on 4th June 2005 at UFC 53 against Justin Elliers.
Andre Arlovski held the UFC Heavyweight Championship for 246 days, even defending it against Paul Buentello at UFC 55 on 7th October 2005.
Tim Sylvia, hungry for another shot at the title, was crowned a 2-times UFC Heavyweight World Champion when he won the belt at UFC 59 in California on 15th April 2006. Arlovski failed to beat him in a rematch at UFC 61 on 8th July 2006 and neither could 'The Snowman', Jeff Monson at UFC 65 on 18th November 2018. Sylvia held onto the title for 322 days.
Randy Couture became the UFC's only third-time Heavyweight champ when he won the belt UFC 68 in Columbus, Ohio on 3rd March 2007. He held the title for 623 days, bringing his total reign of all three title lengths combined to over 1113 days. During this third title reign, he defended the belt once against Gabriel Gonzaga at UFC 74 on 25th August 2007.
On 2nd February 2008 at UFC 81, Antônio Rodrigo Nogueira beat Tim Sylvia for the Heavyweight Interim title. Unfortunately, he went on to lose the Interim title to Frank Mir via a round two TKO victory at UFC 92 on 27th December 2008. A few years later, the two faced each other again, albeit not for a title, with Mir executing a nasty Kimura submission on Big Nog, breaking his arm in the process. A submission finish that no MMA fan will forget in a hurry!
In what was a bit of a controversial matchup, WWE star Brock Lesnar found himself in a title fight against champion Randy Couture despite being 1-1 in the UFC. At UFC 91 on 15th November 2008, Greg Nelson and Erik Paulson coached Lesnar to his title victory as he defeated Couture via punches.in the second round.
Having lost to Frank Mir on his arrival to the UFC, Brock Lesnar avenged the loss in his rematch on 11th July 2009 at UFC 100. This would mark Lesnar's first title defence as heavyweight champion.
At UFC 111 on 27th March 2010, Shane Carwin defeated Frank Mir to become the latest interim title holder. However, on 3rd June 2010 at UFC 116, Brock Lesnar saw him off too to unify the belts and become the undisputed Champion of the heavyweight division in the UFC.
After a run of 707 days as champ, Brock Lesnar's title defence ended when Cain Velasquez won via TKO in round one at UFC 121 on 23rd October 2010. His title reign last 385 days until he sought tough opposition in Junior dos Santos who won the championship from him in Anaheim on 12th November 2011 at UFC on Fox event via a first round knockout.
Junior dos Santos went on to defend his title against Frank Mir at UFC 146 on 26th May 2012, bringing his heavyweight champion title reign to 413 days.
Not one to be kept down, Cain Velasquez came back to reclaim what he knew was his and became two-times UFC Heavyweight World Champion at UFC 155 in Las Vegas on 29th December 2012 securing a unanimous decision win after five rounds. Velasquez went on to hold the title for 896 days, a total of 1281 days combined with his first title run, beating the likes of Antonion 'Big Foot' Silva at UFC 160 on 25th May 2013 and a rematch against dos Santos on 19th October 2013 at UFC 166.
Fabricio Werdum defeated Mark Hunt at UFC 180 in Mexico City on 15th November 2014 to win the UFC Heavyweight Interim belt before facing Cain Velasquez for the title at UFC 188 on 13th June 2015. Werdum secured the title win with a guillotine choke submission in the third round to unify the championship and become UFC Heavyweight Champion.
Stipe Miocic spoiled Werdum's title run in Werdum's backyard of Curitiba, Brazil when he knocked him out in the first round at UFC 198 on 14th May 2016. This put an end to Werdum's 336 day run as champ. Miocic defended the belt three times against Alistair Overeem (UFC 203, 10th September 2016), Junior dos Santos (UFC 211, 13th May 2017) and Francis Ngannou (UFC 220, 20th January 2018) to secure a title run of 785 days.
Daniel Cormier moved weight classes, from light-heavyweight to heavyweight in order to challenge Stipe Miocic to the title. DC shocked the masses as he won via knockout in the first round to become the second UFC fighter to hold a UFC title in two different weight classes simultaneously (Conor McGregor being the first). DC went on to defend the title against Derrick Lewis at UFC 230 on 3rd November 2013 to hold the championship for 407 days.
Stipe Miocic faced Daniel Cormier in a rematch as he sought to regain his title from DC at UFC 241 on 17th August 2019 at Anaheim. Miocic won in the fourth round due to punches (TKO) to secure his two-times world champion status.
The two faced each other for the third and final time at UFC 252 where Miocic successfully defended his belt with Cormier subsequently hanging up his gloves and retiring from competitive MMA.
Having lost to him first time round, Francis Ngannou fought Stipe Miocic for the belt following his 589 day reign. On 27th March 2021 at UFC 260, 'The Predator' Ngannou secured the UFC Heavyweght Champion status via knockout in the second round.
There were talks between Ngannou and Jon Jones' team as Jones looked to move up a weight class to fight in the heavyweight division but an agreement could not be made with the UFC allegedly due to financial issues. If he won, Jones would have followed in DC's footsteps in becoming a two weight division champion, having also won the light heavyweight championship twice, and to secure his name once again as the number one, pound-for-pound, all-time greatest mixed martial artist.
In the meantime, Ciryl Gane defeated the Black Beast, Derrick Lewis, at UFC 265 in Texas on 7th August 2021 to secure the UFC Heavyweight Interim title. This puts Gane in line for the next match against current champion Ngannou though, without a doubt, MMA fans will hope that Ngannou retains the title long enough to see a matchup between two of the very best and most fearsome fighters the company has to offer in Ngannou and Jones.