Here at Shop4 Martial Arts, we love everything fitness and gym, from the training right down to the clothing and equipment that helps us achieve our goals and pursue our hobbies.
We love getting to know the brands who cater for our needs and so I was eager to chat with Jordan, co-owner of Kapow Meggings, a striking male leggings brand catering to the fitness, sport and fashion market.
Hi Jordan! Can you tell us a bit about yourself?
I'm Australian born, but have spent the last 10 years in the UK before moving to Romania to start up Kapow Meggings. Compared to London, Bucharest is a much more affordable place to maintain a pretty sweet lifestyle whilst funding an e-commerce business. My background is in advertising & marketing, but I've found enough time to stay active with cricket (hey, I'm Australian), football, yoga, squash and strength & gymnastics training. I also have a Guinness World record in Ukelele playing.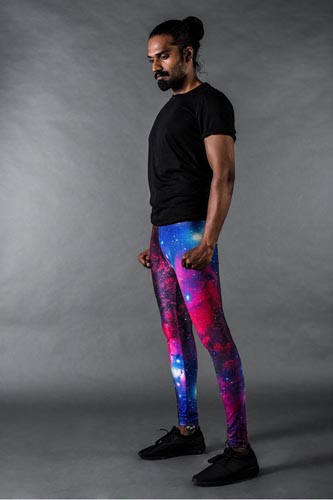 What inspired you to start Kapow Meggings?
Why do high performance athletes & superheros – the most masculine and confident guys on the planet (and other galaxies) – wear men's leggings, but they're still seen as a feminine item?
I started Kapow to redefine the myopic views around masculinity; to incite controversy and open a wider conversation around the barriers and limitations of what it means to be a man in the world today.

How long have Kapow been in existence and where did it start out?
We've been around for about 2 years, but the first year was a 'side-business'. Things have really kicked off in 2016 as the market is starting to explode.

What do you think sets you apart from other brands out there?
There aren't many businesses that sell men's leggings. Those in the high performance sector generally sell a range of dull colours and designs. We offer both impeccable athletic capability in a range of cracking designs & colour.

Who are your meggings aimed at?
Our customers are mostly guys, although we do get quite a few girlfriends buying for their partners… and in some cases themselves! People use them for all sorts of occasions – marathons, gym training, yoga, and even to music festivals
We recently tried out a pair of your meggings to use as grappling spats and they held up rather well during rolling with no rips or tears though the waistband would have to be developed to ensure a secure fit. Is the compression/grappling market something you'd be looking to venture into in the future?
Our current meggings are multi-purpose and versatile enough to use across most activities. We've had rock-climbers, acrobats, yoga instructors, marathon runners, and your very own martial arts grappler test them out and they've stood up to everything.
We are currently expanding the range with a style that is not quite a full compression legging, but offers much more support than our existing model. It's constant balance of comfort, support, flexibility & durability that we're looking at maximising, and this will vary depending on what activities we're constructing them for. The firmer waistband is definitely on the agenda (for both our existing style and the new range)

Many of your designs are loud and proud. How did you come up with the different designs and which one is your particular favourite?
We saw a real gap in the market when it came to cool designs and bright colours. We love patterns found in nature (galaxy, leopard), play around with inspirations from popular culture (USA flag), and are currently working on co-creating designs with some of our 'Honchos' (or partners – see below).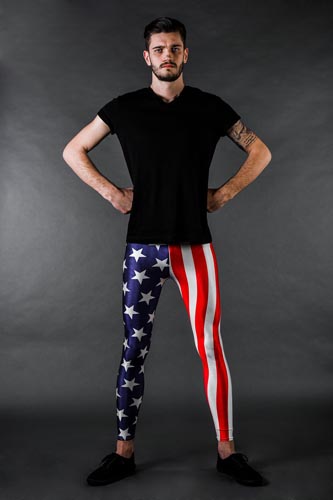 Do you have any new designs lined up that you can tease us with?
Absolutely… we've got WWF themed 1980 wrestler designs; Dinosaurs; Multicolour explosions and more…

Is your range available directly online only or in other online stores and bricks and mortar shops?
We're currently only available online but have plans to be sold through partner stores in 2017. Watch this space…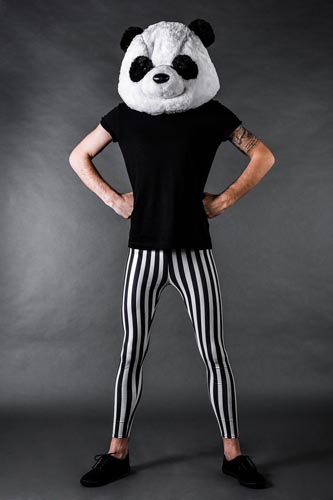 Does Kapow sponsor anyone?
Yes, and they're all absolutely awesome. Kapow Wrestling – The UK's biggest regional wrestling competition; Low Country Kingdom – one of NY's killer electro rock outfits, to name a couple. You can check out all of our 'Honchos' here

What do you wish to achieve with Kapow?
World domination… jokes! We aim to be the no.1 place on the planet for men's leggings. We aim to create and foster a community of positivity & confidence, and to help give guys the ammo to get involved in life.

Many thanks for your time, Jordan!
You can follow Kapow Meggings on Instagram and Facebook and check out their full range of men's leggings on their website.