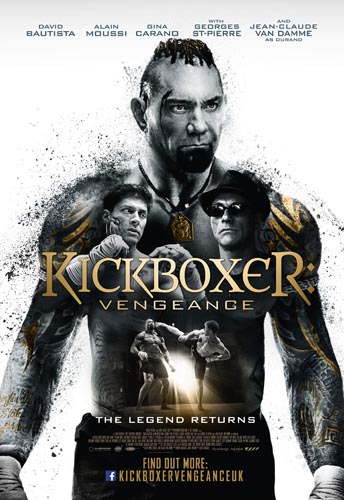 When championship Karate tournament fighter Eric Sloane is killed in an underground matchup against Muay Thai specialist Tong Po in Thailand, his brother Kurt Sloane seeks revenge. Convincing Eric's mentor Durand to teach him the martial art of Muay Thai, Kurt will stop at nothing in his quest for justice for his brother by defeating Tong Po in the ring.
One of my all-time favourite martial arts movies, and probably yours too, Kickboxer has been remade for a modern audience, employing the talents of various MMA fighters, including Georges St-Pierre, Fabricio Werdum, Gina Carano and Cain Velasquez, as well as WWE wrestler-turned-actor, Dave Bautista, to create a new vision to thrill audiences. But does Kickboxer: Vengeance live up to its name and, more importantly, its predecessor?
Remaking a movie as much loved as Kickboxer was always going to receive criticism. I am known for my hatred of remakes and so the idea of someone tampering with one of the JCVD classics was almost like blasphemy, at least to me. Helming Kickboxer: Vengeance is John Stockwell who's known for sports/action-esque movies with In The Blood (starring Gina Carano) and surfing flick Blue Crush. Here lies a problem: this remake seems to cater more towards the mainstream action fans with the movie utilising short, quick cuts and editing of the martial arts choreography, something which ruins the most important experience for martial arts enthusiasts. Take one of the iconic scenes of Tong Po kicking the concrete post in Kickboxer, for example. We have a similar scene in the remake except we never really see Tong Po's leg connect with the post. Instead we see shots of his upper body and then the crumbly aftermath. Unfortunately, this is just one of many cases where the viewer sees very little of the supposed fight and skill on show. For around two thirds of the movie, the fight scenes are a choppy mess with the viewer unable to make head nor tail of what's going on and therefore feels disconnected from the action. As the film enters the final third where our protagonist Kurt, played by Canadian stuntman/actor Alain Moussi,  faces off against the mammoth Tong Po (Bautista), the film begins to settle down a bit and show us more of the fight scenes rather than just snippets of it. Whilst this is some kind of relief, it also comes a little too late. The original film is a big part in martial arts film fans' lives and so to butcher fight scenes in the lead up to the finale leaves viewers disenchanted with what's going on on-screen. Even the story itself seems edited within an inch of its life with an incoherent story that jumps from one thing to another. In the original film, we see Jean-Claude's Kurt getting close to Thai native Mylee, a niece of his master, Xian Chow. The relationship is quite sweet and plays a pivotal role in the film in terms of the emotion and desire to defeat Tong Po. In Kickboxer: Vengeance, Moussi's Kurt hooks up with a Thai police officer out of the blue, with no real prior interactions other than formal escorts due to his brother's death. At the most pointless, unrelated and unromantic moment, we see a sex scene between the two that carries no emotional weight whatsoever. Scenes of the Thai officer in a state of undress just seems like an excuse for titillation and not much else.
Although this is a remake or re-imagining, there's plenty of differences between Kickboxer and Kickboxer: Vengeance and whilst the setting of Thailand may be the same, the actual shots of the country we see couldn't be more opposite. In the original movie, we have stunning shots of Thailand to the backdrop of 80's tunes with the thai boxing fight between Po and Eric taking place in a boxing ring at a proper venue. In the remake, we hardly get to see the beautiful country it's supposedly set in, losing that magic of the original. The film might as well have been shot elsewhere for all that we see on-screen. Even the public thai fight in a legit Muay Thai venue is lost and replaced with an underground fight scene that is more MMA complete with cage than it is Muay Thai. The only real Thai flavour given to the movie is the tropical home of trainer Durand where Kurt spends his time training but that's very minimal. Oh, and I mustn't forget a terrible, cringeworthy fight scene involving hired goons riding elephants who stop Kurt and his Thai cop girlfriend in their tracks in the middle of Bangkok. For whatever reason, staging a fight scene involving elephants and on the back of elephants must've seemed like a good idea to someone making the film. Whilst no CGI was utilised, faux elephants were used in place of the real ones for the fight scenes that heavily involved fighting off the back of the elephants. I don't know whether it was plastic statues they used or paper mache creations, but the "elephants" were horribly fake that they distracted from the fight scene. They didn't move when hit and looked awful and although I'm grateful they didn't use real elephants to jump off and do crazy stunts with, I think it would be better if they just didn't bother shooting that scene at all. It was a waste, cheesy as hell and felt shoe-horned in to a film where it wasn't needed. Talk about out of place. "Oooh, we're making an action film set in Thailand. Let's make the audience know this by shooting an elephant fight scene". Hmm…
So what's good about the film? Unfortunately, not very much. The MMA fighters are very much wasted in this movie and stand out like a sore thumb. Despite being qualified martial artists, their fighting style doesn't translate well to screen, a medium that requires a certain exaggeration rather than a realistic approach. Fortunately, Jean-Claude Van Damme was one of the true greats of this and made his techniques on screen look effortlessly beautiful in the original. His return as trainer Durand is much welcomed, being the only decent thing the film has to offer, as he shows he still has the martial arts skills as we see him face off against a variety of opponents including former UFC fighter, Georges St-Pierre who plays a drunken thai boxing student of Tong Po's. GSP's role is pointless though and adds little to the film except for one laugh out loud/cringeworthy moment where he informs Kurt that he is "not impressed by his performance", a hark back to the infamous words uttered to Matt Hughes in the octagon all those years ago. Fellow fighters Fabricio Werdum and Cain Velasquez have minor roles as fighting goons but as aforementioned hardly impress due to their lack of screen fight choreography whilst former fighter Gina Carano seems wasted in a role that was dreamt up with no real purpose behind it as the underground fight promoter who organises the match-ups for Tong Po. Dave Bautista who plays Tong Po does an acceptable job but offers very little other than being a solid piece of muscle for our hero Kurt to take down and, to be honest, isn't a patch on Michel Qissi who played the fearsome, original Tong Po and actually looked the part of an experienced, deadly Thai boxer. (Note: Kickboxer fans might well want to keep an eye out because Mr Qissi in fact makes a cameo appearance in the film during a jail scene!) So how about our leading man? Unfortunately, Alain Moussi is no JCVD. Whilst there's no denying Moussi is talented with his acrobatic athleticism and martial arts skills, his static, stiff expression throughout the movie leaves his character a little shallow and cold. Being a skilled martial artist is one thing but movies require acting chops to bring a character to life and JCVD always had this. Granted, Moussi seems to have had a poor script to work with in addition to a lack of character building to help the viewer connect with his character Kurt but he seems to lack the charisma and sparkle needed to lead a film such as this. Plus, walking in the shoes once filled by JCVD and then sharing the screen with him, a man who actually steals every scene he's in, is always going to be difficult to manage. Coming from a background in stunts, I feel that Moussi needs more screentime under his belt to fully develop as an actor and gain the experience needed to lead a movie whilst also finding the right script that would support him in that endeavor. Gina Carano had similar issues when she started out and has since blossomed into a more convincing actress since her first leading role in Haywire.
Kickboxer: Vengeance, in essence, is a mess. Many of the film's problems are due to excessive editing, horrible fight choreography which is butchered to pieces, a broken narrative and lack of character development. The script is wooden as is most of the cast, bar the awesome JCVD, with little-to-no narrative build-up to get the viewer on-side. Why someone chose to remake Kickboxer, I have no idea, but seeing as they've got two sequels already in the pipeline, I really hope they've learnt their lesson on what to do and what not to do with a martial arts movie like this. People want Muay Thai, they don't want sword fights and poorly choreographed and shot fight scenes as seen here. If they can get the story and characters right and actually show us fight scenes without cutting every single second, then there may be hope yet… but I won't hold my breath.
Rating:
Save
Save
Save