Like every other person out there who practices martial arts or enjoys keeping fit, I wanted a way to keep in shape in the comfort of my own home. Money is tight at the moment for gym memberships and when you go to martial arts classes too, sometimes a gym membership is out of the question. Before you even begin looking at equipment, you have to deal with the problem of your house being too small, or full, that there's no room to have a workout station or home gym placed in there. So imagine my delight when I found the compact and easy-to-store, Iron Gym Express!
This handy piece of kit works as a pull-up bar and can be used for pull-ups, chin-ups, sit-ups and dips. The Iron Gym Express bar arrives in pieces in the box with all the necessary nuts and bolts, along with a mini wrench to tighten the nuts when assembling. Assembling time is around 5-10 minutes and it's very simple to do, even for a lass like myself. Once the Iron Gym bar is fully assembled, now the fun starts! My Iron Gym bar came with a little metal lip to put on the door frame but I don't bother to use it. Simply find a room which has a standard door frame (60cm-80cm) with a considerable ledge and with no walls immediately at either side of it. Once you've chosen your room, position your Iron Gym so the thick black bar sits upon the door frame with the main apparatus hanging outside of the door. Voila!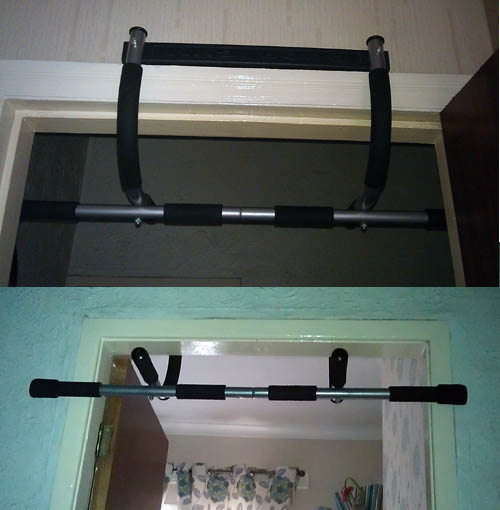 Attaching and detaching the Iron Gym from the door frame is done in a matter of seconds yet the bar itself is sturdy enough to hold your weight when you use it to workout.
Now the fun begins. When I first used my Iron Gym, I was rather weak. I'd never done any sort of pull ups before and it was quite a shock to the system. However, after using the Iron Gym bar a few times, my arms began to strengthen and I was able to do more reps each time than the last. My upper body strength went from pathetic to intermediate considerably quickly and the best part was I didn't have to leave the house to use it! Anytime I fancy a mini workout, I just grab the Iron Gym and get started.
The great thing about the Iron Gym that I like is that it can be used for a variety of workouts. The main usage is to improve upper body strength with palm-sidewards pullups, behind-the-neck  pull-ups and chin-ups. If pull-ups become too easy, you can wear a weighted vest to increase the resistance, giving your upper body a better workout. Alternatively, the Iron Gym Express can be placed at the bottom of the door, with the handle section blocked by the bottom of the door frame, and used for sit-ups. Just slide your feet under the main handle bar and your feet are fixed in place for effective situps. The Iron Gym can also be placed flat on the floor for dips and press ups. Just simply hold onto the curved bars at either side and you can commence with your dip or press-up sets.
FINAL THOUGHTS
The Iron Gym Express bar is a key piece of equipment and I love it due to its simplicity and all-round usefulness. It does everything that I could ask for: it's small enough to store easily when not in use; it's quick and simple to set up; it's strong and sturdy, and best of all, it's pretty cheap at around £20.
If you're looking for a piece of equipment for use at home to increase fitness and you're short of space, then I heartily recommend the Iron Gym Express. I've had mine a few years now and I still use it to this very day.
Rating:
Iron Gym Express is available for £19.99 at Blitz Sport