For those with a sweet tooth or who are always on the go, protein bars are a great way of consuming protein straight after training or as a heathier alternative to your standard chocolate bars. Whilst some protein bars are more like flapjacks and are chock full of oats, others resemble chocolate bars in such a similar way that they hardly taste any different, if at all, to your favourite chocolate confectionary!
In this review, I'll be taking a look at the Multipower Power Pack bar in Classic Milk flavour.
Multipower Power Pack Classic Milk
The Multipower Power Pack Classic Milk resembles a chocolate bar, albeit a smaller sized one, measuring 3 inches in length, 1 inch in width and  0.5inch in depth. It smells incdredibly chocolatey, just as much as it looks.
Biting into the Power Pack, the bar is soft and chewy with a thin layer of chocolate coating the light, fluffy cream-yellow coloured centre. It looks a bit like a biscuit centre but don't quote me on that as the texture tastes too light and fine for it to be biscuit. Either way, it tastes delicious and would be a great addition to any fitness enthusiast's lunchbox to satisfy their sweet tooth.
Ingredients and Nutritional Value
Multipower Power Pack Classic Milk flavour contains Milk Protein, Milk Chocolate (20 %) (Sugar, Milk Powder, Cocoa Butter, Cocoa Mass, Lactose, Emulsifier Sunflower Lecithins, natural Flavour), Fructose Syrup, Glucose Syrup, Collagen Hydrolysate, Palm Fat, Banana Powder, Flavour, Salt, Palm Oil and Colour Riboflavin.
The Power Pack bar is not suitable for those with an allergy to Milk and the bar may also contain traces of Soya, Gluten, Peanuts, other Nuts and Egg, so those people allergic to these foods should avoid.
Each 35g bar provides 580kJ /138 kcal of energy, 3.9g of fat (2.2g of which are saturates), 16g of carbohydrates (12g of which are sugars), 0.2g of dietary fibre, 9.4g of protein and 0.19g of salt. Each Classic Milk Power Pack bar provides 26.86% protein.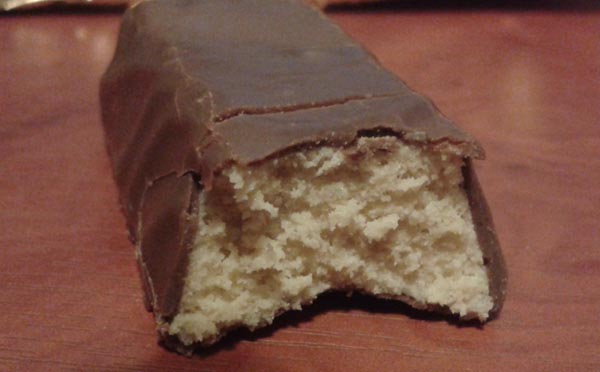 Overall Opinion
You might need two or three of these to make you feel full but Multipower Power Pack Classic Milk are just the thing to eat if you're craving chocolate. The lightly textured centre is delicious, making the bar a nice, sweet protein treat either after hitting the gym or as a snack during the day. This protein bar should definitely be on a chocoholic's radar.