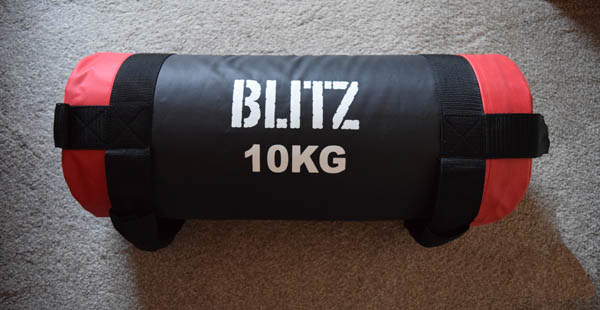 For those seriously into their fitness, strength and conditioning training is just as important as the martial arts we learn. Some people opt for kettlebells to help build strength and muscle whilst others prefer to use barbells and dumbbells. However, have you ever thought of using a lifting bag? Unlike kettlebells and dumbbells, lifting bags can be used solo or as part of group training which make them ideal for martial arts classes like ours.
In this review, I'll be taking a look at the Blitz Sport 10kg Professional Lifting Bag.
Blitz Sport 10kg Lifting Bag
The Blitz Sport 10kg Lifting Bag has a diameter of 9 inches and is 21.5 inches in length. It's the perfect length for lifting with a pair of lifting handle straps secured to the body of the lifting bag and reinforced further with velcro-fastened straps to offer better grip of the bag. The bag also has a strap at either flat end of the bag too so the bag can be lifted in other ways to improve strength and conditioning.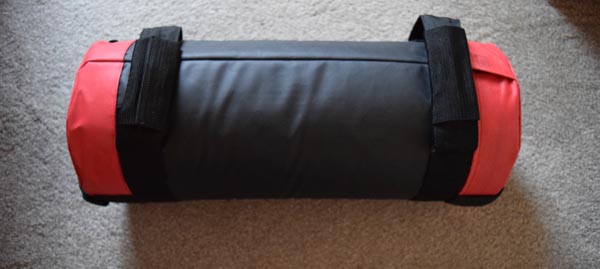 The bag itself is coloured red and black and is made from a durable, reinforced vinyl that can handle the abuse of throwing the lifting bag to other training partners and being slammed on the ground. One end of the lifting bag is velcro fastened, concealing a zip that can be undone to reveal the stuffing inside. After a little peep inside, it appears the Blitz Lifting Bag contains a spongy plastic foam filling, which I may have seen used for packing boxes with. Whilst using the bag, I can hear rolling about inside so another material has been used to add weight to the bag, be it sand or something else. Whatever the filling used, it keeps its shape and fills the entire lifting bag out nicely with no loose material and no dents or grooves after usage. When you have a lifting bag, it should be up to the job and be able to handle the different uses for fitness and I'm pleased to say that this Blitz Sport Lifting Bag certainly does the job in my experience.
Using the Lifting Bag
The Blitz Sport Professional Lifting Bag can be used in many ways. We used the bag during warm ups for grappling class which involved each of us holding the bag, squating with it, lifting and throwing the bag to another training partner. Whilst you might think that doing the exercises with the bag might be the most strenuous, trying to catch it can be quite amusing especially if the person throwing it at to you is a lot stronger and more powerful. There's been many a time I've almost ended up flying into the wall behind me whilst catching it!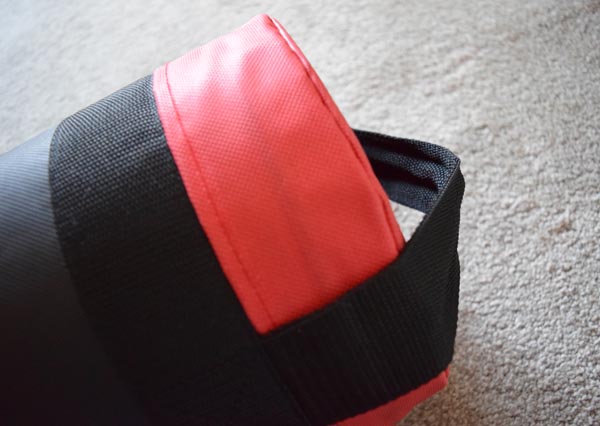 Due to its 10kg weight, the lifting bag is perfect for giving some resistance but whilst also being managable to do exercise. Throwing the bag to training partners takes a lot of effort and strength and I found these team exercises to be quite fun and beneficial as we each push each other to throw harder with increased power, even if it is with an aim to try and knock each other back a bit more (competitive teamwork eh!) 🙂
The Blitz Lifting Bag also comes in handy for training at the gym solo or training at home. There's plenty of exercises to perform with upright rowing to work the deltoids and traps or adding weight to those lunges and squats as seen in the video below. With handles on the main body of the bag and at either end, there's a wide range of possibilities to be explored to suit your training and goals.
The nicely packaged weight of the Blitz Lifting Bag means I can just pick it up whenever I feel like without having to mess around putting the equipment together, unlike dumbbells or barbells where you mostly end up having to add/remove weight. The lifting bag also has the ability to be positioned and lifted whilst being relatively safe which is something the other weighted alternatives lack. I mean, you can't exactly throw a dumbbell, kettlebell or barbell to your training partners without injuring them in the process.
The lifting bag is very reasonable in size which makes it rather easy to store either horizontal or upright. It doesn't take up a terrible amount of space although one must bear in mind that it needs to be positioned on a strong, sturdy surface that can support the weight of it or preferably on the floor.
Overall Opinion
The lifting bag itself is very well made and has stood up to the punishment we've given it at the club. It both looks and does the business which is all you can ask. The reinforced straps feel sturdy and have so far been durable with no signs of ripping and are firmly stitched to the bag. Despite whatever exercises and uses we throw at the bag, it keeps its shape and proves to be as solid and sturdy as it was when we first received it.
With the Blitz Sport 10kg Professional Lifting Bag available in different weights (5kg, 10kg and 20kg), it's perfect to buy the weight that suits you and your goals. I found that the middle size of 10kg was just right for me and my training partners at Ju-Jitsu as the weight was accessible for all us adults, proving to have enough weight to give everyone a workout without it being too easy or difficult to lift. Unless you're a bodybuilder or really used to lifting weights, I think 20kg might just be too much and 5kg would be far too light though everyones needs are different and those other weights might suit you.
Handy to store and use, this lifting bag provides motivation to train both alone and with others particularly because of its vast range of uses. It's so easy to switch up the exercises whenever you get bored or want to work on a different muscle group or maybe to just add weight to those exercises you already do. Pick it up, sling it over your shoulder and away you go!
I think every gym should have at least one lifting bag for students to use. It livens up warm-ups and teamwork exercises whilst also improving strength. The range of uses the Blitz Lifting Bag offers is more than worth its price tag, in my opinion.
Rating:
You can save 10% at Blitz Sport with our exclusive discount code BLITZFT