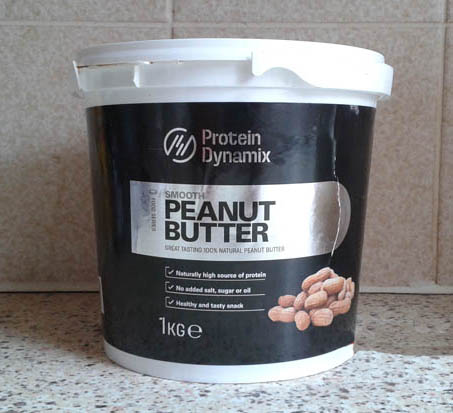 Peanut butter is on the shelves everywhere but usually it's in tiny jars and costs a fortune from the supermarket. If you want the real McCoy, you have to look towards the supplement brands, especially if you're looking to take advantage of the nutritious benefits that peanut butter offers if you train in martial arts, weightlifting or sports.
In this review, I'll be sharing my thoughts on Protein Dynamix Smooth Peanut Butter.
Protein Dynamix Peanut Butter
The last time I had peanut butter it was Whole Earth and to be honest, I found it lacklustre. Protein Dynamix Peanut Butter is made from 100% peanuts and the quality is exceptionally different. This peanut butter is without a doubt the royalty of peanut butters.
Opening the tub of Protein Dynamix Peanut Butter, which was sent with cling film wrapped around it just in case there were any leakages (which there was not),  the pure scent of peanuts blasted me in the face. What a glorious first impression!
Having never experienced 100% peanut butter before, I was unsure what to expect. Unlike the peanut butters you may be used to buying, the Protein Dynamix Peanut Butter is quite gooey and is more of a liquid than a solid. The natural oils from the peanuts rise when the tub has been left sitting undisturbed which forms a natural oil liquid on the surface of the peanut butter. As advised on the side of the tub, you just stir the peanut butter and the natural oils are reabsorbed somewhat however I found that, even after stirring, the peanut butter will still resemble more of a liquid than a solid spread.
With this particular peanut butter being the smooth variety, it indeed lives up to its namesake. It's lovely, smooth and thick on the palate with that strong peanut taste lingering long after you've swallowed. Once you've had a taste, you can't stop there. If you're a peanut butterholic, you could probably sit with the tub on your lap and spoonful the peanut butter into your mouth for hours on end. I'm more likely to do that with a tub of ice-cream but I can sure see that some people would be tempted to with Protein Dynamix's offering. If you love peanut butter, you could literally drown in this stuff.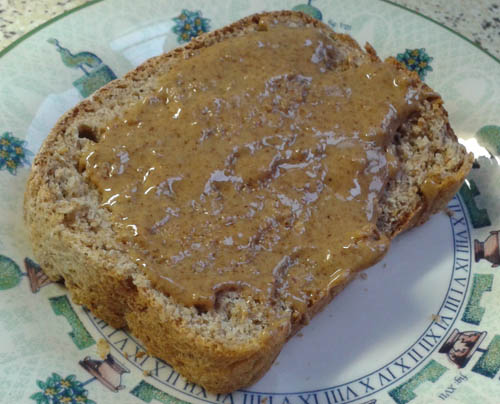 I'd baked some fresh wholemeal bread the day before my supplement delivery so decided to try out the 100% peanut butter with a thick slice of my bread. It tasted absolutely delicious! The thick peanut spread completely satisfied and complimented the wholemeal bread. It was so thick and tasty that it almost glued my mouth shut. After scoffing the entire slice, I felt full and no longer hungry with the peanut butter quite a filling spread.
Instead of your ordinary butter or picking up an unhealthy bite to eat, the Peanut Butter is a sure fire winner for creating a tasty high protein snack, particularly when it can help contribute to the growth of lean muscle mass.
Nutritional Value
Protein Dynamix Smooth Peanut Butter is made from 100% Roasted Peanuts with the whole skin left on. Nothing else added nor taken away, just pure nuttage.
Per 100g, the Protein Dynamix Peanut Butter provides 2470kJ or 596kcal of energy, 46g of fat (of which 8.2g are saturates), 11.6g of carbohydrates (of which 5.9g are sugars), 8.5g of fibre, 29.6g of protein and 0g of salt. It also provides 130µg of Biotin, 131mg of Niacin, 640µg of copper, 420mg of phosphorus, 190mg of magnesium and 3.3mg of zinc.
Allergy wise, if you're allergic to peanuts, sesame or nuts of any kind, then this product isn't for you.
Overall Opinion
Protein Dynamix Peanut Butter is the real deal. Don't buy your overpriced supermarket ones. Buy a 1kg tub of smooth or crunchy from Protein Dynamix instead. It's thick, delicious and 100% peanuts, nothing more and nothing less.
If you train and are wanting a healthy snack to munch whenever you're peckish then this peanut butter is the ideal thing. There's no added sugar, salt or oil and it tastes absolutely gorgeous. A truly premium peanut butter that will suck you in as soon as you've opened the tub.
Rating:
Protein Dynamix Peanut Butter is available in smooth or crunchy from Protein Dynamix
Make sure to check our main site for any active voucher codes for Protein Dynamix.