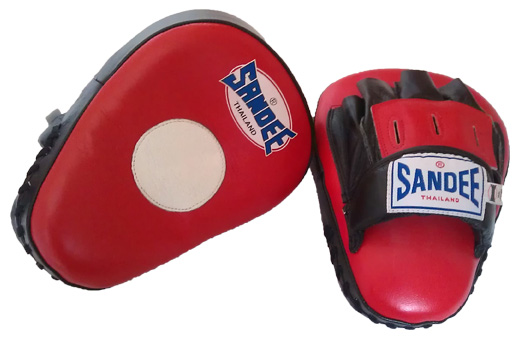 I bought these Sandee curved focus mitts from FightShop in Bolton around December 2011 after having previously bought a pair of Sandee Thai pads. As I was planning on holding them for a long time purely for punches, hooks and uppercuts for my male training partner, I wanted something a bit smaller. So I got myself these Sandee curved focus mitts as they were lightweight and I knew I'd have better control and a faster response with them.
I opted for the red and black colour way but other colours are available. The thick Sandee Curved Focus Mitts are made in Thailand from top quality leather and are laced sealed at the bottom. The lightweight mitts have a white target in the centre to improve accuracy and aim when punching and sport the Sandee printed logo above.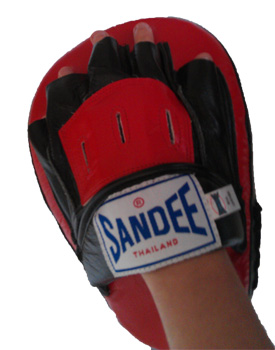 The glove hand compartment on the back is padded and has slits so your hands can breathe when holding for your partner. The hand compartment is comfy and the contoured shape of the gloves fits nicely with your hand's natural shape. A problem I encountered whilst wearing them was due to the fact my hands are small and though the pads fitted well, when my hands began to sweat the mitts would slide off a little. If you're a man, you shouldn't have a problem, but if you have small hands like me, here's the solution: talcum powder. Every time I hold the Sandee curved mitts for my training partner, I rub some talc into my hands and slide the gloves on. The sweaty hands no longer become an issue and I have total grip and control of the mitts for hours of MMA padwork.
When holding for a strong partner with powerful punches, I felt no stress upon my hands and my partner commented on the great feedback he had when punching them. Too soft a mitt has no proper feedback, and too hard is just painful for the fighter, but these focus mitts are spot on with their multi-foam engineered padding. As the 'trainer', I felt ultimate control and my responses were quick due to the lightweight construction.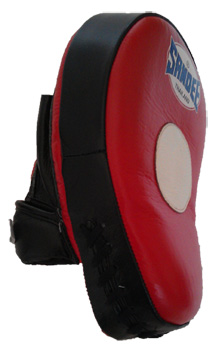 Needless to say, I'm still using these Sandee Curved Focus Mitts and am very pleased to continue doing so. At £66 (at time of purchase December 2011) they are nearing towards the top end cost of focus mitts and hook and jab pads on the market but the feedback you gain from them as a fighter and the comfort as a trainer are worth every penny. I know these will be in my possession until they eventually expire, which I know will be many, many years from now.
Rating:
Unfortunately, FightShop is no longer operating but you can pick up a pair of these mitts in various colours from Sandee's official website.