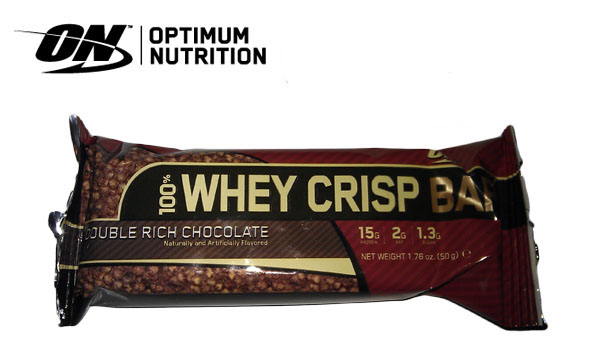 Optimum Nutrition stock their ON 100% Whey Crisp Bar in packs of 12 bars. The 50g Optimum Nutrition Whey Crisp Bars contain 15 grams of protein, 2 grams of fat and 1.3 grams of sugar in each bar.
The whey crisp bars come in two flavours, Double Rich Chocolate and Marshmellow Treat, but in this review I'm discussing the delicious Double Rich Chocolate flavour.
Unlike other protein bars, Optimum Nutrition 100% Whey Crisp Bars have quite a moist centre binding the oats together and are very appetising to look at. One bite into the luxurious, soft and chewy protein blend of oats and you can taste a real chocolate flavour due to their natural and artifical flavouring.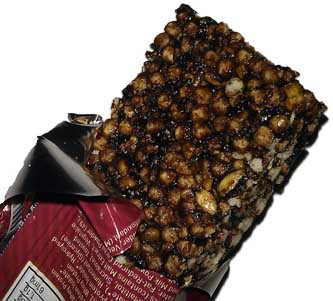 Whenever I found myself having an energy dip during training, I'd take 5 minutes out to eat half a bar of the Chocolate whey crisp. A few minutes later I felt re-energised to the extent that I felt fresh enough to continue another intense session of Muay Thai padwork drills for 30 minutes more. The instantaneous effect I experienced is quite amazing as I would have had to cease training otherwise, and no doubt this is down to the fast-acting 16 grams of whey protein. The bars also contrain 25 grams of fast and slow burning carbs.
As I mentioned above, the Double Rich Chocolate flavour tastes just as good as any chocolate bar and fills a gap heathily when experiencing hunger pangs. I liken the texture and flavour to that of the Coco Pops cereal bar except ON Whey Crisp Bar has a deeper chocolate taste, the texture is much softer with a moist filling and is definitely more substantial. The whey crisp is ideal for pre-workout priming and post-workout recovery too.
Having bought 3 boxes of 12 bars, I can vouch that these Optimum Nutrition 100% Whey Crisp Bars are an ideal protein bar if you're looking to purchase some to complete your training diet. Having just run out, it's time to order some more!
Find the cheapest Optimum Nutrition Whey Crisp stockist here.