Protein bars are just the handiest snack to have in your gym bag; they're simply made for it. Small enough to fit in yet a heart, filling bite that you sometimes need after a hard session at the gym, protein bars are the nutritional lifeblood of many fitness enthusiasts – particularly ones who have a chocolate weakness! In this review, I'll be taking a look at SCI-MX's offering of protein on-the-go, SCI-MX PRO2GO Protein Bar in Chocolate & Hazelnut flavour.
SCI-MX Pro2Go Chocolate & Hazelnut Flapjack
When looking for a protein snack, you want something that looks appealing and is going to fill a void (your empty stomach). As far as protein bars go, the 70g SCI-MX Pro2Go Flapjack is a chunky offering at 4 inches long, 1.25 inches wide and with a depth of 0.9 inch – a bit smaller in size than Grenade's Reload Flapjack Bar but certainly deeper.
On first impressions, the flapjack bar looks inviting. A third of the bar is smothered chocolate at the base whilst flapjack makes up the rest of the two thirds with oats present throughout its chocolatey texture. Just as you'd expect, it also lures you in with a chocolatey aroma.
As you bite into the SCI-MX Pro2Go Flapjack, it's revealed it's 100% flapjack inside with a thick, chewy texture. The texture is so thick that you really have to sink your teeth into it to bite a chunk off. The flavour, however, has a gentle chocolate and hazelnut taste amidst the chewiness. It's very filling because of the flapjack's dense texture and can make your jaw ache a little when you finish it. A sure-sign of a stomach filler!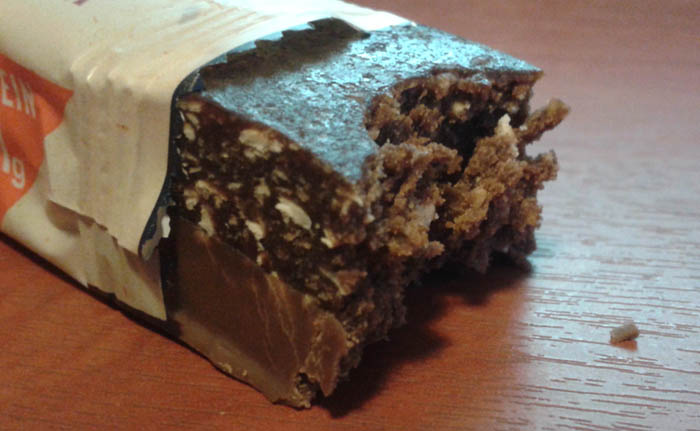 Ingredients and Nutritional Value
SCI-MX Pro2Go Flapjack Chocolate & Hazelnut contains Oat Blend (34%) (rolled oats, malted oats [contains barley malt extract, palm oil, oat flour), protein blend (24%) (milk protein isolate, hydrolised gelatine, whey protein concentrate [milk], emulsifier [soy lecithin]), humectant (glycerine), milk chocolate flavoured coating (8%) (sweeteners [isomalt, sucralose], non-hydronated palm and palm kernel oil, whey powder (milk), fat reduced cocoa powder (0.4%), wheat flour, emulsifiers [soy lecithin, E476], flavouring), dried glucose syrup, sweeteners (maltitose, sucralose), water, fat reduced cocoa powder (2.3%), hazelnuts (1.8%), flaxseed flour, rapeseed oil, flavourings and antioxidant (mixed tocopherols).
The bar contains oats, milk, hazelnuts, cereals and gluten and may contain egg and peanuts, so if you're allergic to any of these ingredients, I'd avoid eating this protein bar.
Per 70g bar, the SCI-MX Pro2Go Flapjack Chocolate & Hazelnut bar provides 1229kJ/293 kcal of energy, 8g fat (3g of which are saturates), 38g of carboyhydrates (2.1g of which are sugars; 13g of which are polyols), 3.2g of fibre, 21g of protein and 0.14g of salt. With each 70g bar providing 30% protein, SCI-MX Pro2Go is one of the top flapjacks in terms of protein content.
Overall Opinion
If you're looking for a substantial flapjack bar for a tantalising snack pre or post workout, then SCI-MX Pro2Go Flapjack Chocolate and Hazelnut flavour ticks the box. The 30% protein content will help to repair and grow your muscles when consumed as a post-training treat whilst the chewy texture does a great job at filling you up and taming any hunger pangs you may have.