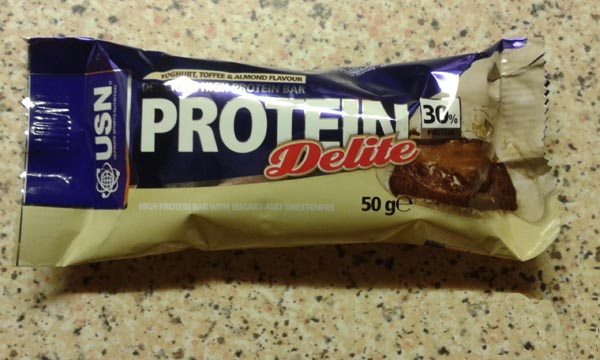 I love protein bars. Not only are they easy to stash in your bag for a handy nibble after training or when you're out and about or at work but for someone who, like me, has a sweet tooth and a thing for chocolate bars and the like, then it is a great way of getting your hit of protein.
In this review, I'll be taking a look at USN Protein Delite Bar in Yoghurt, Toffee and Almond flavour.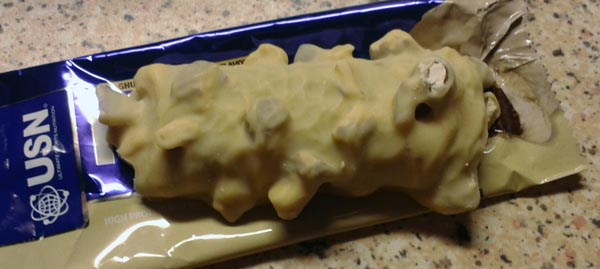 USN Protein Delite Bar
The USN Protein Delite bar is 50g in weight and measures roughly 3.5″ in length, 1″ in width and 0.5″ in depth but is actually larger than this thanks to the nobbly construction of the bar with its yoghurt covered nuts stuck all over it. Bare in mind every bar will be different in size because of this.
The bar itself is covered in a cream coloured yoghurt coating which you can smell slightly as soon as you've opened the packet. The scentl kind of reminds me of Milky Bar white chocolate buttons I used to eat as a kid.
Biting into the USN Protein Delite bar, you can taste the yoghurt coating shell, which is light and crunchy, along with the nuts, then you get to the soft, chewy brown centre with toffee caramel coating which binds the yoghurt and nuts on top. Yum! The soft, chewy texture tastes absolutely delicious!
After eating the bar you'll feel quite full and content and with its whey protein content it's ideal for consuming straight after training (first 30 mins) to repair and aid muscle growth.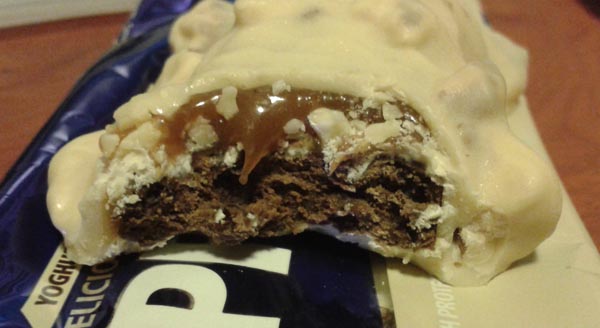 Ingredients and Nutritional Value
The USN Protein Delite Bar in Yoghurt, Toffee and Almond flavour contains yoghurt coating (31%) [sugar, vegetable oils, (palm kernel oil, partially hydrogenated palm), whey protein concentrate, yoghurt powder, emulsifier (soy lecithin), vanillin], protein blend [whey protein isolate (11%), milk protein isolate, whey protein concentrate, soy protein isolate], glycerine, hydrolyzed gelatin, almonds (8%), water, corn syrup, sweetened condensed milk (whole milk solids, sugar), soy protein crisps (isolated soy protein, tapioca starch, sodium chloride), sugar, peanut paste (peanuts, sodium chloride), invert sugar, vegetable oil (palm kernel(, cocoa powder, flavouring, coconut oil, emulsifier (lecithin), animal fats (cream powder and butter), preservative (potassium sorbate), sodium chloride and vanilla extract.
The bar isn't suitable for those allergic to peanuts, tree nuts, soy and cow's milk. The bar is manufactured in a facility that also processes eggs and wheat (gluten).
For each 50g bar, USN Protein Delite provides 920kJ / 219kcal of energy, 15g of protein, 19g of carbohydrates (7g of which are sugars and 12g of which are polyols, 10g of fat (6g of which are saturates), 10mg of cholestrol, 1g of dietary fibre, 0.09g of sodium, 100mg of calcium and 1.1mg of iron. Each 50g bar provides 30% protein.
Overall Thoughts
It might look peculiar with all its lumps and bumps but this quirky protein bar from USN is, in a word, gorgeous! There's so many different textures and tastes going on that your tastebuds are having a field day! With the crunchy nuts to the chewy toffee caramel and the tasty layer of yoghurt. Every inch of the USN Protein Delite Bar tastes fantastic and is such a treat to eat. It tastes so good that I'd happily eat it instead of chocolate any day of the week. I can definitely recommend it for those with a sweet tooth who like the nutty crunch.
Rating:
Search for the best price of USN Protein Delite on Shop4 Martial Arts.