There's nothing quite like satisfying that hunger pang after a workout with a delicious protein bar to feed both your rumbling tum and those tired muscles. After an intense Christmas training session at the Ju-Jitsu club I attend, with plenty of padwork and rolling, I decided to treat my muscles to a Grenade Reload Protein Flapjack in Chocolate Browning flavour. Whilst there were other flavours to choose from at the time of purchase, the chocoholic in me couldn't resist this particular flavour!
Grenade Reload Protein Flapjack
The Grenade Reload Protein Flapjack bar is thick and dark brown in colour, measuring 4.25 inches long and 1.4 inches wide with a depth of 0.6 inches. The flapjack looks like a homemade chocolate brownie with oats and smells like one too with the chocolate scent hitting your senses as soon you undo the wrapper.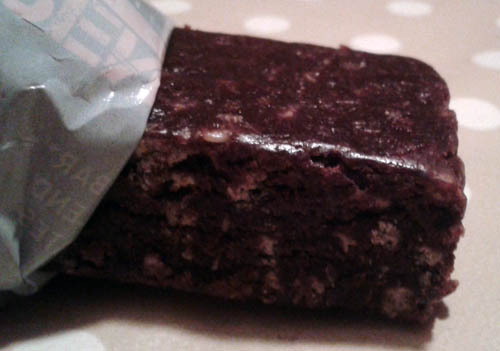 Biting into the flapjack bar, it tastes quite soft and crumbles in your mouth. With such a strong chocolate scent and appearance, I expected it to taste more chocolatey than it actually does and it's a little dry in taste too despite the moist appearance. If I had to compare it with something else, I'd say it tastes a lot like a cake bar with a hint of chewieness. This is a very thick textured, chunky protein bar and despite the lack of strong chocolate taste whilst eating it, it does have a stronger chocolate aftertaste.
After eating half of the Grenade Reload Protein Flapjack, I felt very full. This is probably the most filling protein bar I've ever had.  Whilst you could eat this all in one go, which I eventually did, it would work really well to have a nibble of before and after a workout down the gym.
Ingredients and Nutrition Value
Grenade Reload Protein Flapjack Chocolate Browning flavour contains Protein Blend (27%), which conists of Soya Nuggets, Soya Protein Isolate, Whey Protein Isolate and Milk Protein Concentrate, Rolled Oats (19%), Rapeseed Oil, Humectant (Glycerine), Oligofructose Syrup, Brown Sugar, Golden Syrup, Cocoa Powder, Cocoa Powder and Flavouring.
This flapjack bar is not suitable for people with allergies to soya, whey, milk and oats, and may also contain traces of nuts. It is, however, suitable for vegetarians being GMO free and containing no hydrogenated oils.
Each 70g Grenade Reload Protein Flapjack provides 1273kJ or 304 kcal of energy, 13.8g of fat (1.4g of which are saturates), 31.5g of carbohydrates (8.1g of which are sugars), 8.6g of fibre, 18.9g of protein and 0.08g of salt. Each 70g bar provides 27% protein to help grow and repair muscles after training.
Overall Opinion
If I'm looking to have a healthier alternative to chocolate during the day or need filling up between meals, this chunky Chcolate Browning flapjack bar from Grenade is absolutely ideal. Whilst it could be a bit moister and have a stronger chocolate taste, it's still a pretty tasty protein bar that fills you up and delivers that much needed protein hit when you need it most. With its cake-like texture, this could easily sit in your bag without melting so you could consume straight after training at the gym. A very filling protein flapjack at a great price if you buy a box of 12.
Rating:
Grenade Reload Protein Flapjacks are available in Banoffee Blast, Chocolate Browning, Coconut Chaos and Fused Fruit flavours.