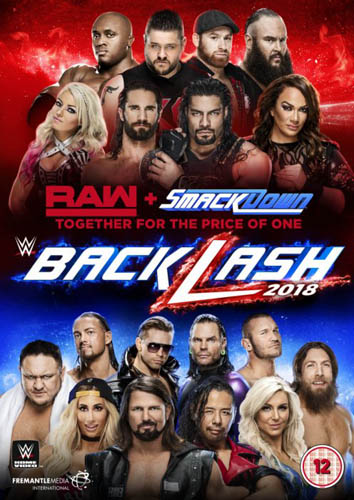 WWE BACKLASH 2018 is heading to DVD in the UK on 23rd July 2018.
It's WWE's first major pay-per-view event since WrestleMania 34, with over 3 hours of sensational action from the Superstars of Raw and SmackDown LIVE! AJ Styles defends the WWE Championship against Shinsuke Nakamura in a brutal no disqualification match, and Roman Reigns tries to reassert his dominance when he collides with Samoa Joe!
Not only the first major WWE show since WrestleMania 34 – resetting the action and drama for the "post-Mania season" – Backlash is also the start of a new era, with both Raw and SmackDown Superstars now on every PPV card, making Backlash an event that's absolutely stacked with huge matchups from both brands!
Roman Reigns and Samoa Joe decimate each other in a hard-hitting powerhouse match. Seth Rollins and The Miz put on a breakneck wrestling clinic. AJ Styles and Shinsuke Nakamura prove the depths they're willing to got to be WWE Champion. And Carmella shocks the WWE Universe with her devious tactics against Charlotte Flair!
With so much at stake and the landscape changing after the Raw and SmackDown "Superstar Shake-Up", the stakes were as high as ever at Backlash – an exciting follow-up to one of the greatest WrestleManias of all time!
Don't miss out!