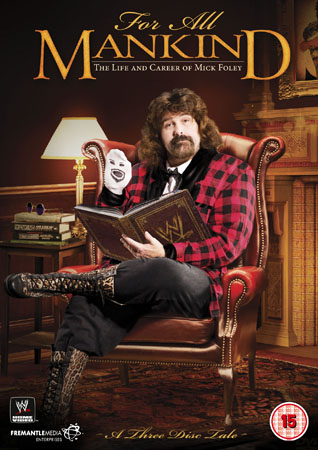 FOR ALL MANKIND: THE LIFE AND CAREER OF MICK FOLEY
Out on 3 Disc DVD and Blu-Ray from 22nd April 2013
Mick Foley has been known by many names in the world of wrestling: Jack Foley, Cactus Jack Mason, Dude Love and Mankind. Despite his changing names and personas, everyone will remember the man that is Mick Foley and the joy he brought to wrestling entertainment fans worldwide.
For All Mankind is a look at Mick's life, from a toddler to his teens, rising up through the ranks, through different wresting organisations to finish at the ultimate WWE.
Disc One of For All Mankind is a documentary with Mick Foley, as he talks us through his life. What plays out on screen is an interesting, captivating footage over 2 hours long featuring interviews with Jim Ross, Dwayne 'The Rock' Johnson, Shawn Michaels and Triple H, just to mention a few. Mick explains how he first got into training with Dominic Denucci, after being inspired to follow his dream from watching Jimmy 'Superfly' Snuka at Madison Square Gardens. The deal with Denucci was if Mick set up the ring for the shows, Mick could train with him. Mick recalls how the first time he set up the ring took 22 hours and with subsequent times taking just as long, Mick missed out on training with Denucci. However, Denucci invited Mick to train with him in Pittsburgh, so Mick would travel every weekend 300 miles from Cortland to Pittsburgh to learn the trade and learn he did!
Mick debuted at Superstars in 1986 under the name of Jack Foley and teamed up with Mancunian, Les Thornton, against the British Bulldogs in a tag team match. The biography style documentary continues to document his wrestling career and life as he joined WCW as Cactus Jack Manson in Dallas, an organisation he had a bitter relationship with. However, his hardcore style of wrestling which would see him elbow his competitors on concrete, causing more injury to himself than the other wrestler, gained admiration and support from fans. Here's a wrestler who'd put his own pain and suffering to one side to give audiences things they've never seen before in wrestling entertainment. The punishment Mick Foley would take was enormous and the spectacle he produced is just as jaw dropping now as it would have been then. His dedication to his style in a fight against Vader as Cactus Jack, saw his ear being ripped off during the match. Footage of this fight and his ear falling from his head is seen on the disc and it's shocking to see and imagine what that must've felt like. But the punishment didn't stop there. We follow Mick's accounts as he left ECW to join the Japanese IWA organisation where barbed wire was used for ropes. With fellow wrestler Terry Funk, the two would put on a bloody show that the Western world would have a coronary at nowadays.
After his Cactus Jack debut with Triple H in the WWF, Mick's most popular and notorious match as Mankind against The Undertaker in the WWF's Hell in a Cell is recounted in detail, with clips shown of Mankind's descent from the 20ft cage onto the wooden commentators table below. It's startling to see and the audience too gasped in both shock and amazement, especially as Mankind returns to his feet to continue the match after being hauled away on a stretcher. This is truly thrilling stuff, an event which led onto bigger things for Foley, with Mankind regularly seen on screen mithering WWF CEO Vince McMahon and forging a tag team partnership with The Rock, called the Rock n Sock Connection, a nod to Mankind's glove puppet, Mr Socko.
The documentary continues through to the end of Foley's WWE wrestling career, following his accounts of taking on the Commisioner role, publishing his own autobiography and retiring from the ring, concentrating on his books, stand-up comedy shows and his vast amount of charitable work.
Disc 2 and Disc 3 of For All Mankind are various matches which Mick Foley fought in as his various alter egos.
Disc 2
Superstars September 1986
Jack Foley / Les Thornton vs. The British Bulldogs
Alternate Commentary: Mick Foley & Joey Styles
AWA All Star Wrestling October 1988
Cactus Jack / Gary Young vs. Scott Steiner / Billy Travis
Wild West Wrestling April 1989
Cactus Jack Manson vs. Brickhouse Brown
Power Hour March 1990
Cactus Jack vs. Keith Hart
Power Hour November 1991
Submit or Surrender Match
Cactus Jack vs. Sting
Clash of the Champions XVIII 21st January, 1992
Falls Count Anywhere Match
Cactus Jack vs. Van Hammer
Ft. Lauderdale, FL May 1995
Barbed Wire Match
Cactus Jack vs. Sandman
CyberSlam February 1996
Cactus Jack vs. Shane Douglas
Alternate Commentary: Mick Foley & Joey Styles
In Your House: Cold Day in Hell 11th May, 1997
Mankind vs. Rocky Maivia
In Your House: Canadian Stampede 6th July, 1997
Mankind vs. Hunter Hearst Helmsley
Disc 3
RAW 17th November, 1997
Dude Love vs. Rocky Maivia
King of the Ring 28th June, 1998
Hell in a Cell
Mankind vs. Undertaker
Alternate Commentary: Mick Foley & Joey Styles
RAW 13th July, 1998
WWE Tag Team Championship Match
Mankind / Kane vs. New Age Outlaws
In Your House: Rock Bottom 13th December, 1998
WWE Championship Match
Mankind vs. The Rock
SmackDown 2nd September, 1999
WWE Tag Team Championship
Mankind / The Rock vs. Triple H / Shane McMahon
SmackDown 16th December, 1999
Mankind vs. Al Snow
No Way Out 27th February, 2000
Hell In A Cell – Retirement Match
Cactus Jack vs. Triple H
As with all the WWE releases so far, Blu-Ray offers a substantial amount of extras including promos, WCW 1991 Sting's Birthday Cake, WCW No Ear Surgery, RAW 2004 Barbie, Smackdown 2008 Cutting Edge and RAW 2012 Relevancy with CM Punk.
I doubt you can get a comprehensive documentary on the wrestling legend that is Mick Foley other than his self penned book. This is truly the DVD/Blu-Ray to buy for all wrestling fans, and especially for fans of Mick Foley!
Rating: