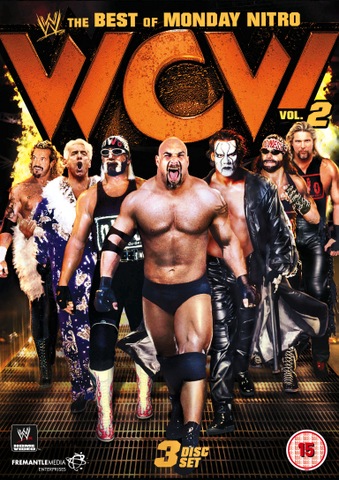 THE BEST OF WCW MONDAY NIGHT NITRO VOL 2
On DVD and Blu-Ray from 29th April 2013
During the mid 1990's to early 2000's, World Wrestling Federation (WWF) had a rival in the form of World Championship Wrestling (WCW). Battling for the Monday night spot with wrestling fans was WWF's RAW against WCW's Monday Nitro. WWF had such a large presence in the UK, that many of the WCW Nitro matches were unseen by British audiences…until now. WWE, who eventually acquired WCW, have brought out THE BEST OF WCW MONDAY NIGHT NITRO: VOLUME 2, on DVD and Blu-Ray, and if you truly love wrestling, you'll be on cloud nine with this release.
The DVD comprises of 3 discs (2 on Blu-Ray – same content), with former WCW wrestler Diamond Dallas Page returning to present the second installment of the iconic wrestling matches.
The first disc features 2 hours of matches, kicking off with the first ever WCW Monday Nitro match between Nature Boy – Ric Flair and Sting. The two enter the ring with matching peroxide blonde hair and as the bell sounds, it quickly becomes apparent just how much the styles have changed. Set in a busy shopping mall with crowds lining the entire upper and ground floor, not to mention the escalators, the match seems a little amateurish. Ric Flair seems to over-emphasise his reactions to being hit and the whole match seems to be a bit theatrical for my taste. Of course, there is always an element of theatrics, even in wrestling entertainment today, but this seemed a little too OTT to the point of cringeworthy. Looking back, however, it is to be expected, and WCW improved thier game, as did the wrestlers.
In the war of words between WWF and WCW, female wrestler and former women's WWF champion Madusa appears on WCW, claiming to now be a WCW wrestler and shoves her WWF championship belt in a bin, stating what she thinks of the WWF. As far as jibes come, this was quite a kick in the nuts to WWF, with a former wrestler of there's publicly trashing them, literally.
There's a huge amount of matches on the disc, including Hulk Hogan vs Arn Anderson, the latter of whom is aided by Ric Flair, and an early look at Rey Mysterio Jr, as he fought Juventud Guerrera for the WCW Cruiserweight Title. It was great to see a young Rey Mysterio doing what he does best, against an equally impressive competitive wrestler in Juventud. One thing that impressed me was the number of Latino fighters in WCW, who even had their own version of nWo – lWo (Latino World Order). Their lucha libre style is always one that impresses me and grabs my attention, so to find WCW representing them so well is an accolade they should cherish.
As aforementioned, nWo, also known in full as New World Order, inspired a generation of wrestling fans, with their initialed logo adorning the t-shirts of hundreds in the crowds. Taking on matches of their own and aiding others, such as Diamond Dallas Page in his United States Championship Quarter Finals fight against Jeff Jarrett, nWo, in particular Scott Hall and Kevin Nash, were the team to beat.
Disc 2 looks at the years between 1997 and 1998, with WCW becoming such an important factor in current culture at that time that even celebrities wanted to be a part of it. They had appearances from professional basketball player Karl Malone, actor David Arquette, martial artists Jean Claude Van Damme and Chuck Norris, not to mention the evil slasher doll, Chucky! Even bands such as Megadeath, Misfits, Insane Clown Posse and the iconic KISS ended up playing at the live WCW Nitro events. One such athlete, basketball player Dennis Rodman, made several appearances actually wrestling in WCW, the first being in 1997 with 'Hollywood' Hulk Hogan against Lex Luger and The Giant.
The rest of Disc 2's 2 hours and 17 minutes running time looks features various matches, including nWo's Kevin Nash against Rey Mysterio Jr, and Bill Goldberg's debut fight in WCW against Hugh Morrus. The mysterious Goldberg, standing at 6ft 3 inches, totally demolished Morrus to shock the crowd, in a fight which launched his career in wrestling.
The third disc of WCW Monday Nitro Vol 2 features matches at the back end of the World Championship Wrestling organisations reign before being acquired by WWF, now WWE. WCW in this time had come such a long way, and the matches between 1998 and 2000 just proved how professional a show they could put on, in stark contrast to their very first event. It's also a delight to see wrestlers such as Chris Jericho in their wrestling career before moving to Vince McMahon's WWE, something which some of the British viewers might not have seen. At 2 hours and 28 minutes long, the third disc continues to showcase the most memorable and best moments of the final years of WCW.
Throughout the entire volume, Diamond Dallas Page shares some of his memories, experiences and thoughts about certain fighters, matches and times in his career and the others, along with the progression of WCW as an organisation. DDP is a tremendous host and his insights are interesting to listen to, and in some cases, particularly emotional such as when he recounts a message he left for the late 'Macho Man' Randy Savage.
The only real issue I have with THE BEST OF WCW MONDAY NIGHT NITRO VOL 2 is when the camera cuts to what would have been an advertisement break during the match. When the programme returns, we find the wrestlers in a totally different position than they were before due to the action continuing. This can be aggravating, especially if one wrestler has gone from losing to having the upperhand within an ad break. Surely the cameras would have still been rolling during the break. However, there's nothing that can be done about that and if you can look past the minor quibble, you'll find so much wrestling goodness in Volume 2. Nostalgic and entertaining, THE BEST OF WCW MONDAY NIGHT NITRO VOL 2 is a must-buy for all wrestling fans.
Rating:
Order now from WWE DVD and Amazon
THE BEST OF WCW MONDAY NIGHT NITRO VOLUME 2 Contents
Disc 1
4th September, 1995
WCW United States Championship Match
Sting vs. Ric Flair
18th December, 1995
Madusa trashed the WWE Women's Championship
Trashing the Gold
12th February, 1996
Hulk Hogan vs. Arn Anderson
11th March, 1996
Steiner Brothers vs. Road Warriors
Cruiserweights
6th May, 1996
Jushin "Thunder" Liger vs. Dean Malenko
16th September, 1996
WCW Cruiserweight Championship Match
Rey Mysterio vs. Juventud Guerrera
Rookie of the Year
30th September, 1996
Eric Bischoff's Biggest Regret
9th December, 1996
WCW United States Championship Tournament Quarter Finals Match
Diamond Dallas Page vs. Jeff Jarrett
The Lone Wolf
21st April, 1997
Kevin Nash patches up potholes
26th May, 1997
Hollywood Hogan makes Sting worship him
Through the Crowd
2nd June, 1997
Ric Flair vs. Scott Hall
Disc 2
Celebrities
16th June, 1997
Hollywood Hogan & Dennis Rodman call out Lex Luger & The Giant
30th June, 1997
Rey Mysterio vs. Kevin Nash
7th July, 1997
La Parka vs. Randy Savage
22nd September, 1997
Goldberg vs. Hugh Morrus
Homegrown

6th October, 1997
Booker T vs. Jeff Jarrett
3rd November, 1997
Street Fight for the WCW World Tag Team Championship
Steiner Brothers vs. Public Enemy
10th November, 1997
NWO sings "O Canada"
15th December, 1997
Booker T vs. "Macho Man" Randy Savage
Remembering Macho Man
22nd December, 1997
Rey Mysterio, Juventud Guerrera & Hector Garza vs. Psicosis, Silver King & La Parka
5th January, 1998
WCW United States Championship Match
Diamond Dallas Page vs. Chris Jericho
Spring Breakout
9th March, 1998
Hollywood Hogan, Kevin Nash & Scott Hall vs. Sting, "Macho Man" Randy Savage & The Giant
23rd March, 1998
WCW World Heavyweight Championship Match
Sting vs. Diamond Dallas Page
20th April, 1998
Raven's Rules Match for the WCW United States Championship
Raven vs. Goldberg
4th May, 1998
Birth of Wolfpac
Disc 3
NWO Divided
1st June, 1998
Kevin Nash & Lex Luger vs. Hollywood Hogan & The Giant
28th September, 1998
Chris Jericho meets the real Goldberg
Nitro Parties
21st December, 1998
Rey Mysterio vs. Eddie Guerrero
25th January, 1999
Ladder Match for the Taser
Bam Bam Bigelow vs. Scott Hall
8th February, 1999
WCW United States Championship Match
Bret "Hit Man" Hart vs. Rowdy Roddy Piper
Jersey Boys
31st May, 1999
WCW World Tag Team Championship Match
Perry Saturn & Kaynon vs. Diamond Dallas Page & Bam Bam Bigelow
12th July, 1999
WCW World Heavyweight Championship Match
"Macho Man" Randy Savage vs. Hollywood Hogan
Nitro Girls
13th December, 1999
WCW World Tag Team Championship Match
Kevin Nash & Scott Hall vs. Goldberg & Bret "Hit Man" Hart
15th May, 2000
House of Pain Match
Sting vs. Vampiro
26th February, 2001
Shane Helms vs. Shannon Moore
26th March, 2001
WCW United States & World Heavyweight Championship Match
Booker T vs. Scott Steiner
A Celebration of Nitro
Special Features
3rd November 1997
Rey Mysterio and Lord Steven Regal vs Eddie Guerrero and Dean Malenko
5th October 1998
WCW United States Championship Match
Sting vs Bret 'Hitman' Hart
Blu Ray Exclusives
11th September, 1995
WCW World Heavyweight Championship Match
Hulk Hogan vs. Lex Luger
18th September, 1995
Ric Flair vs. Brian Pillman
21st October, 1996
J.L. vs. NWO Sting
16th March, 1998
Sting & Lex Luger vs. Hollywood Hogan & Randy Savage
15th June, 1998
Steel Cage Match
Diamond Dallas Page vs. Randy Savage
14th September, 1998
WCW World Heavyweight Championship Match
Goldberg vs. Sting
1st February, 1999
WCW Television Championship Match
Scott Steiner vs. Chris Jericho
15th March, 1999
Ric Flair & Goldberg vs. Hollywood Hogan & Kevin Nash
22nd November, 1999
Jeff Jarrett reclaims his WCW World Heavyweight Championship
DDP and Randy Savage's War of Words