Multi- Action Fat Loss Supplement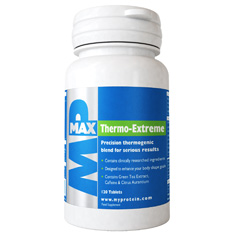 The sports supplement market is full of fat loss products proven to suppress appetite, block carbohydrates, increase the metabolism, enhance fat oxidisation or mobilise fat stores on the body. But few supplements on the market have been proven to do all at once, until now! MP Max Thermo-Extreme has been scientifically formulated using the latest research to reduce your body fat percentage through a variety of different mechanisms within the body. Here we explore the properties of the active ingredients to see why MP Max Thermo-Extreme is being heralded as a breakthrough in the science of fat loss.
Firstly perhaps the most well-known and documented of all the ingredients in MP Max Thermo-Extreme is green tea extract. Containing the catechin called epigallocatechin gallate (EGCG) a study conducted at the University of Geneva showed that green tea extract was able to increase the rate at which stored body fat is burnt by over 30%. Plus, a study published in the prestigious journal Phytotherapy Research, shows that as well as boosting the metabolic rate, green tea extract helps to block the absorption of fat. In other words, not only does green tea extract help you to lose the fat you've already got, it also reduces the amount of fat you digest and store on your stomach.
Next, renowned for its ability to help control cravings MP Max Thermo-Extreme contains Chromium. The primary function of chromium is to make the hormone insulin work better, helping to drive both protein and glucose into muscle cells while minimising fat storage. Also chromium has been shown to help regulate blood sugar levels therefore helping those wanting to lower their body fat control cravings. In fact, in a study published in Medicine and Science in Sports and Exercise, researchers from the University of Texas at Austin examined the effect of chromium on body fat in a group of 43 overweight people. Following 9 weeks of exercise training and chromium supplementation, the loss of fat was significantly greater in the chromium group compared to those in the placebo group.
MP Max Thermo-Extreme also includes caffeine, not only for its ability to increase the metabolism but also because it 'enhances fat oxidation and spares muscle glycogen by creating a more favorable intracellular ionic environment in active muscle.' (Graham. T.E. 2001) Furthermore, researchers at Yale University found that the 'favorable intracellular ionic environment' created by the caffeine can improve your ability to burn more calories during exercise by stimulating the production of the neuro transmitter beta-endorphin, which studies show can reduce pain and perceived fatigue, which can then in turn increase the intensity and duration of your workouts.
Also working in a slightly different way to most other ingredients, white kidney bean extract has been shown to neutralise the effects of carbohydrates, helping to reduce the conversion of starch (carbohydrate) in to fat. Basically during the digestive process, your body converts carbohydrates, found in starchy foods such as potatoes and pasta, into sugar. Your body does this by breaking down the carbohydrate with alpha amylase, an enzyme produced in the pancreas. These calories are either burned off or stored as fat. White kidney bean extract "neutralizes" the digestive enzyme alpha amylase before it can convert starch into glucose and then fat, essentially allowing the carbohydrates to pass through the system safely and naturally.
Nutritional Information of MP Max Thermo-Extreme:
Amount per 4 capsule serving:
White Kidney Bean (4:1 Extract): 225mg extract equivalent to 900mg White Kidney Bean
Thermogenic Blend (Citrus Aurantium, Caffeine, Raspberry Ketones, Cayenne Powder, Chocamine): 950mg
Bladderwrack (4:1 Extract): 150mg extract equivalent to 600mg Bladderwrack
Green Tea Extract (95% Polyphenols): 450mg
Total Caffeine content: 175.5mg
Siberian Ginseng: 150mg
Chromium: 118.8µg
Vitamin B6: 4.8mg
Vitamin B12: 24µg
£20.99 for 120 capsules and available from www.myprotein.com