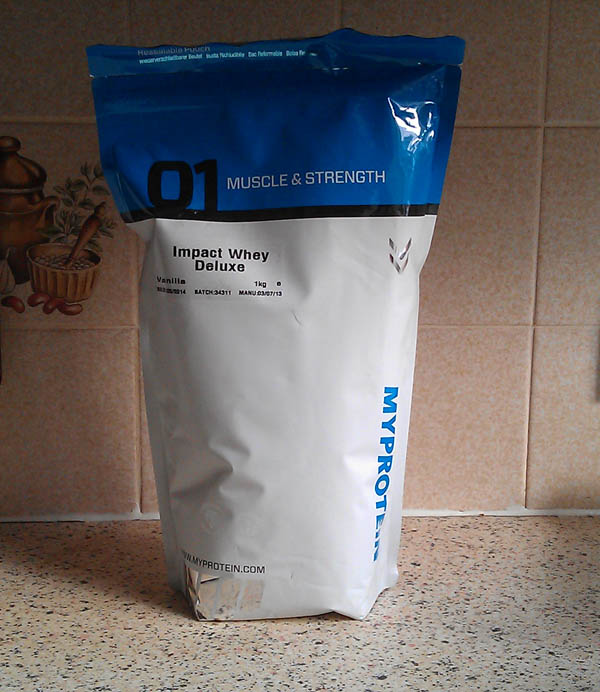 After doing continuous training 4 days in a row, your body and muscle can begin to suffer. That's why whenever I've had a hard session at Ju-Jitsu, be it rolling, sparring, or maybe doing a spot of weightlifting, I always consume a whey protein shake within 30 minutes of training, to grow and repair those tired muscles.
As you are no doubt aware, most supplement companies on the market do whey protein, and they do so in a variety of flavours. It's sometimes hard to work out which is the best product to buy, but if you've been reading my reviews, I hope I've helped somewhat in enabling you to choose.
One of the popular supplement companies, due to the taste, price and nutritional value, is Myprotein. I've already reviewed their Impact Whey Protein (Strawberry Cream flavour) but in this review, I'll be taking a look at Myprotein Impact Whey Deluxe in Vanilla flavour.
So I suppose the first question to ask is:
What is the difference between Myprotein Impact Whey Protein and Impact Whey Deluxe?
Myprotein Impact Whey Protein is derived from whey protein concetrate, whereas Myprotein Impact Whey Deluxe is a blend of whey protein concetrate, whey protein isolate and hydrolyzed whey protein, which translated into terms you and I understand: Impact Whey Deluxe is marginally better than Impact Whey Protein as it has been filtered and contains less natural carbohydrates and is faster absorbing.
Now we know the difference, lets take a look at the vanilla flavoured Myprotein Impact Whey Deluxe.
Aroma and Colouring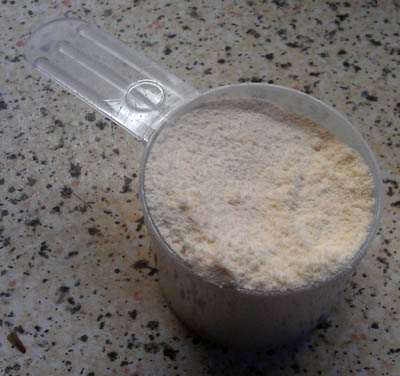 Arriving in a resealable 1kg bag, complete with 30g plastic scoop, the Myprotein Impact Whey Deluxe powder smells deliciously like vanilla, which is a good start indeed. The powder is vanilla ivory in colour and fine in texture. The back label of the pouch says to add 1 heaped scoop (30g), the scoop which came in the pack, to 200-250ml of water or milk in a shaker bottle. Now, I'm not a fan of milk, so I always opt for water and usually take 300ml, so with Impact Whey Deluxe, I use 250ml of water.
With Myprotein's other whey protein product, I've found the powder mixes well. Fortunately, Impact Whey Deluxe is of the same breed and mixes extremely well also, leaving me with a smooth vanilla coloured and flavoured protein shake to consume after a hard evening's training.
Taste
I've got to say, I'm not Vanilla's biggest fan. I'm more of a strawberry or chocolate type of girl when it comes to primary flavours (I call vanilla, strawberry and chocolate the holy trinity of flavours). In past experience with other supplement brands, vanilla hasn't boded so well with me but mark me pleasantly surprised with Myprotein's effort.
The moderately thick yet smooth, delicious protein shake has a full-bodied vanilla taste that is delicious on the tastebuds. You can call me a convert because Myprotein Impact Whey Deluxe in vanilla is absolutely smashing. Its taste is really enjoyable without it being too overpowering that it makes you feel sickly.
Comparing it to Impact Whey Protein, Impact Whey Deluxe is thicker in texture, which is about right considering we use 30g of powder per serving in contrast to Impact Whey Protein's 25g per serving.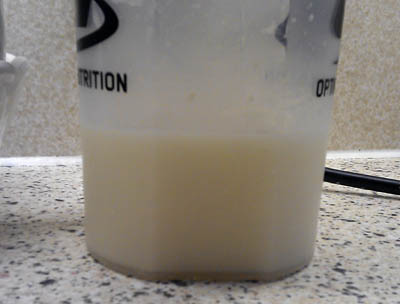 Nutritional Value
Myprotein Impact Whey Deluxe contains a protein blend (Whey protein concentrate, whey protein isolate, hydrolyzed whey protein) derived from Milk, flavourin, Xanthan Gum, Emulsifier (Soy Lecithin). The protein powder contains milk, soy and gluten and is stated to have been made in a facility that handles egg, crustaceans and products thereof. For each 30g serving which is consumed as a protein shake, Impact Whey Deluxe provides 461.3kJ or 110.2kcal of energy, 22.3g of protein, 1.9g of carbohydrates and 1.9g of fat. Percentage wise, 74.3% of the serving is protein.
All the pouches of Myprotein powder come labelled with the date of manufacturer and the best before date. The Impact Whey Deluxe has a shelflife of around 10 months, which if you're taking a shake every training session or 2-3 times a day, like it says on the packet, it is plenty of time for you to consume.
Overall Opinion
I'm impressed with the mixability and taste of Myprotein Impact Whey Deluxe. It's refreshing to consume as both a drink and a nutritional protein shake. The fast acting qualities of the protein is great to recover and grow the muscles after an intense session training in martial arts or lifting weights, which is what most of you will be buying protein for anyhow. As someone who doesn't get a whole lot of protein from their daily food diet, Impact Whey Deluxe is ideal.
The protein blend of whey protein concentrate, the purer whey protein isolate and faster-absorbing hydrolised whey protein can give you that slight edge if your training and diet is set for a specific goal, such as bodybuilding, where every carb, fat and protein percentage matters.
Rating:
Myprotein Impact Whey Deluxe is available in unflavoured, vanilla, strawberry or chocolate flavour and in sizes 1kg, 3kg and 4kg pouches, starting from £16.99 1kg unflavoured or £19.79 1kg flavoured.
Make sure to check out our MyProtein voucher code page to see if there's any discounts, offers or freebies before purchasing.