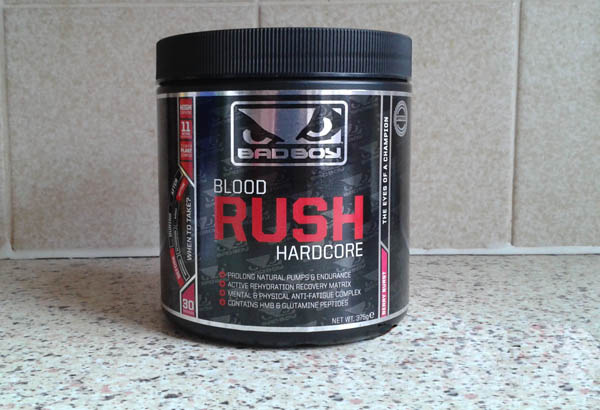 We've all been there. It's time to train and your body feels tired and you don't think you're going to get through the training session without a little bit of a push. Or maybe you're feeling good but you wanna feel great and get more out of your training than you would normally do. It's times like these when we reach for a tub of pre-workout sports supplement which contains a blend of ingredients including caffeine which which will help us get the most out of a training session.
Bad Boy have launched their own sports nutrition brand and with this range, they've included a pre-workout named Bad Boy Blood Rush Hardcore which I'll be giving my thoughts on in this review.
Appearance and Taste
Opening the tub of Bad Boy Blood Rush Hardcore Berry Burst flavour, you're instantly hit with a strong fruity scent. The powder itself is a faded pink colour and varies in texture. Whilst the powder itself is fine, it appears to clump together easily and if settled, it feels solid however scrape it with the scoop provided and it falls away into the fine power again.
The side of the tub recommends to use 1 rounded scoop (12.5g) of Bad Boy Blood Rush Hardcore powder with 225-250ml of water and shake well. You can either use a shaker bottle or use a glass and a spoon which I have done in this photo to show you the colour of the pre-workout once mixed.
The powder mixes incredibly well rather quickly with no lumps at all. The texture is very smooth with the powder completely dissolved to provide a soft pink appearance to the pre-workout drink.
The Bad Boy Blood Rush Hardcore Berry Burst pre-workout drink has a fantastic taste to it. It both smells and tastes of berry in a strong way but isn't too sweet on the tastebuds. It's refreshing yet the taste is flat, a bit like juice so it's not too overbearing on your tastebuds especially if you're sensitive to sweet or sour flavourings.
Using Bad Boy Blood Rush Hardcore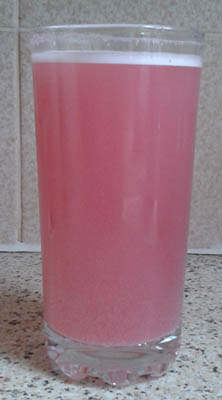 This pre-workout is extremely potent stuff. Upon first trying Blood Rush Hardcore, I took the recommended heaped scoop with 250ml of powder. Soon I began to experience a tingling sensation in my lips, fingers and neck and the intense sweating came not long after. Unfortunately I didn't have as hard a workout at Ju-Jitsu than we usually have and I found myself still buzzing after class. It was pretty obvious to everyone around me 'cos I couldn't shut up talking, with my words wanting to come out at 90mph. I struggled to sleep that night and when I awoke the next day I was still on a high. Eventually, I came down at 11am after taking the pre-workout at 7.30pm the previous evening. Wired for 15.5 hours. Yes, a full scoop is far too much for little me (5'2″ and weighing 9 stone). After that crazy experience, I opted for half a scoop and that seems to be perfect for me and I've been taking half a scoop servings ever since. I take a half scoop at 7.30pm ahead of the 8pm class start and by the time 10.30pm comes after a hard training session, I've come back down to normal, ready for a shower and a good night's sleep.
When using half a scoop of Bad Boy Blood Rush Hardcore, I don't get the clarity or super bursts of energy I've experienced with other pre-workout supps. It does however make me incredibly warm and I sweat more than I would normally do. I find that when using the Bad Boy preworkout I can push myself more in class and get through the training better than I would normally do even if I don't seem to have a super clear mind or focus. It makes me feel no different in an emotional sense as I feel exactly the same as I normally would, just hotter, though I'm able to train and push my body harder for longer.
I was tired before a Ju-Jitsu class one evening and decided to take half a scoop of Blood Rush Hardcore. Having used the supplement, I was able to push through my class, especially the intense warm up of exercises, rolling and padwork, right to the very end and feel good doing it. I know without it, I wouldn't have managed. Although it's a bonus to have the clarity what other pre-workouts bring, it's also nice to have an option such as this where it doesn't affect my mind but just my body. If I'm feeling in fresh spirits anyway, this pre-workout gives me the edge I need to take things further and get through training when I would otherwise struggle. Of course, with a full scoop as recommended, I get all the energy I need and then some, but then it takes ages for me to come down which isn't so suitable if taken ahead of a late evening class which is often when I train.
Ingredients
Pre-workout supplement Bad Boy Blood Rush Hardcore Berry Burst flavour contains Citric Acid Flavouring, Coconut Water, Tricalcium Phosphate, Agmatine Sulphate, Pre-Workout Plant Complex (Schisandra 10, Dendrobium Extract, Gingseng Panax, L-Theanine), Caffeine Anhydrous, Potassium Chloride, Sodium Chloride, Tri Magnesium Citrate, Trisodium Critate, Beetroot Red, Inulin and Sweetener (Sucralose, Steviol Glycosides). The plant complex gives the intense boost of energy to the supplement.
The pre-workout powder also contains 2000mg of Arginine AKG, Beta Alanine and Citruline Malate, 1000mg of Taurine, 250 mg of Caffeine, 750mg of Sodium Biocarbonate and 300mg of Agmatine Sulphate for every 12.5g serving. Beta Alanine and Taurine help to prevent muscle cramps and accelerate the building of new muscle tissue for recovery. The Arginine AKG is broken down by enzymes in the body to produce nitrate oxide, supplying higher concentrations of amino acids, glucose, oxygen and other vital nutrients to muscles.
A single serving of 12.5g of Bad Boy Blood Rush Hardcore provides 152Kj or 37kcal of energy, 0.01g of fat (of which are saturates), 1.91g of carbohydrates (of which 0.43g are sugars and 0.61g are starch), 0.05g of fibre, 7.02g of protein and 0.74g of salt. The serving also contains a vitamin complex of 16mg of Niacin (Vitamin B3), 1.6mg Vitamin B6 and 5mcg of Vitamin B12, the latter two of which can contribute to the reduction of fatigue and tiredness.
Overall Opinion
Without a doubt, Bad Boy Blood Rush Hardcore Berry Burst is an effective supplement. It's the most potent pre-workout I've ever taken in terms of long-lasting energy though it's a bit too good for what I need it for. If you find the right balance that suits you (a full scoop might be right), then you can get the much needed energy you require to push though those sets if lifting weights or the stamina needed for hours of rolling. I know that with half a scoop I can have the desired energy I require for 3 hours leaving me in in the right frame of mind and body condition to have a good night's sleep without my mind working overtime. As long as you don't mind the increased sweating, this supplement does the trick.
Flavour wise, Bad Boy Blood Rush Hardcore Berry Burst flavour is one of the best tasting pre-workout supps out there. It's refreshing, fruity and a pleasure to drink.
Rating:
Bad Boy Blood Rush Hardcore is also available in Pineapple and Lemon and Lime flavour in 375g tubs.