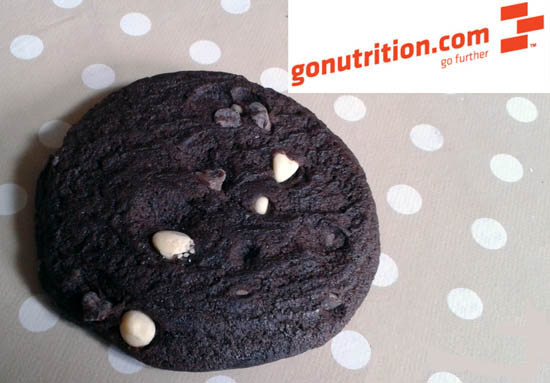 Whether I'm training or recovering, I always end up scoffing biscuits. For some reason, if I don't have my chocolate hit (it has to be chocolate. Sugary stuff in general won't cut it), I end up feeling very ill. The downside of this is eating too many of the confectionery versions so imagine my delight when I got to try out a Triple Chocolate Protein Cookie from British supplement brand GoNutrition.
I'm a fan of cookies. They always hit the spot during my chocolate craving but when training, they're not the best thing to eat. I usually snack on protein bars to boost repair, growth and recovery but with the advent of protein cookies, could they be a better, tastier choice?
GoNutrition Protein Cookie Appearance and Taste
The GoNutrition Protein Cookie comes individually wrapped in foil, leaving the contents a mystery until you unwrap. Opening up the shiny wrapper, I'm greeted by a chocolate cookie with a diameter of 3.75 inches, which makes it a good, if not generous, sized cookie as a snack. White and dark chocolate chips are nestled on top and within the 14mm thick cookie, which gives the cookie it's triple chocolate aspect (chocolate cookie plus two types of chocolate chip). The baked finish on the top of the cookie is very appetising to look at and leaves me eager to bite into it.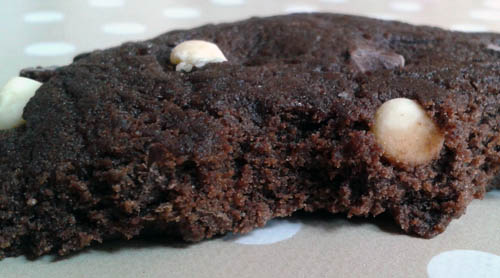 Now comes the best bit: the taste! Biting into the cookie, it tastes just like a normal confectionery cookie you'd buy from a bakery, without any unusual tastes. It's texture is thick, chewy and soft, with a moist edge just like the Protein Flapjack which I reviewed last week. With every bite, it hits the spot, providing the chocolate rush and the protein nutrition. As you can see from the photo, the cookie is well structured with chocolate chips embedded within the sturdy yet soft cookie. A truly delicious treat!
Nutrition
So how about that all important protein content? Well, hold onto your hats, folks! This 75g protein cookie contains a whopping 37.5g of protein, which beats most protein bars and flapjacks by well over 10g. This protein cookie has the most protein content in any snack I've tried which puts it at the top of the list for nutrition. The fact it tastes absolutely delicious makes it even better!
The GoNutrition Triple Chocolate Protein Cookies contain Milk Protein, Hydrolysed Gelatine, Glycerine, Vegetable Oil, Soy Protein, Dark Chocolate Chips (4.5%) (Cocoa Mass, Sugar, Emulsifier [Soy Lecithin], Flavouring) , White Chocolate Chips (4.5%) (Sugar, Cocoa Butter, Whole Milk Powder, Emulsifier [Soy Lecithin], Flavouring), Sugar, Cocoa Powder, Oat Four, Dietary Fibre (Gum Acacia), Raising Agents (Sodium Bicarbonate, Cream of Tartar), Flavouring and Sweetener (Sucralose).
Those allergic to oats, milk and soy would want to avoid.  The cookies are GM-free and contain no artificial colours.
Nutrition wise, the cookies are definitely a healthy alternative to the chocolate cookies you'd buy from the bakery counter at a supermarket. As well as containing 37.5g of protein per cookie, the snack also provides 19.3g of carbohydrates (7.2g of which are sugars), 9.9g of fat (3.9g of which are saturates), 1.7g of dietary fibre and 0.5g of salt. Overall, a 75g cookie provides 1337 kJ or energy or 320 kcal.
Overall Opinion
For someone like me who has a major sweet tooth to the point of feeling ill at a lack of chocolate but who wants to keep their diet on the healthier side, GoNutrition Protein Cookies are just the ticket! Not only do they taste just like the real thing, but they offer such a high amount of protein which makes them ideal for pre and post-workout training, as well as a snack between meals. The cookies are just the right size and thickness to fill you up without feeling like you've over indulged. If you like to eat protein bars or protein snacks, then I heartily recommend to check out these cookies.
The GoNutrition Protein Cookies come in a box of 12 and are available in Triple Chocolate, Chocolate Orange and Cherry Bakewell flavours, directly from their website.
Do check our GoNutrition page on the main Shop4 Martial Arts website to view any voucher codes that may be applicable to your order.