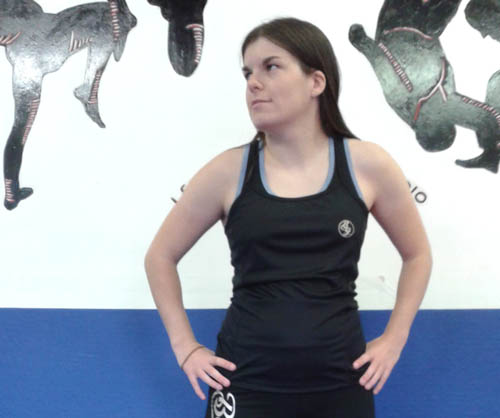 When training at the gym, out jogging, taking part in a dance class or wearing a gi during martial arts classes, it's important to wear something comfortable against our skin that will not only keep us cool but is suitable for the range of movement we put our bodies through during training.
In this review, I'll be taking a look at such an item of apparel, the Bad Girl Ladies GB Strap Vest Top.
Bad Girl BG Strap Vest Top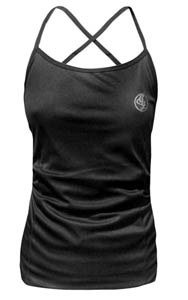 As part of Bad Girl's new subtly-designed BG range, the BG Strap Vest top is made from a soft, slinky, breathable 100% polyester fabric that floats on the body and sits comfortably on the shoulders, chest and torso with its slight A-line shape that flares gently at the hem.
The vest straps are adjustable so you can alter the length to your desired fit for your own body, which is a great addition to accomodate various body shapes and sizes. The straps also cross over at the back to add a bit of style to what is otherwise a very subtle but pretty vest top.
Design wise, the top is rather plain but does have the silver metallic BG circular logo printed on the left of the chest and Bad Girl script print in matching silver in the middle at the top of the back. The washing instructions and fabric content are also printed on the inside of the garment, rather than the itchy labels most tops come with.
The vet top has two columns of neat, reinforced stitching both on the front and back to secure the panels in place, which also adds to the look and design of the top.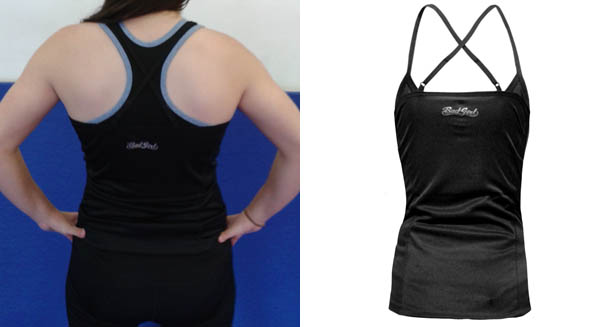 Practicality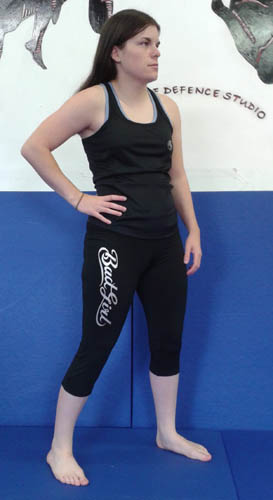 When I train Ju-Jitsu, I always wear a sports bra and then a top before putting on the gi jacket. I like my tops for wearing underneath the gi to be soft on my skin as unrestrictive when training else it can hinder my performance when throwing other members of the class or when ground grappling. I found that the Bad Girl BG Vest Top is very light to wear, which is great as my gi is thick enough as it is. The breathability of the fabric makes it ideal for wearing underneath my gi jacket as our training varies from warm-up exercises to padwork, throwing and grappling, so we get warm and sweaty very easily. The top does a great job of fitting my body's lines, not baggy or hanging off them, and keeping me cool underneath the gi when training.
When I'm not training at Ju-Jitsu, I sometimes train with dumbbells and a barbell at home. It's great to throw some training clothes on quickly for a weights session and the BG Strappy Vest Top is a great top for the job. Being a vest top, there's no sleeves to hinder my arm movements when lifting the weights and the shoulder straps stay firmly on my shoulders and do not slip down my arm. The top is so light, it almost feels as though I'm wearing nothing, which is fantastic for what I require of it.
Fit
As you can see in the photo, the BG Strap Vest Top is fitted to the curves rather than a baggy look, although the style is loose rather than a skin tight fit which helps for different body shapes.
I chose size Medium as I usually wear size 12 tops. I feel that the Medium fits me well and I like how it's a loose yet fitted style as sometimes the skin tight tops can feel constrictive. Plus, if I've been on the chocolate muffins, the fit of the top and black colour of the garment doesn't reveal my pouch! 😉
Take a look at the measurements below for the Medium size BG Strap Vest Top
| | |
| --- | --- |
| Chest Width | Length From Armpit To Hem |
| 16.5 inches | 17 inches |
When it comes to washing the top, Bad Girl advise a 30 degree wash and low tumble dry. Some of you will be glad to know that there's no need to iron it and Bad Girl themselves advise not to.
Overall Opinion
I really like the Bad Girl BG Vest Top. It's very comfortable to wear and so light that you hardly feel it, which is ideal for the summer time when the last thing you want is to feel hot during training. The trendy style of the top makes it great to wear anywhere, be it down the gym, dance class, yoga class, out on a jog or even worn casually. The addition of the adjustable fasteners on the straps help to ensure a great fit for each individual as we're not all built the same and sometimes it can be hard to find tops that fit right. Having the adjustable straps solves this problem.
At £11.99, the top is a bargain for what it is – a high quality stylish sports top – and is an excellent choice for any woman looking for a gym top for light to intense exercise that won't restrict their body movements and to help control their body temperature.