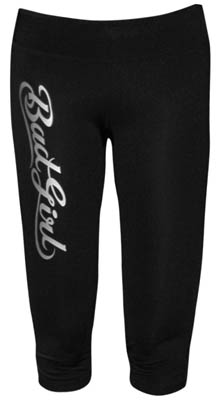 Sometimes we train no-gi at Ju-Jitsu, where we ditch the gi uniform and instead wear clothes like a t-shirt and shorts, or rashguard and leggings, also known as grappling spats, to train in. This is to give a realistic scenario of grappling in casual clothing, as we won't always have baggy pants and a jacket to cling onto. Often I will wear leggings on their own or under shorts when training no-gi, and this is where I tested out the new Bad Girl Ladies Capri Tights, which I will discuss in this review.
Bad Girl Ladies Capri Tights
Another piece of apparel from the new fitness range from Bad Girl, the Ladies Capri Tights are black, stretchy, 3/4 length tights that are made from 92% polyester and 8% spandex. The tights feature an elasticated waistband and also a lace drawstring in case you need to tighten them up around the waist. The right leg of the tights are decorated with metallic silver, large 'Bad Girl' text print which is repeated smaller on the back of the waistband on the right side.
Securely doubled stitched, the Bad Girl Capri Tights feature the washing instructions printed onto the fabric on the inside of the waistband, and advise a 40 degrees wash separately in case of colour bleed and for the pair to be hang dried.
The super soft leggings are really comfy to wear, fitting snug to the bottom and legs, all the way from the thighs to the calves. The elasticated waistband allows for a tighter, flexbile fit and with a lack of zips or other fasteners, is created to ensure the wearer has no irritation or chafing from the tights.
I chose the medium size Bad Girl Capri Tights as I usually wear size 12 bottoms. The leggings are a fantastic fit, clinging to my curves without feeling too tight and still allowing me full, unrestricted movement. When leggings fit correctly for your body, you should be able to kick your legs up high without pulling around the crotch area and these leggings are certainly ones that fit well and are flexible.
Here are the measurements of the Medium Bad Girl Capri Tights to give you an idea of their size compared to my measurements.
| | Bad Girl Capri Tights | My Measurements |
| --- | --- | --- |
| Waist | 29 inches unstretched | 31 inches |
| Inside Leg Length | 18 inches | 27 inches |
Wearing The Tights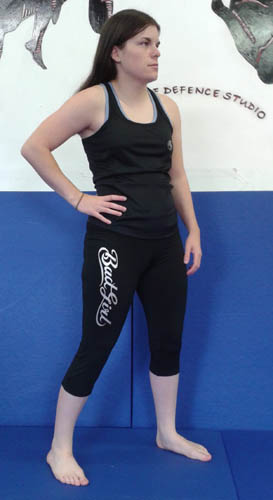 When we train no-go grappling, I like to wear tights because grappling requires a full range of movement. I tried the Bad Girl Capri Tights out whilst doing some no-gi sessions to see how they were compared to those tights that are actually marketed as grappling spats.
I usually have a problem with grappling spats due to the length – I was one of the last in the queue when it came to leg length – so I often find I have excess fabric at the ankles. With the Bad Girl Tights, they come up to the calf which is ideal for me as I don't have to contend with the excess fabric because of my short legs! With the hem of the tights gripping to me calf, I had no issue with them rolling up when grappling as they fit nice and snug against my legs.
When grappling, we often have to contort our bodies into various shapes to do certain techniques. The tights were up for the challenge and passed with flying colours. Being fitted to the skin, it was like I wasn't wearing leggings at all, and I had full unrestricted flexibility and range of movement when wearing them. Even when it came to shrimping, the soft leggings put up no resistance to the mat and allowed me to move with ease. Even after all the wriggling around, the tights stayed firmly around my waist and didn't fall down or go loose at any time.
I also wore the tights under a pair of MMA shorts when grappling and when doing padwork. I had no problem kicking the pads, with the tights allowing me to reach my maximum height when doing roundhouse kicks.
Sometimes during normal gi class, I like to wear tights underneath my uniform, so I did a few sessions with the Bad Girl Capri Tights underneath my gi pants. They really worked a treat during training when my gi pants accidently came undone and were about to drop around my ankles. That'd have been embarassing! The capri tights are super comfortable for long durations, even when worn under the gi pants. As we often stop during the class to watch the next technique, the sweat on our bodies can start to cool against the skin, making us cold, so the advantage of wearing the capri tights underneath as a second skin meant I could keep warm between the bursts of training during the session yet keep cool when actually exercising.
Overall Opinion
The Bad Girl Capri Tights are a great looking pair of high quality tights. Their length makes them ideal when grappling, especially for shorter people, and they fit incredibly well to the body. The design is simple yet striking and allowing full motion, they're ideal for all sorts of exercise be it jogging, dance, gym work or martial arts training. Having worn them during training, I wouldn't like to do classes without them now, they're that comfortable!
Bad Girl Capri Tights are available in black/black, black/blue, grey/blue and grey/pink. The alternative colours indicate the colour of the waistband.