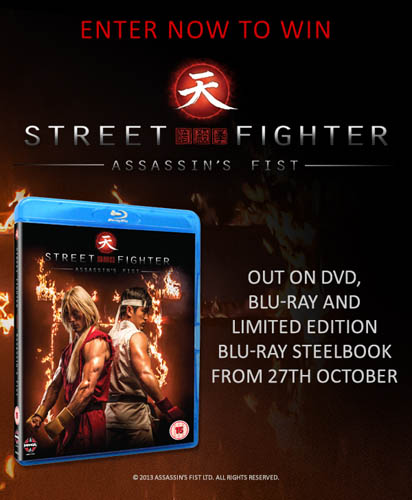 To celebrate the release of Street Fighter: Assassin's Fist on DVD & Blu-Ray on Monday 27th October we have a Blu-Ray copy to give away, plus 2 randomly selected Manga UK DVD and/or Blu-Ray titles!
Street Fighter: Assassin's Fist tells the origin story of Street Fighter's most famous duo, Ryu and Ken. Learning the way of the warrior at the secluded dojo of martial arts master Gouken, the pair are the last practitioners of an ancient fighting style known as Ansatsuken – 'The Assassin's Fist'. But the Ansatsuken style hides a dark and tragic secret; a legacy that is about to catch up with Ryu and Ken.
Fists fly and kicks rain down in this thrilling and faithful evocation of the Street Fighter universe, created by true devotees of Capcom's classic fighting game series. Action movie fans will love the scintillating fight scenes, jaw-dropping martial arts and compelling storyline; lifelong Street Fighter players will also adore how true Assassin's Fist stays to the videogame's lore.
Available to order from Amazon UK today.
For your chance to win a copy of Street Fighter: Assassin's Fist plus 2 Manga titles, answer the following question correctly:

What is the name of Ryu and Ken's signature fireball blasting move?

To enter, just send your answer along with your name and address to contact@shop4martialarts.co.uk with the subject 'Street Fighter Assassin's Fist Competition'.
The competition will close at 11.59pm GMT on Friday 7th November 2014 and one winner will be picked at random from the correct entries.
Remember to Like us on Facebook and Follow us on Twitter to be kept updated with the latest MMA news, offers, reviews and competitions.
T&C's
• This promotion is open to UK residents only.
• Entrants must be 15 years or over
• One entry per household
•The promoter of this competition is Fetch Dynamic Ltd
• There is no cash or other alternative to the prize stated and the prize is not transferable and no part or parts of the prize may be substituted for other benefits, items or additions.
• 1 winner will win 1x Street Fighter: Assassin's Fist on Blu-Ray plus 2 random Manga UK titles on DVD and/or Blu-Ray
• The Editor's decision is final and binding on the entrants. No correspondence will be entered into.