If you're always on the go and don't have much time to eat, or you're doing a lot of training and feel peckish between meals, then protein bars are ideal to give you a hit of protein whilst satisfying the hunger pangs.
In this review, I'll be taking a look at the PhD Protein Flapjack+ in Apple and Raspberry flavour.
PhD Protein Flapjack+
Made in the UK, the chunky 75g PhD Protein Flapjack+ bars come in a variety of flavours including Peanut Butter, Forest Berries and Apple and Raspberry, the latter of which I am reviewing here.
Unwrapping the bar's wrapper, I can really smell the raspberry content of the flapjack bar. The bar itself is a sticky, golden, rolled and malted oat bar coated in white yoghurt. It looks very appetising.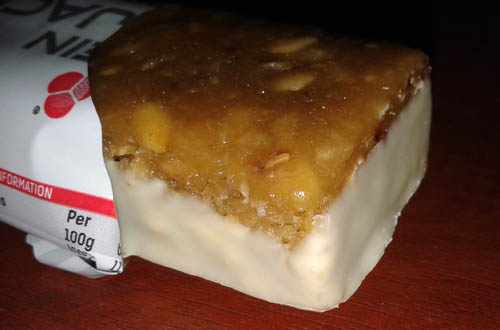 Biting into the bar, it's really soft and chewy with the subtle apple and the stronger raspberry taste coming through. The flapjack has the right amount of sweetness to be tasty and delicious and is quite moist. Other oat bars often taste more of oats than the flavouring they're meant to be but this bar really tastes of fruity raspberry and is oh so moreish!
The flapjack tastes fantastic and is the right size to fill a gap between meals. I'm usually a fan of chocolate than I am of fruit but colour me converted with PhD's effort. This flapjack+ bar is so refreshingly tasty that I can see myself eating these during the day and leaving my chocolate ones to when I have chocolate-specific hunger cravings.
Ingredients and Nutritional Value
PhD Protein Flapjack+ is made from Oat Blend (Malted Oats (Barley Malt extract, Palm Oil), Rolled Oats, Oat Flour), Protein Blend (Milk Protein, Hydrolised Gelatine, Whey Protein Concentrate), Humectant (Glycerine), Yoghurt Coating (8%) (Sweetener: Maltitol; Non-Hydolised Vegetable Fat (Palm Kernel Oil, Palm Oil, Shea Oil), Sweet Whey powder, Yoghurt Powder, Emulsifier: Soya Lecithin; Citric Acid), Dried Glucose Syrup, Water, Sweeteners (Maltitol, Sucralose), Flavourings, Rapeseed Oil, Freeze Dried Raspberry Pieces, Salt, Acidity Regulator (Citric Acid), Colour (Caramel), Dried Apple Pieces and Antioxidant (Mixed Tocopherols).
The Flapjack+ is not suitable for those allergic to Oats, Barley, Milk and Soya. May contain Wheat, Egg, Peanuts and Nuts.
Per 75g bar provides 1130kJ or 270kcals of energy, 6.6g of fat (2.8g of which are saturates), 37g of carbohydrates (2g of which are sugars), 2.4g of dietary fibre, 19g of protein and 0.17g of salt. The PhD Flapjack+bar contains 25.33% protein.
Overall Opinion
Its low sugar, high protein content makes PhD Protein Flapjack+ a perfect bar to slip into your lunchbox during the day or to pop in your gym bag to eat after training. The Apple and Raspberry flavour specifically is so fruity, refreshing and chewy that it's a pleasure to consume and satisfies any munchies I may have. Without a doubt, Protein Flapjack+ has certainly become one of my go-to protein bars.
Rating: