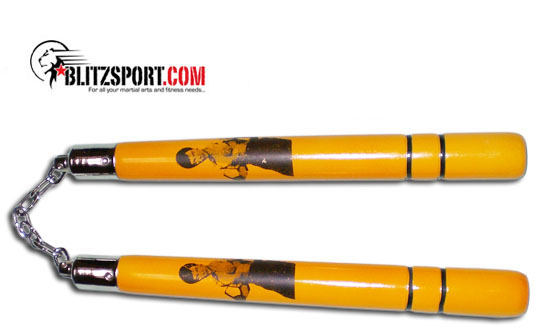 The roots of the nunchaku weapon can be traced back to two farming mechanisms – the muge (horse bridle) and a mechanism used to grind rice or grain. Nunchaku are still used today in many martial arts as well as being the weapon of choice for martial arts practitioners who wish to gain weapon experience.  Nunchaku can be used for striking your enemy and blocking, as well as trapping and throwing. Many use the nunchaku to freestyle as a great arm workout too. Their place in martial arts is varied. For instance, in Japanese Ju-Jitsu, a display of weapon usage is needed to attain your black belt and so nunchaku would be a perfect choice and probably the easiest to learn out of the many weapons available.
These 12 inch long Blitz Sport Yellow Bruce Lee Nunchaku, or nunchucks as they are often referred to as, are a great wooden pair that are ideal for beginners and experienced users alike.
I compared these Bruce Lee Nunchaku to a black pair I've had for many years and I must say that I prefer these Bruce Lee ones to mine.
The nunchaku are identical in length and both come with a sturdy chain attatchment which also measures the same in length. The Blitz Sport Bruce Lee nunchaku have larger rivets on the bearings than mine and look and feel much better in quality. However, the ends of the nunchaku differ, with the Bruce Lee nunchaku flat at the end and the black nunchaku which are rounded. This doesn't seem to have any effect, positive or negative, on the actual use or feel of the nunchaku.
The Bruce Lee wooden nunchaku weigh 25 grams heavier than my black ones (425g) at 450g but are still light enough to handle. Despite only having two grip grooves, complete with rubber insert, I found it much easier to grip these Bruce Lee nunchaku when passing over the shoulder than my black ones, which have 19 grip grooves cut out of them. The smoothness of the Bruce Lee nunchucks allow a much firmer grip, in my opinion, without the grips rubbing against the palms which can happen with my black ones.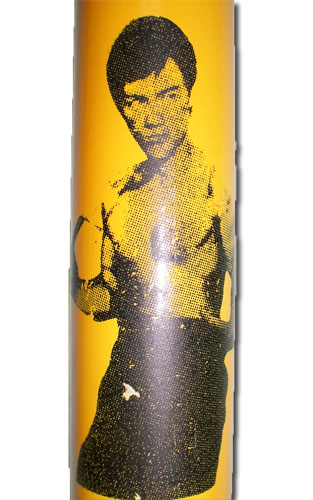 The most noticeable feature of these yellow wooden Blitz Sport Bruce Lee nunchaku are that they are decorated with a design of Bruce Lee. Though the design is nice enough, I doubt it will stay on long should you use the nunchaku frequently. My own black nunchaku originally had a golden dragon print but after years of use, it has worn off and now only a faint trace of that decoration can be seen. The most important factor in nunchaku is the quality, but if you are looking for a pair of nunchaku that look fantastic as well then these are the ones. Besides the actual Bruce Lee design, the nunchaku themselves look almost identical to the ones used by Bruce Lee in the movie, Game of Death. The pair in the film are foam but are the same colour-way as these Blitz Sport ones, so even though the Bruce Lee design may fade away in a few months/years time, you'll still be rockin the Game of Death style!
If you've used the foam practice nunchaku and are looking to move to a wooden pair, then you can't go wrong with these from Blitz Sport. They look good, they feel solid and handle extremely well. These are a really fine pair of nunchaku and are a fantastic addition to a martial arts practitioner's collection.
Blitz Sport Bruce Lee Yellow 12″ Wooden Nunchaku are available from Blitz Sport for £13.48.
Rating: