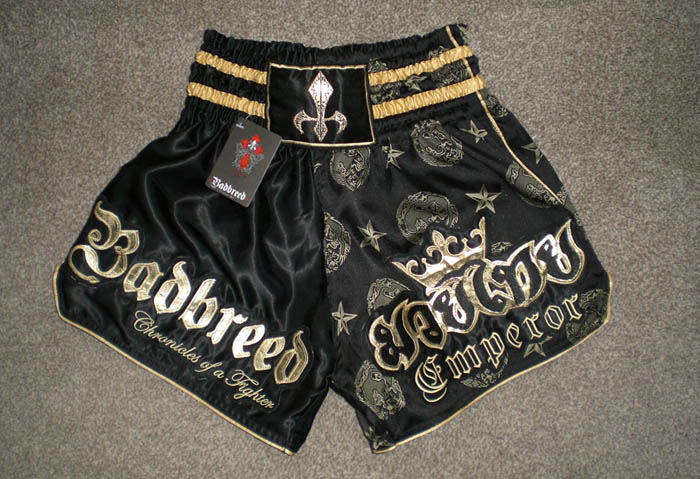 When training in Muay Thai or kickboxing, where you need to be able to kick high and with ease, MMA shorts can leave you somewhat restricted. That's why there's a certain style of short on the market called Muay Thai Shorts. Thai shorts generally feature an elasticated waistband and wide cut legs with splits at the side seams, to allow for maximum movement. The shorts usually come in a variety of colours, more often they are bright and jazzy in design in comparison to MMA shorts which take a much more subtle approach.
In this review, I'll be reviewing the brand new Badbreed Emperor Thai Shorts, from Badbreed's new fighter clothing range.
Badbreed Emperor Thai Shorts
Remembering Badbreed in its former life before their recent relaunch, the brand stuck to MMA, boxing and BJJ products. Since the relaunch, the British brand have stepped up a gear, giving their designs a fresh spin, as well as introducing some extra products such as these Thai shorts. On first appearance, I really like the look of them. Rather than opt for plain with an applique, they've decided to make every detail count. Taking the Emperor Thai Shorts out of the packet, it's easy to see that Badbreed have created something rather special. This is one of their first pairs of Thai shorts, if I'm correct, and boy, have they done themselves proud. The shorts look and feel premium, which is important when you're paying good money for a pair of Thai shorts.
Thai Shorts Design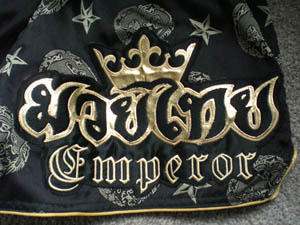 As I mentioned above, many Thai shorts are known to feature flamboyant designs that catch the eye. Rather than go with a colour scheme such as red and gold, Badbreed have gone for black and gold. This leaves a rather striking design without being garish, and one that suits both men and women. The shorts feature a globe-like designs alongside the two-tone nautical stars which have been more recently used on tattoos by rock stars, and is said to symbolise finding one's way. The globe reference fits in nicely with this. The globe and star design, which covers the entire left side of the shorts (both front and back), is embroidered into the fabric leaving a seamless flat effect, without rising above the fabric. Adding a bit of extra jazz is a crowned gold Thai script design with 'Emperor' in ye olde text underneath, appliqued to the left side of the shorts and gold 'Badbreed Chronicles of a Fighter' appliqued on the right side of the shorts. The back of the shorts bares no appliqued designs whatsoever, so if you decide you'd like to add your own logo or patch at some point in the future, this is conceivable.
The Badbreed Emperor Thai Shorts continue the gold theme with gold piping at the shorts hem and also down the side of each legs from waistband to the V-split leg hem. The waistband itself features two horizontal stripes that continue around the waistband and a fleur de lis patch appliqued on the centre of the waistband on both the front and back of the shorts.
These are really quite a stunning pair of shorts to look at. The left leg of the shorts features a much thicker polyester that allows for the stars and globe pattern to be embroidered into, whilst the right leg is a super soft and slinky satin. Having these contrasting fabric textures only adds to the wonderful design that Badbreed have created.
Size and Fit
When it comes to wearing clothing, getting the right fit is paramount. Not only do you want the thai shorts to fit you and not be falling down around your ankles, you don't want them to be squeezing the living soul out of you either.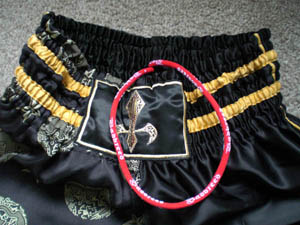 The Badbreed Emperor Thai Shorts come up quite small in fitting. I'm 5′ 2″ with a hip size of 37″ and thigh circumference of 23″ and I cannot for the life of me get a size medium past the top of my thighs. I did manage to get them on once but then struggled with all my might to get them off again. Which is why I let our male member of Shop4 Martial Arts to test these out, as he was able to slide them on… though only just.
In our experience of Thai shorts, you're going to need two sizes up from what you'd normally wear, particularly if you like them loose yet comfortable rather than figure hugging. After all, if you're aiming to kick in these shorts, which is what you want to do, you don't want them pulling at the gusset or restricting your movement.
The shorts do feature a fully elasticated waistband as well as a red rope drawstring, featuring white Badbreed script, to allow you to adjust and pull in the wasitband slightly if you feel it's a tad looser than you'd like.
The measurements for the Medium sized Badbreed Emperor Thai Shorts is as follows
A – Waistband (unstretched)
32cm/12.5″
(64cm/25″ circumference)
A – Waistband (stretched)
40cm/15.5″
(80cm/31″ circumference)
B – Short leg width
31cm/12″
C – Shorts length
35.5cm/13.6″
D -Waistband to crotch length
34cm/13.25″
When wearing the Thai shorts, they are comfortable and soft, with a soft polyester lining against the skin. You can tell the cut and shape of them is fine, as we're able to move in them quite easily, it's just making sure you've bought the right size that is the clincher. In our case, X-Large should fit perfectly.
The Emperor shorts are stitched in two rows at the seams to reinforce durability in those areas whilst the gold piping gives a nice, clean finish.
Overall Opinion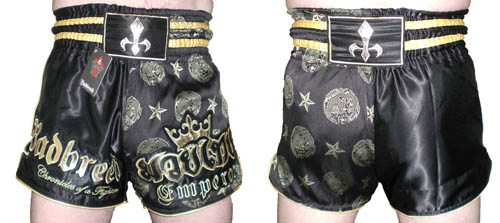 The Badbreed Emperor Thai Shorts are a gorgeous pair of Thai shorts to train in Muay Thai or Kickboxing. Providing you take our advice and get a bigger size, they'll be perfect to wear down the Thai gym, sparring in the ring or indeed in competition. There's so much detail and attention that have gone into these shorts that they really are worth the money. They are a premium product for a good price and will make you stand out without your fellow training partners needing sunglasses. Badbreed and Blitz Sport, who sell the shorts, have a great returns policy should you need to swap sizes, and I think once you have the correct fit, you'll find these shorts will last you a long time. The label might say these shorts were 'Made in Torment' but I can see they've been made with a passion to deliver a high quality product for today's fighter, and I've yet to find a finer pair of Muay Thai shorts than these.
Badbreed Emperor Thai Shorts are available from Badbreed and Blitz Sport for £27.99 in sizes Small to X-Large.