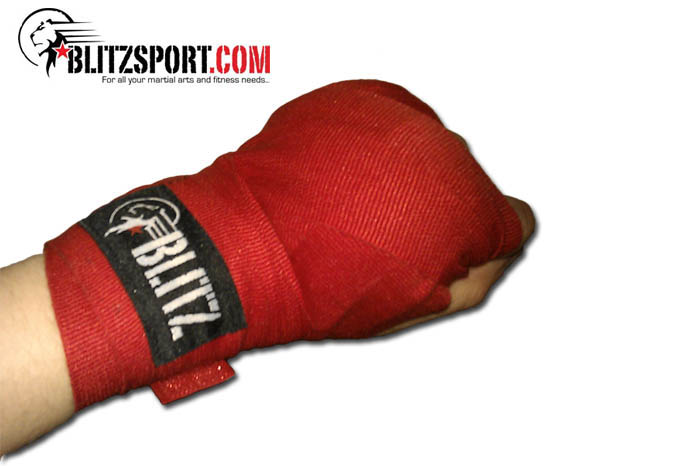 For every martial artist who's looking to train their striking technique, be it boxing, Muay Thai, kick-boxing or just plain sparring or padwork, the ultimate priority is to protect the hands from injury when punching. Sore, sprained or broken bones in the hands can seriously hinder your day-to-day life, but all this can be avoided by protecting the hands when they need it most. This is why most boxers will use hand wraps – a long cotton bandage that can be wrapped around the hands to protect the prone areas – the knuckles and the wrist – from injury during sparring and punch work.
The Blitz Sport hand wraps come in a variety colours and in two sizes: 120 inches and 180 inches. The shorter 120 inch are perfect to be worn under MMA gloves, with the longer 180 inch hand wraps preferred for use under boxing gloves. The handwraps I'll be reviewing in this article are a pair of 180 inch Red Blitz Sport Hand Wraps.
Most hand wraps out there come with a thumb loop and velcro fastener and these Blitz Sport hand wraps are no exception. Made from soft cotton, the hand wraps are just over 5 inches in width and have a slight stretchy feel to the fabric. The hand wraps come in a neat plastic pouch with instructions on the rear detailing how to wrap the hand. However, there are multiple ways in which to wrap your hand and that's just one of them. Some people like to wrap the hands starting with the thumb loop attached to the thumb and proceeding to wrap the bandage around the hand's palm, thumb and wrist. As I like to protect the knuckles and the wrist, I wrap mine in a different way, which can be seen in the below video. What results is cushioned knuckles, a well supported wrist and support at the base of the fingers – just what I need when punching pads at Ju Jitsu or training on the punch bag without MMA gloves or boxing gloves on.
When punching using bare fist, or even with MMA or boxing gloves on, if hand wraps are not worn underneath, the hand can still strain itself. I myself have experienced such weakness, with my right wrist succumbing to pain when punching. Hand wraps give the much needed support to prevent injury and I heartily advise them for any martial artist.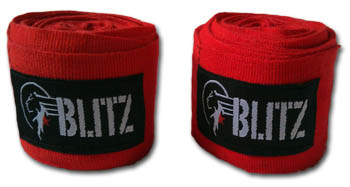 The Blitz Sport hand wraps are a great length to provide suitable support and the soft fabric is comfortable to wear around the hand. Decorated with a black Blitz Sport patch with their iconic lion logo, these are a really fine pair of hand wraps at a fantastic price. Blitz Sport offer the hand wraps in a variety of colours besides red including blue, yellow, pink, bottle green, lime green, black, white and even in the design of the British Union Jack flag!
Blitz Sport Hand Wraps are available for £3.99 (120 inches) or £6.99 (180 inches) from Blitz Sport