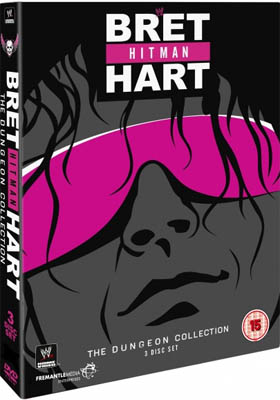 WWEDVD are delighted to announce that you can now pre-order BRET "HIT MAN" HART: THE DUNGEON COLLECTION on DVD and Blu-ray (Release Date: 13th May 2013)
For nearly 30 years, Bret "Hit Man" Hart travelled the glode proving he was "The Best There Is, The Best There Was, and the Best There Ever Will Be". In The Dungeon Collection, the Hit Man himself compiles his best never-before-released on DVD matches and takes you behind the scenes in a brand new, revealing interview detailing the inside stories surrounding these rare matches.
With over 8 hours of in-ring action, including classics from the Stampede Wrestling Vault as well as vintage WWE bouts against the top stars of the 80's and 90's, this is a must for all Bret Hart fans.
Pre-order your copy now at WWEdvd.co.uk