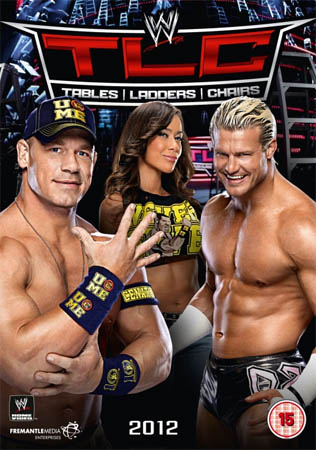 WWE TLC: TABLES, LADDERS, CHAIRS 2012
On DVD and Blu-Ray from 25th March 2012

TLC, or Tables, Ladders and Chairs, is one of the finest events in the WWE, with the wrestlers going all-out with the added excitement and punishment of using the aforementioned inanimate objects as weapons against their opponents. I don't know a single wrestling fan who doesn't love a good fight involving a wrestler being hit with a steel chair or thrown through a table. There's something raw about the notion, reminscent of a bar brawl, that brings a realistic edge to the wrestling entertainment that we're used to. Low and behold upon one of the finest TLC events yet: WWE TLC 2012.
As with most of the DVD/Blu-Ray releases this past month, WWE TLC 2012 kicks off in Brooklyn, New York with Mexican high-flying tag team, Rey Mysterio and Sin Cara. I must admit, these guys are probably my favourite wrestlers out there with their edge-of-the-seat, jaw-dropping techniques, and judging from the crowd's reaction, they are their favourites too. Always entertaining to watch, these guys never fail to get the WWE events off to a good start. One thing I notice is that at every event, Rey Mysterio always greets the child fans at the edge of the walkout and gives one his full-face mask that he wears over his semi-face mask. This is a nice touch and only makes them even more likable than they already are. The particular match they open with is a Tables match, meaning that only one wrestler needs to be thrown through a table for the tag team to win. Unfortunately for Mysterio and Cara, their opposition is Team Rhodes Scholars, comprising of a curiously moustached Cody Rhodes and the pompous Damien Sandow. The match is exciting and tense, with the crowd roaring and booing in equal measure at the close win or defeat of either tag team. The result ends in a fluke which has both the losing tag team and audience in shock.
Following a tremendous opener is a match up for the United States Championship that has become a bit stale. Yes, I'm talking about American-bashing Swiss champ Antonio Cesaro against proud American wrestler, R. Truth. Truth has skills but no matter how much he tries, the super confident Cesaro just walks all over him as if he didn't exist. These two have fought previously in Survivor Series, so I struggle to see why they should be matched up again, though this does seem to be a running theme for WWE as the same wrestlers face each other on a regular basis.
After a quick fight, The Miz walks on stage to a couch and bar stools inside the ring, where The Miz will be hosting his interview programme, MizTV. His guests this very evening are the team known as 3MB, who pride themselves on being a rock band. The Miz and the audience find their confidence in music and wrestling hard to take seriously and after attacking Spanish WWE commentators and Ricardo Rodriguez, Alberto Del Rio storms the ring and gives them a punishment they deserve. This subsequently forces 3MB to propose a 6 man fight between themselves and Del Rio and The Miz, with the latter two given the option to find a third member of their team. This impromptu performance is an interesting way to set up a fight, even if 3MB comes across as immature.
The night continues with a brief match between Wade Barrett and reigning champion Kofi Kingston for the Intercontinental Championship belt. Though the fight is rather short and sweet, Kingston pleases the crowd and viewers with his energy and charisma that truly lights up the ring.
One of the main highlights of the evening is a full TLC match, utilising the table, ladders and chair props that are littered throughout the arena. The 6 Man Tag Team TLC Match comprises of Team Hell No's Kane and Daniel Bryan and beastly Ryback against destructive newbie pack, The Shield, who promise to serve justice towards Ryback, for injuring CM Punk, and to Team Hell No, for not being worthy Tag Team champions. Though it is their debut fight, The Shield (Dean Ambrose, Seth Rollins and Roman Reigns) have intervened in previous fights, namely against Ryback in the Survivor Series 2012 Triple Threat Match between him, John Cena and CM Punk, ensuring CM Punk achieved the win. Their actions have raised questions about their affiliation to CM Punk, though Punk denies being linked to them, though states he is a fan of theirs. The 6 Man Tag Team TLC match is all guns blazing right from the very start with each wrestler taking on another inside and outside of the ring. What is interesting to see though is how The Shield prefer to act as a pack and attack three-on-one against their opponents, wearing the opposing wrestler down completely. Their team work even sees the big red monster Kane buried underneath broken pieces of the commentators desk. This really is one to watch!
The ladies, though not as powerful or as strong as the men, always put on a show and reigning Divas Champion, Eve, defends her title against former-cheerleader, Naomi, who displays some high-flying acrobatics that will impress. The fight is rather brief but is fun filled and exciting to watch.
In what feels like deja vu, the next match is between battling foes Big Show and Sheamus in ironically a Chairs match for the World Heavyweight Championship belt which Big Show currently possesses. In the last fight between these two during Survivor Series 2012, Sheamus followed Big Show outside the ring, after Big Show was disqualified, and unleashed a brutal succession of 30+ chair attacks upon the mammoth wrestler. With this Chairs match, expect to see Big Show seeking revenge and Sheamus looking to dish out more punishment. The match is entertaining in a fashion, but these two have fought before so it's becoming rather stale from where I'm sitting. If you love the match up of these two wrestlers, you won't go wrong but some may find the pair slightly tedious.
After the earlier outburst, air-guitar fanatics 3MB return to the ring for the 6 Man Tag Team against Alberto Del Rio and The Miz, but who could their mystery third member be? Well, you'll have to watch to find out. It's a fun filled albeit brief match up, but fills a gap before the headlining fight.
The final fight of the night and the one on everyone's lips is the Ladder Match for the Money In The Bank Contract, that is currently owned by the 'show off', Dolph Ziggler. The fueding between Ziggler, Vicky Guerrero, AJ Lee and John Cena came to a head in the previous matches, with the war spilling out in the back rooms. This fight would put it all on the line for Ziggler and could be lost quite easily if John Cena climbed the ladder to get the briefcase before him. John Cena steps up to the mark and both he and Ziggler go at it like hammer and tongs. The crowd cheer and boo as the wrestlers are equally matched though a mid-fight disturbance from the warring ladies, Vicky Guerrero and AJ Lee, have match-changing consequences for one of the wrestlers. Who could it be? Both wrestlers put on a lively, charismatic and shocking show for the audience who lap up the extra usage of the tables and the innovative attacks with the ladder. If WWE wanted TLC 2012 to end with a bang, it sure made one hell of a noise!
This action-packed 2 hours and 45 minutes of pure wrestling will please any fan and despite its lack of extras on DVD (there's plenty on Blu-Ray), the main feature content is more than enough to warrant the purchase of this disc. A must-have in your collection.
Rating:
WWE TLC 2012 (Tables, Ladders Chairs) is available from WWEDVD and Amazon
DVD Special Feature
TLC 16th December, 2012
MATT STRIKER INTERVIEWS DOLPH ZIGGLER
Blu Ray Exclusives
Monday Night RAW 17th December, 2012
Ric Flair presents the Slammy to the Superstar of the Year
Big Show addresses the WWE Universe
The Miz, Alberto Del Rio & Tommy Dreamer vs. 3MB
Ryback vs. Antonio Cesaro
Mean Gene Okerlund, Ricky the Dragon Steamboat & Jim Ross present the Slammy for Match of the Year
John Cena vs. Dolph Ziggler
SmackDown 18th December, 2012
Miz TV with AJ Lee, Dolph Ziggler & Big E. Langston
CM Punk addresses the WWE Universe