Welcome to our second Martial Artist of the Month, a section dedicated to YOU – the martial artists of the world.
In this month's edition, we interview our first female Martial Artist of the Month, Chantelle Goodwin.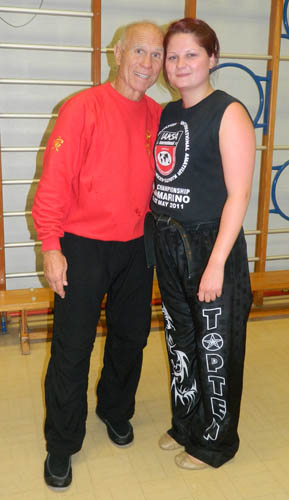 Please can you tell us a bit about yourself?
My name is Chantelle, I'm 23, and I live in a tiny seaside town called Mablethorpe. I'm a 2nd Dan Blackbelt in Kickboxing, a 2nd Dan Blackbelt in WTF Tae Kwon Do, and a 1st Dan Blackbelt in Combat Ju Jitsu. I also hold a 1st Kyu in Shotokan Karate. I currently teach Kickboxing and fitness sessions in my local area and my dream is to be a world champion!
How old were you when you got into martial arts and what made you want to learn?
I had my first taste of martial arts aged around 9, when my mum took me and some friends to a local class. I didn't last very long there, and then started a new class aged 14. This time I stuck at it and have never looked back! I started up aged 14 basically just to improve my fitness and have some fun. I was never interested in PE at school, didn't really fancy the netball team and was rubbish at gymnastics. I saw a poster for a martial arts club in my school and thought, why not?
Which martial art did you learn first?
My first club, aged 9, was a traditional judo club. However, I don't really count this as I was young and only stuck at it for a few weeks! At 14 years old I took up Freestyle Kickboxing, where we were taught a pretty rounded system including stand up, groundwork, self-defence, sparring and kata. I fell in love with this and have been doing it ever since.
Have you entered any competitions or done any demonstrations?
I entered my first competition in 2006, the South Yorkshire Championships. I was a purple and white belt in kickboxing at the time, and came second, which I was pretty impressed with! Since then, bitten by the bug, I have been the ISKA British Champion, WUMA National Champion x 2, and have also won several other medals at regional, national and European level. I even won a bronze medal at the WUMA World Cup in 2009.
I've also taken part in a few demonstrations for my clubs over the last few years, my favourite one being a Crime Prevention festival in Skegness a couple of years back. I performed a self-defence demonstration against 3 male attackers to a large crowd. Girl Power!
Which is your favourite weapon and why?
I don't have a huge interest in weapons to be honest, but I have worked with nunchakus, bo staff, jo staff, kamas and a broadsword. I learned a Lau Gar form with a broadsword for my black belt grading in kickboxing, and really loved the feeling of it, the way it flowed. It's hard to decide really as I quite enjoy nunchakus and kamas!
Which martial arts are you currently studying and at which clubs?
I currently train at my own kickboxing classes (Cobra Kickboxing under the ABMAA) and also train at my local boxing club. I also try to practice my Tae Kwon Do Patterns in my own time whenever I get the chance!
Which is your favourite technique?
I think my favourite technique has to be between a reverse punch and a side kick. Two pretty boring moves really, compared to all the jumping flying kicks, but definitely my two favourites when fighting! I love how solid they both are. A good reverse punch to the ribs or solar plexus should be able to stop someone in their tracks, just as much as a good sidekick. I score most of my points in competition with these two techniques!
Who inspires you in the martial arts world?
Alfie Lewis is my absolute idol in the Sport Kickboxing world. I like to call him The Daddy of Points Fighting! His whole attitude towards martial arts and life in general is just so inspiring. Plus the fact that he definitely lives up to his fight name "The Animal" and is just amazing to watch in action.
I love Raymond Daniels for his character and also the fact that he has success in everything he puts his hand (or fist!) to. He has won in points fighting, full contact and even in the cage!
Finally, as a woman in a male dominated sport, I have a lot of respect for women who not only fight (and win), but teach as well, such as Bev Sturzaker, Gloria De Bei, Meike Tate, Chloe and Grace Bruce, Ruth Hallet, the list goes on!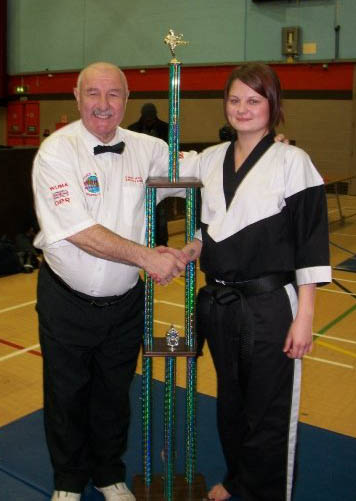 What are you most proud of in your martial arts career?
Passing my first Dan Blackbelt in Kickboxing was a very proud moment of mine. I never imagined that I would ever be any good at any sport, nor enjoy it. Then I got into kickboxing and just thought, it'll be a bit of fun but I'll never get anywhere. Then suddenly the years flew by and I was offered the chance to grade to blackbelt, and even then I didn't believe I was good enough! So passing that was a huge achievement. Also winning my first British title in 2007, another massively proud moment of mine.
Have you any advice to give to other martial artists out there?
Be passionate! Whether you do it simply for fun, fitness, or because you want to be the best in the world, always be passionate. Believe in yourself and push yourself above and beyond. Never put yourself above anyone else and learn as much as you can from everyone you can. Be a sponge!
For me, martial arts is a way of life, not just something I do once or twice a week.
What's your favourite martial arts film?
Got to be Best of the Best! Purely because it's based around old school points fighting, which is my passion. Also love the Rocky films and Bloodsport. Pretty much any Van Damme film is good with me!
Thanks very much, Chantelle, for your time!
You can Follow Chantelle on Twitter @ChantelleGoodie
If you'd like to be considered for Martial Artist of the Month be sure to drop us an email.