Welcome to our very first Martial Artist of the Month, a section of our website which we dedicate to YOU! Whether you're a regular competitor, black belt in a martial art, an MMA fighter or simply someone who just loves to train martial arts, we want to hear your story!
Our first featured Martial Artist of the Month is Dan Brocklebank.
We approached Dan to share with us his martial arts story and he kindly obliged to be Martial Artist of the Month – May 2013.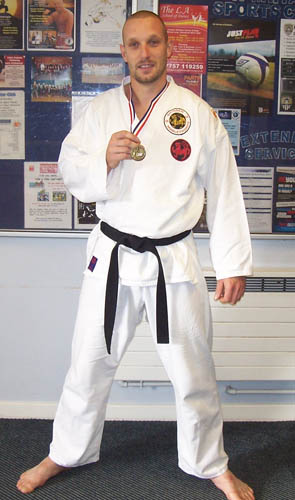 Please can you tell us a bit about yourself?
I'm Dan Brocklebank, 31 and live in Lincolnshire, UK. I've served in the Royal Air Force and now work as a Technician for Ralegh Integrated Soultions.
How old were you when you got into martial arts and what made you want to learn?
I think I was about twelve years old and was in my first year at a High school back in the very early 90's when bullying was very common place. Being very tall for my age back then and having an interesting last name I quickly became the target. I saw the original Karate Kid film and was instantly fixed, especially as we shared first names. So I took up Karate, survived High school and grew as a person. I stopped training for a while only doing boxing for a short period while I was in the RAF. It wasn't until 5 years ago and my introduction to UFC and the world of MMA did my interest spark again in Martial Arts!
Which martial art did you learn first?
I first learnt Shotokan Karate (which I am 1st Dan Black Belt in), I've studied and trained in Kickboxing, Judo and Brazilian Jiu Jitsu. I've studied and trained with a few associations over the years as many have different ways of teaching and ways of interpreting the forms, patterns and techniques.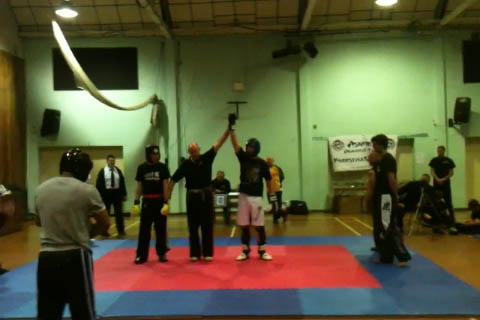 Have you entered any martial arts competitions or done any demonstrations?
I've entered competitions with SKPF, ABMAA (All British Martial Arts Association) Inter-association and WUMA (World United Martial Arts) English National gaining from 4th to 1st in various categories and styles ranging from Traditional Japanese Open Hand Forms, Over 80Kgs Light Continuous Fighting and Advanced Master Points Fighting.
Which is your favourite weapon and why?
I've not really had much chance or offer of training with weapons. My current Sensei has gained a British National title at WUMA for the use of the Bo Staff and he puts a few lessons of it in every now and again though I am more a fan of the Tonfa 😉
Which martial arts are you currently studying and at which clubs?
I'm currently studying only Shotokan Karate at RJW Shotokan Club, part of the SKPF Association. There's an inter-association tournament 1st of June which I will be competing at in Traditional Open Hand Forms and Kumite Fighting.
Which is your favourite martial arts discipline?
I love the discipline, military regimental feel of Shotokan Karate and the crisp technique but I also enjoy the free flowing feel of kickboxing.
You've recently trained with Japanese Shotokan karate master, Nobuaki Kanazawa. Can you tell us a bit about that day and your experience training with him?
And what a day it was! It was an absolute honour and privilege to be invited to train with him. We set off for Watford at 0500am on the Sunday morning and training began at 1000am on the dot. To be in a room 90% filled by some of the most talented Black Belts I have ever seen, as it was an invitation only event you can imagine the calibre of the talent there. The other 10% were some very lucky lower grades who I'm sure wouldn't forget the day in a hurry! As soon as Master Nobuaki was even just visible the room dropped into silence, very reminiscent of my days in the RAF and being on the parade ground for an Officer. As soon as he walked into the room his very presence just commanded respect and ore. All though he spoke very little English that didn't detract from him teaching, he took it right back to the basics from the body's axis, movement, flowing the power through your hips, combinations and Kumite. We trained hard for 2hrs solid before only a 30min break for a well-earned protein shake then straight back at it for another 2hrs with Katas (Traditional Open Hand Forms) and Bunkai. Bunkai is a part of Martial Arts which is often neglected, it's about the science of analysing a Karate Kata movement, such as those found in Shotokan, Shito ryu, Goju Ryu, Wado ryu, or any other style for that matter, and making sense of what they do. Many schools don't teach Karate Kata Bunkai at all. So it was an absolute privilege to be taught this by a Japanese Master, it was a very humbling experience too and I was lucky enough to be one of only three out of the whole invited Martial Artists to have my Gi signed.
Who inspires you in the martial arts world?
The very iconic Bruce Lee of course, his philosophies on martial arts still echo even today "Be like water making its way through cracks. Do not be assertive, but adjust to the object, and you shall find a way round or through it. If nothing within you stays rigid, outward things will disclose themselves. Empty your mind, be formless, shapeless, like water. If you put water into a cup, it becomes the cup. You put water into a bottle and it becomes the bottle. You put it in a teapot it becomes the teapot. Now, water can flow or it can crash. Be water my friend."
I follow UFC mainly when it comes to the world of MMA and Lyoto Machida instantly springs to mind as someone who has taken Karate to the world of Mixed Martial Arts. Dan Hardy is my inspirational British MMA fighter, Outlaw army!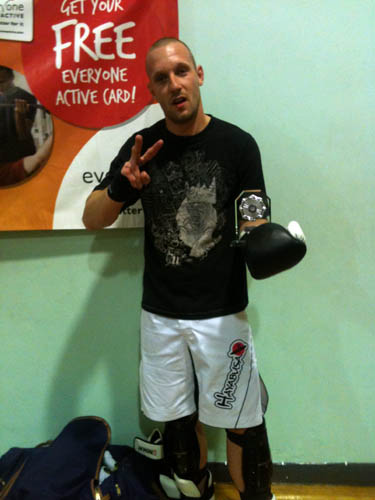 What are you most proud of in your martial arts career?
There's probably four things I am most proud of, firstly when I achieved the rank of 1st Dan Black Belt in Shotokan Karate, secondly when I won my first category at a tournament, thirdly coming 3rd at WUMA English National Tournament and lastly being invited to and attending the training session taught by Japanese Master Nobuaki Kanazawa.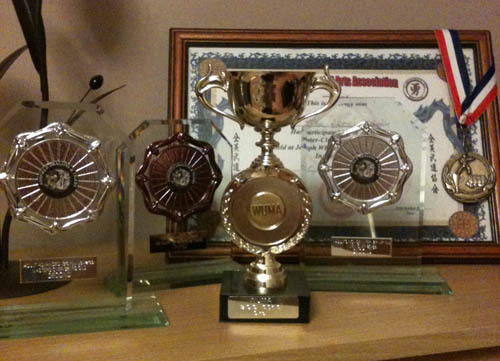 Have you any advice to give to other martial artists out there?
Practice practice PRACTICE, Speed comes with time and the basics come first! Of course the right nutrition and supplements can help and in my opinion and experience the guys at eProtein do a good job of keeping your body supple and fuelled! And some wise words I once heard "physical conditioning is a must for all martial artists. If you are not physically fit, you have no business doing any hard sparring. To me, the best exercise for this is running. Running is so important that you should keep it up during your lifetime. What time of the day you run is not important as long as you run. In the beginning you should jog easily and then gradually increase the distance and tempo, and finally include sprints to develop your 'wind.'
Let me give you a bit of warning: just because you get very good at your training it should not go to your head that you are an expert. Remember, actual sparring is the ultimate, and the training is only a means toward this. Besides running, one should also do exercises for the stomach – sit-ups, leg raises, etc. Too often one of those big-belly masters will tell you that his internal power has sunk to his stomach; he's not kidding, it is sunk and gone! To put it bluntly, he is nothing but fat and ugly."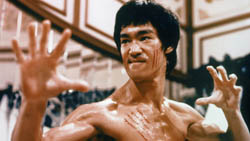 What's your favourite martial arts film?
Well it has to be Enter the Dragon, such an all-time classic film!
Thanks very much, Dan, for your time!
You can Follow Dan on Twitter @aka_BROCK
If you'd like to be considered for Martial Artist of the Month or would like one of our cool, free Shop4 Martial Arts gi patches, just like Dan's, be sure to drop us an email.