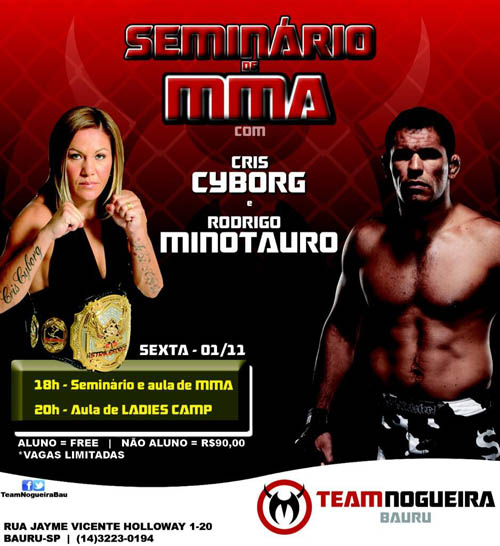 On Friday 1st November 2013, Invicta FC 145lb champion MMA fighter Cris Cyborg Justino joined UFC's 'Big Nog' Rodrigo Nogueira to instruct at seminars at Team Nogueira Bauru gym in Sao Paulo, Brazil.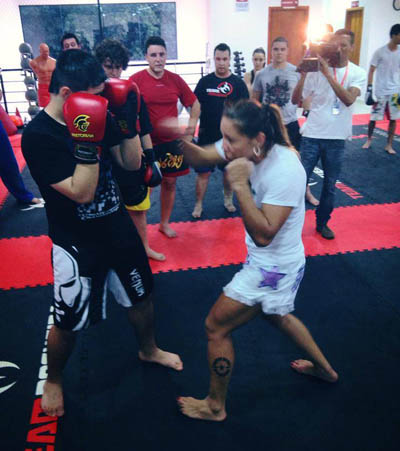 Both Brazilian born fighters, Rodrigo Nogueira and Cris Cyborg gave an MMA masterclass to the students of the club with a ladies only camp later in the evening.
Rodrigo Antônio Nogueira, also known as Minotauro, is a former Pride fighter and has a record of 34 wins, 8 losses and 1 draw (with 1 no contest). A fourth degree black belt in BJJ and black belt in Judo, Rodrigo currently fights at heavyweight in the UFC, with his twin brother Rogerio in the light-heavyweight division.
Cris Cyborg is the current Invicta FC 145lb champ and former 145lb Strikeforce womens champion. Cris is also a 2x gold medal winner of the IBJJF mundials, a brown belt in BJJ under Andre Galvao and former student of Chute Boxe Muay Thai academy in Brazil. Cris runs her own gym, Academia The Rock, in her home town of Curitiba, Brazil which Shop4 Martial Arts proudly sponsor.
Follow Team Nogueira Bauru on Facebook and Twitter.