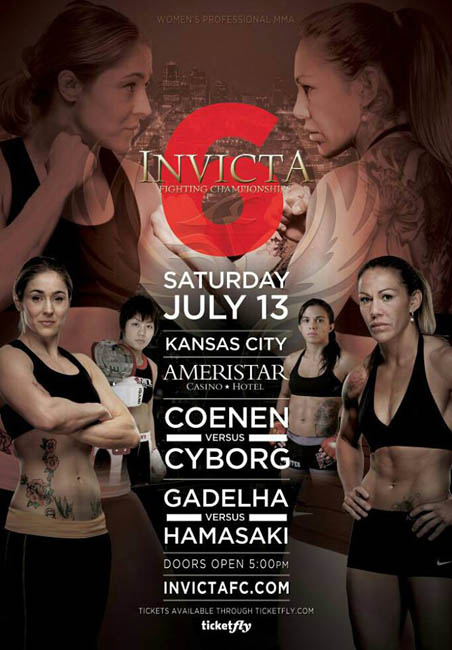 The upcoming Invicta Fighting Championships fight, Invicta 6, co-headlined by Marloes Coenen and Cris Cyborg, who are battling for the 145lb Invicta title, will be screened on cable and satellite pay-per-view on Saturday 13th July 2013 – a first for the Invicta Fighting Championships.
Invicta FC 6 is being distributed in North America by Integrated Sports Media for live viewing at 9:00 p.m. ET – 6:00 p.m. PT on both cable and satellite pay-per-view via iN Demand, DISH, Avail-TVN in the United States, as well as Bell TV in Canada, for a suggested retail price of only $14.95. International viewers can still watch via the usual online U-Stream PPV for $14.95, details of which can be found on the Invicta website closer to the fight date.
After fighting one another previously in Strikeforce, Dutch submission specialist Marloes Coenen will be looking to even the score against Brazilian Muay Thai machine Cris 'Cyborg' Justino after losing via technical knockout in the final round during their first fight. Five – five-minute rounds featuring two of the top fighters in the world, this is certainly one match-up you will not want to miss!
The co-main event also showcases a pair of undefeated strawweights (115 lbs.), Japanese JEWELS champion Ayaka Hamasaki and Brazilian sensation Claudia Gadelha, in a three – five-minute-rounds match.
Also scheduled to fight on the card are:
Sarah D'Alelio (7-3, California) vs. Lauren Taylor (6-0, Texas)
Leslie "The Peacemaker" Smith (5-3-1, California) vs. Jennifer Maia (7-2, Brazil)
Jessica Penne (10-2, California) vs. Nicdali "The Queen Queen" Rivera-Calanoc (8-6, Oklahoma)
Joanne Caldwell (6-0, Scotland) vs. Sarah "White Tiger" Schneider (6-6, Missouri)
Ediane "India" Gomes (10-2, Florida) vs. Julia Budd (5-2, Canada)
"Rowdy" Bec Hyatt (5-2, Australia) vs. Mizuki Inaoue (5-1, Japan)
Miriam Nakamoto (2-0), California) vs. Duda "Diamond" Yankovich (1-1, Brazil)
Rose Namajunas (2-0, Minnesota) vs. Tecia "The Tiny Tornado" Torres (2-0, Florida)
Ashley Cummins (3-1, Missouri) vs.Emily Kagan (2-1, New Mexico)
Mollie Estes (1-2, Missouri) vs. Veronica "The Heartbreaker" Rothenhausier (1-0, California)
Livia Von Plettenberg (1-1, Austria) vs. Cassie Robb (0-1, Colorado).