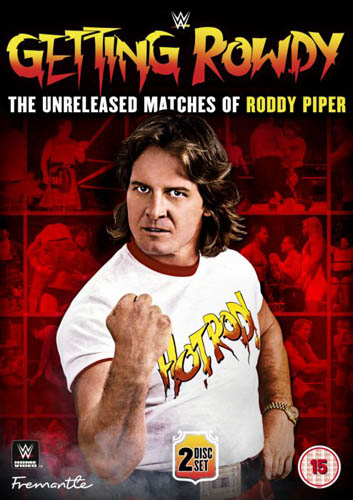 On 2nd September 2019, get ready for the DVD release of Getting Rowdy: The Unreleased Matches of Roddy Piper.
Unearthed from deep within the WWE vault comes unreleased matches and interviews from one of the most controversial and entertaining Superstars in WWE history, "Rowdy" Roddy Piper! Witness "Mr. Wonderful" Paul Orndorff, Mr. Perfect, "Ravishing" Rick Rude, and more pay the piper as they take on "Hot Rod" in this collection of hidden gems! Just when you think you have all the answers, he changes the questions!
This set captures the anarchic spirit and pioneering persona that helped "Rowdy" Roddy Piper shape the landscape of modern sports-entertainment!
Not only does it includes rare, unreleased, and never-before-seen matches against other legendary Superstars – including both WWE matches and bouts from Roddy's time battling the New World Order in WCW – but it's a history lesson in how the Rowdy one changed the game (not to mention the questions) across his illustrious career!
Of course, it was about more than just in-ring action with Roddy Piper, and this set also collects rare and unseen interviews, including Piper's Pit segments, one of the most influential chat show segments in sports-entertainment history. You'll see Roddy interview and get the better of Superstars such as Andre the Giant, The Hart Foundation, John Cena, and Daniel Bryan!
Pre-order it today at Amazon.