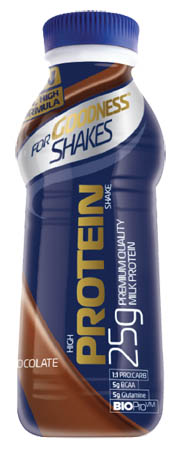 For Goodness Shakes have today launched a brand new, ready-to-drink (RTD) lean protein shake drink for everyone who's into keeping fit, be it bodybuilders, gym enthusiasts or martial artists. The low-fat protein shake encourages muscles growth when drunk after a solid session at the gym with weights or after training in martial arts. The body needs protein after training to repair the muscles and For Goodness Shakes protein drink delivers 25 grams of high quality, naturally-derived whey and casein protein to help mend, strengthen and grow the muscles in a tasty way.
The bottles come sealed with a foil top underneath the cap, to retain freshness.  The chocolate shake has a slight chocolate aroma when opened, but not as strong as some whey protein powder shakes that I have tried. The drink is quite a full, thick texture that isn't too sweet or overpowering in flavour, but a nice fulfilling shake that doesn't make you feel sickly during or after consumption. As someone who's not overly keen on the chocolate flavour,  I actually found For Goodness Shakes chocolate protein drink to be tasty and easy to consume with its balanced, wholesome flavour.
The gluten-free, vegetarian-friend For Goodness Shakes Protein drink contains a combination of semi-skimmed and skimmed milk and provides a 1:1 Protein to Carbohydrate formula, which helps you to tone up by maximising protein absorption by stimulating the release of the hormone insulin.
The shake also contains 5g BCAA (Leucine, Isoleucine and Valine) for building lean muscle tissue, 5g Glutamine for muscle glycogen resynthesis and recovery and 11g EAA, vital for muscle growth and repair since the body cannot produce them.
For Goodness Shakes High Protein Shake is currently available in chocolate or strawberry flavour, in packs of 12x 500g bottles from Athlete Store.