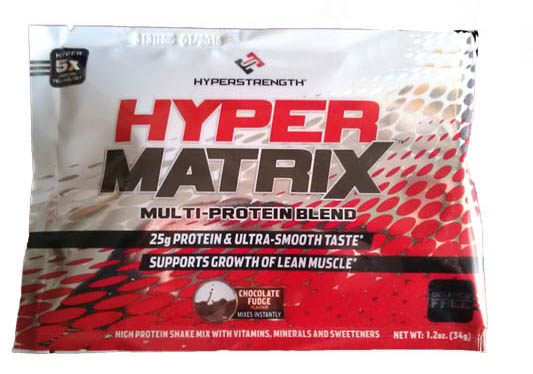 HYPERSTRENGTH Hyper Matrix Multi-Protein Blend is a high protein shake mix with vitamins, minerals and sweeteners, supporting growth of lean muscle.
With each 34 grams serving, you can expect 25g of protein, 4g of carbohydrates, 3g of sugar and 2g of fat.
The ingredients list is vast, containing: whey protein blend containing: (Ultra-filtered whey protein concentrate, micro-filtered whey protein isolate, milk protein concentrate, milk protein isolate), cocoa power, taurine, non dairy creamer (sunflower oil, corn syrup solids, dipotassium phosphate (Antioxidant), sodium caseinate (additive), sodium silico Aluminate (anticaking agent)), creatine monohydrate, Emulsifiers (Soy lecithin, mono and diglycerides), natural and artifical flavours, maltodextrin, L-Glycine, L-Leucine, L-Isoleucine, L-Glutamine, L-Valine, Thickeners (Carageenan gum, xanthan gum), sweeteners (sucralose, acesulfame potassium), salt, lactase enzyme. Phew!
The flavour I tried was the chocolate fudge. From opening the packet, the protein powder, you can smell the chocolate flavour, though it's not as prominent as some other supplements, say Bulk Powders Pure Whey. Mixing it with water in my shaker, I shook for a good 40 seconds and tasted it. The protein shake was quite thick in consistency, so I would advise adding more water than their suggested 15ml (I added 300ml) to dilute it a little. Upon inspection, quite a lot of the powder had stuck to the bottom of the shaker, so with this particular protein, it'd have benefitted from mixing using a spoon, otherwise you do not receive the full 34g of powdered protein.
The Hyper Matrix Chocolate Fudge multi-protein blend definitely tastes of chocolate, with a hint of the promised fudge, but remains subtle rather than sweet.
Being a gluten-free protein, Hyper Matrix is ideal for celiacs looking to recover and and encourage muscle growth after training.
The label also mentions the inclusion of Ajipure Amino Acids:
Ajinimoto amino acids are between 99% and 100% pure. No one else comes close. The impurities in other brands can be as much as six times higher. It all adds up to this Choose AjiPure and you're choosing safety, quality and purity.
The taste of the protein blend is nice enough, though personally I'd prefer it a bit stronger, but it's the mixability which needs improving with this protein shake.
Rating: