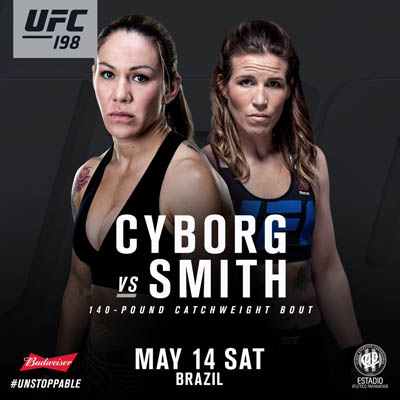 With the news that MMA fighter Cris Cyborg will be making her official UFC debut in her hometown of Curitiba, Brazil, a GoFundMe page has been set up to raise funds for a special documentary that will document her road to the UFC 198.
Blessed: Cyborg will tell the story of how Cris Cyborg got involved in a male dominated sport and the difficulties she has faced moving from Brazil to America in pursuit of her dreams. The film will present an in depth look into the fighter, her life, past, present, and future as we follow her preparation for one of the biggest fights of her career, as she attempts to drop to a new weight class for the opportunity to return home and fight at the the 45,000 seat Arena Da Baixada soccer stadium in Curitiba, Brazil.
Video editing will be done by Isaac Kesington, known as Genghis Con,who's notable martial arts documentar ies include Miami Hustle, Fists of Fortune, Tales from the Grind, The BJJ Kumite and the Phuket Dreaming series. Distribution is currently under negotiation, however content has a planed July release date.
The campaign is looking to raise $5000 and has already raised over a quarter of their target. Perks are available for certain levels of donation, all of which can be found on the GoFundMe campaign.
UFC 198 will take place on 14th May 2016 where Cris Cyborg will face Leslie Smith at a catchweight of 140lbs.
https://youtu.be/b6J_obgHbzk