When you're on the go, the last thing you want to do is have to carry a load of extra items around which is why protein bars are so useful over whey protein powder. Straight after class, you can easily get your hit of protein with these bars which are often available in a range of flavours and small enough to easily fit in your bag.
In this review, I'll be taking a look at such a bar, the Myprotein Oats & Whey Flapjack in Chocolate Chip flavour.
Myprotein Oats & Whey Flapjack – Chocolate Chip
Measuring 4.25 inches in length, 1″ width and 0.75″ depth, the chocolate chip Myprotein Oats & Whey Flapjack smells absolutely chocolatey from the minute you open the packet. The bar has a wholesome chocolate flapjack appearance and is coated in milk chocolate on the base and halfway up the sides.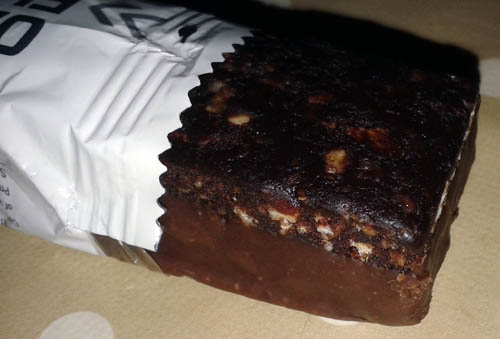 Biting into the flapjack, the bar is very soft and chewy with the chocolate flavour oozing out. The taste isn't too overpowering though, it's just the right amoung of flavour. The flapjack has a nice thick texture which is quite filling as you consume the bar. You can see the light coloured oats throughout the bar when you bite into it.
The bar tastes delicious and has extra chocolate coating than other protein bars I've tried. You will have to keep it in a cool place though as the milk chocolate coating will melt otherwise which can get quite messy.
Ingredients and Nutritional Value
The Myprotein Oats & Whey Flapjack contains Oat Blend (Malted Oats (contains Malt and Vegetable Oil), Rolled Oats), Protein Blend (Milk Protein Isolate, Whey Protein Concentrate), Humectant (Glycerine), Water, Milk Chocolate Flavoured Coating (8%), (Sweeteners: Isomalt, Sucralose; Non-Hydrogenated Palm and Palm Kernel Oil, Whey Powder, Fat Reduced Cocoa Powder, Wheat Flour, Emulsifiers: Soya Lecithin, E476; Flavouring), Sweeteners (Maltitol, Sucralose), Fat Reduced Cocoa Powder, Milk Chocolate Chips (4.5%) (Sugar, Whole Milk Powder, Skimmed Milk Powder, Emulsifiers: Soya Lecithin, Natural Vanilla), Dried Glucose Syrup and Flavouring.
This flapjack bar is not suitable for those with allegies to milk, oats, whey, malt, gluten, peanuts and soya. The bar may also contain eggs and nuts.
Each 88g Myprotein Oats & Whey Flapjack Chocolate Chip bar provides 1268kJ / 303kcal of energy, 7.9g of fat (4.1g of which are saturates), 42g of carbohydrates (5g of which are sugars), 20.9g of protein and 0.093g of salt. Each bar contains 23.75% protein.
Overall Opinion
As a chocoholic, the Chocolate Chip Myprotein Oats & Whey Flapjack manages to satisfy the chocolate cravings whilst overall a healthier alternative to the confectionary versions. With over 20g of protein it's a great snack to eat after Ju-Jitsu/CSW training to help my muscles repair and grow or to consume during the day when I'm peckish. The flapjack bar is really tasty and the generous serving means it certainly fills a gap during hunger pangs.
Myprotein Oats & Whey Flapjacks also come in Chocolate Peanut and Real Raspberry flavours and are available in boxes of 18.
Rating: