If you train in a Japanese martial art such as Karate or Ju-Jitsu, then there's a good chance that weapons are part of your curriculum. As a Ju-Jitsuka, weapons katas are part of the 1st kyu and Dan gradings so being proficient with a weapon is important. Although my personal favourite are the tonfa, nunchaku are a great weapon to train with providing that you don't mind hitting the not-so funny bone a few times whilst you learn.
A couple of years ago, we reviewed the Blitz Bruce Lee Wooden Nunchaku and today I'll be sharing my thoughts on the Blitz Sport Telescopic Nunchaku.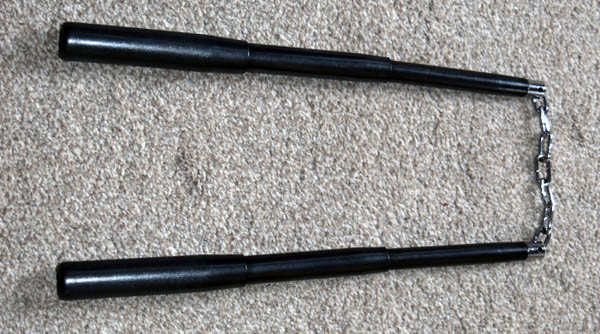 Blitz Sport Telescopic Nunchaku
When fully retracted, the Blitz Sport Telescopic Nunchaku measure 5.5 inches in length and are just shy of 1 inch in width. They come with a leatherette case that has a popper fastened opening at either end for quick release of the nunchaku from either the top or bottom of the case, whichever your preference. The case also has a belt loop on the back so you can affix the case to your person.
With a simple flick of the wrist, these pewter grey telescopic nunchaku fully extended to measure 14 inches in length. Firmly connected by a silver chain on swivel heads, the nunchaku are comprised of three sections and are hollow throughout so when you begin to spin them you instantly get a cool whistling sound from them.
Compared to the wooden variety of nunchaku, these metal nunchaku are heavier at 500g. I first learnt how to use nunchaku with the wooden variety which means it was easier to pick up these metal telescopic ones. With these being narrower, longer and heavier than the wooden ones, they do feel different to use but not in a negative way. It may take a few minutes to get used to using them after using wooden ones for a bit but once you're familiar with them, they're a pleasure to use and the whirling whistle really adds to the display and demonstration when using them.
To close the nunchaku, a simple shake whilst vertical usually coerces the nunchaku to retract itself into it's shorter form though sometimes you may need to pat the end to give it a helping hand. I've never had any issue with the nunchaku closing whilst using the nunchaku fully extended.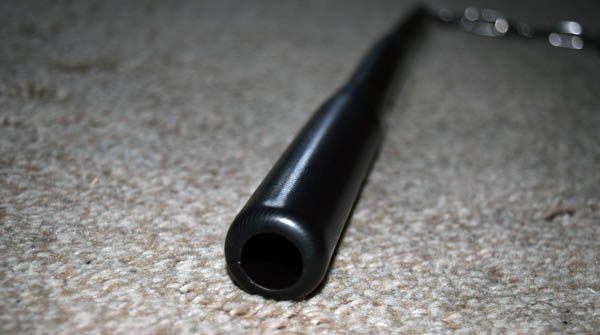 Overall Opinion
These extendable nunchaku are a fine weapon to use and the fact they can retract into a compact carrying version is one of its major advantages.
Whilst I personally prefer the weight, length and feel of the wooden versions over the telescopic ones, the Blitz Sport Telescopic Nunchaku are quite exciting and different to use and the hollow construction which causes them to whistle when in use makes them the more appealing choice for demonstration. We've also found that these nunchaku are easier to use than the wooden ones when wearing a gi, performing grabs from over the shoulder/behind the back due to the longer length of the nunchaku. Whilst I don't think these telescopic nunchaku will replace the wooden variety, I do think it's a bonus to have a pair of both types so you can choose to use whichever best fits the situation.
The handy free case which the nunchaku come with is fantastic for storing the nunchaku when not in use. The telescopic, compact nature of the nunchaku makes them an ideal choice for when there's not much space in your gym bag to store and transport the wooden ones to class.
Rating:
The Metal Telescopic Nunchaku are available from Blitz Sport.