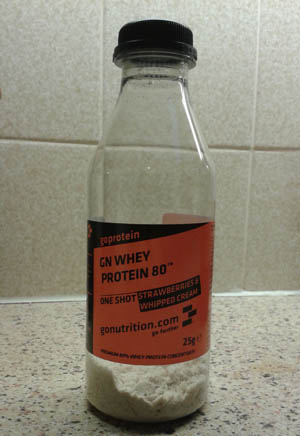 Whenever I've had a really good training session at ju-jitsu, I arrive home and drink a whey protein shake, but sometimes this isn't as ideal as it could be. If I've travelled to a different gym for a seminar, there's no way I can take a pouch of protein with me and my shaker. It's just impractical. That's where one shot bottles of whey protein come in handy.
In this review, I'll be taking a look at GoNutrition GN Whey Protein 80 One Shot in strawberries and whipped cream flavour.
So what are One Shots all about?
When preparing a whey protein shake, you need to measure out the powder, add it to your shaker bottle, fill it with water or milk and shake. That's great if you're at home, but out and about it proves to be a difficult task. One shots are plastic bottles that already contain a serving of whey protein powder, requiring you to just add water, which is pretty easy if you're at the gym or the martial arts club where water is usually available.
GoNutrition GN Whey Protein 80 One Shot Taste and Mixability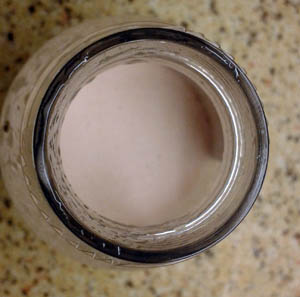 The GoNutrition GN Whey Protein 80 One Shot contains 25g of of GN Whey Protein 80 powder, in strawberries and cream flavour, at the bottom of the plastic bottle. The screw top is sealed to retain freshness of the powder and to ensure no-one has tampered with the product at all. Removing the seal strip and unscrewing the top, I instantly smell the strawberries and cream. From past experience, that's definitely a good sign!
I add water to the bottle. The label says to fill one third (150ml) of the bottle with water but I think I may have gone over that a smidgin. Nevertheless, it still looks thick enough to my taste and is light pink in colour. Screwing the cap back on and giving the bottle a shake, the protein drink is mixed. The powder mixes easily with no lumps at the bottom, just pure dissolved liquid. Now for the taste test!
Once again it smells like strawberries and cream and it tastes like it too. With just over a third of water, the texture is smooth yet medium in thickness and a strong flavour hits the tastebuds. It's refreshing and very pleasant to drink, with the flavour coming straight through. There's no weird after taste and no powdery texture to the shake, proving that the whey powder mixed well thanks to it being instantised.
Nutritional Info
The GN Whey 80 Strawberries and Whipped Cream One Shot contrains Whey Protein Concentrate (Milk), Natural Flavouring , Beetroot Red, Sweetener (Sucralose) and Instantising Agent (Soy Lecithin) (<1.5%).  For those with allergies, note that the drink contains milk and soy, however, the One Shots are suitable for vegetarians, diabetics, halal and kosher.
The One Shot protein drink contains 80% premium whey concentrate, hence the 80 in the name,. For each 25g serving (per bottle), the GoNutrition One Shot provides 18.7g of protein, 1.4g of fat (of which 1.1g are saturates), 1.7g of carbohydrates of which are sugar, and 0.09g of sodium. The energy providing is 398kJ or 95kcal per bottle.
Overall Opinion
The convenience of the One Shot makes it an ideal choice over the shaker if heading to the gym, as a morning drink or when out and about. I like how it's small enough to fit in your bag, and with it having a sealed top, I know for sure it won't leak powder everywhere in my bag. The GN One Shot also has a decent best before date of around 22 months, so you can bulk buy a few to get them at a discounted rate and they'll last. Most importantly, the flavour of the whey protein is really nice and the mixability is fantastic with no lumps.
The GoNutrition Strawberries and Whipped Cream Whey Protein 80 One Shot makes it easier to consume protein pre and post-workout to help repair and grow the muscles straight after training, in that first half hour where protein is used and works best. Being rather filling, it also works well between meals when you feel peckish.
Available in a variety of flavours, the GoNutrition Whey Protein 80 One Shot is very reasonably priced per bottle with a further discounted price should you buy 5 or 10 bottles, available direct from the GoNutrition website.