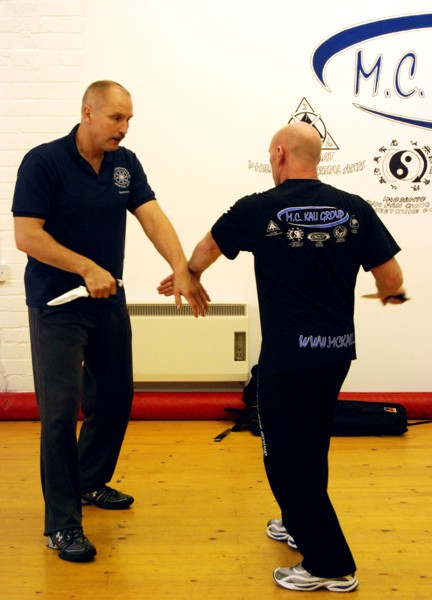 Minnesota Kali Group (MKG) head instructor Guro Rick Faye will be jetting over to the North West of the UK to teach a seminar at Mel Corrigan's Kali Group (MCKG) on Sunday 19th January 2014.
Sifu Rick Faye is an accomplished martial artist, studying and becoming a full instructor in Jun Fan/JKD and Filipino Martial Arts, as well as level 5 in Silat under Guru Dan Inosanto, a full instructor in Muay Thai under Grandmaster Chai Sirisute as well as an instructor in Wing Chun and Erik Paulson's Combat Submission Wrestlin (CSW)
The seminar will start at 12pm on Sunday 19th January 2014 and finish at 4pm. Tickets for the Rick Faye seminar cost £40 to attend and can be booked by contacting Mel Corrigan on 01942 226878 or 07729 170 143.
MC Kali Group is based near Wigan town centre, at 43a York St, Wigan, Lancashire, WN3 4BY. MCKG owner Mel Corrigan is himself an instructor under Rick Faye, Dan Inosanto and Erik Paulson, teaching Kali, Jeet-Kune-Do concepts, CSW, Panatukan and Muay Thai on a regular basis during his weekly classes at the gym. Guro Rick Faye and Sensei Erik Paulson have previously held various seminars at MCKG over the past 10 years.
For more info on the Rick Faye seminar or MCKG club, visit www.mckali.com