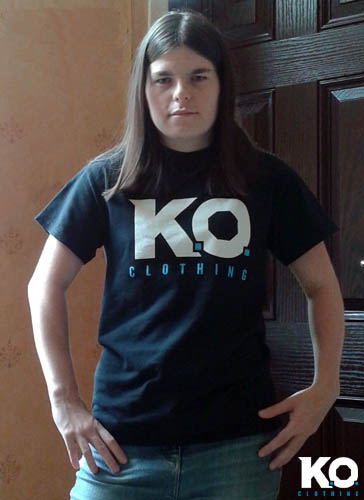 Whether you're down the gym lifting weights, doing a spot of MMA sparring, hanging at the beach or just doing your day-to-day chores, it's important to dress comfortably. Whilst I spring out the vest tops on super hot days, you can mostly find me wearing t-shirts and the many piles in my wardrobe will account for that. I like to wear t-shirts that say something about me, so a lot of them refer to my love of martial arts, motorcycling, movies and my favourite bands. A lot of great fightwear brands out there not only make technical clothing, such as rashguards, but casual clothing too. Knockout Clothing are such a company and in this review, I'll be taking a look at their K.O. Classic T-Shirt.
Design and Quality of the K.O. Classic T-Shirt
Made from 100% cotton, the K.O. Classic T-Shirt is a short sleeved, thick black t-shirt with a crew neck. The t-shirt features the Knockout Clothing, large, white and aqua blue 'K.O Clothing' logo on the front of the chest whilst the back of the t-shirt is plain. The design is printed on quite thickly so it won't crack or peel after a few washes. The t-shirt has both a brand label and washing instructions label on the inside of the neck, neither of which irritate when being worn which is always a plus.
Washing the t-shirt at 30 degrees in the washing machine and drying on the clothes maiden or washing line is the best choice to clean the garment and is how I wash most printed pieces of apparel. As always, if you iron, do so on the reverse so you don't touch the print. I've washed and dried this way several times and the t-shirt has come out looking as good as it did fresh out of the packet.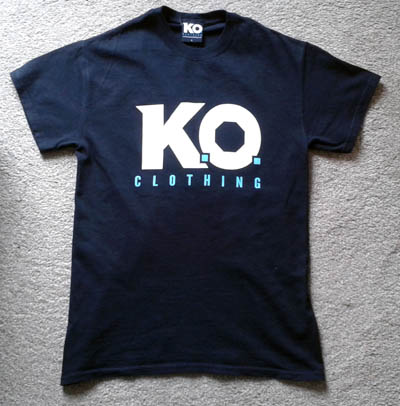 I'm never one to buy into these big brands who charge £30 for a t-shirt with their logo on. It always seems like a waste of money. What I like about this t-shirt from K.O. Clothing is that it is rather inexpensive at £12 yet it is of very high quality. Some t-shirts I've bought are thin and flimsy but this t-shirt is made from a thick, durable cotton that feels hardwearing yet is comfortable enough to wear in the sunshine. I know that I could roll no-gi wearing this in the gym or do some MMA sparring and it'd be fine. Not that I'd want to, mind. It's too nice! The simple design gives quite a high-end quality to it, like those big brands I mentioned previously. It looks the part and certainly looks more expensive that it actually is. Its simple branding with white detail on black makes it ideal to pair up with anything and it doesn't matter if I'm training or walking into town, it'll look good no matter what. It's also rather comfortable. I took it to training with me recently to wear afterwards on my way home from CSW, and despite me being hot and sweaty after the session, it kept me cool, even as I walked home in the sun. That's what I want from a t-shirt. Something that looks good, feels comfortable and does what you need it to. It sounds simple but some t-shirts can't even do that. They'll rip, have holes in after one wash or sag at the neck. This t-shirt from Knockout Clothing suffers from none of that. It's comfy and substantial with a simple, slick design that has caught the eyes of a few passers by.
Fit of the K.O. Classic T-Shirt
T-Shirts generally vary in sizes depending on the manufacturer. I'm a 5'2″ petite female so I prefer my size Small t-shirts to be on the smaller side rather than the larger, though I don't mind too much. The K.O. Classic T-Shirt from Knockout Clothing is much like their rashguard in the fact its a slightly smaller fit than your average Size Small. It shows off my curves better and the sleeve length ends midway through the bicep which I quite like. It's not fitted though, though mens small t-shirts never are on me, but it's a closer fit than some of the other mens t-shirts on the market.
Below are the measurements for the Small sized Knockout Clothing K.O. Classic T-Shirt
| Size Small | |
| --- | --- |
| Chest | 18 inches |
| Length from nape of neck (back of t-shirt) | 26 inches |
The t-shirt is a really good length, falling past the hips, and as a whole, fits my body type rather well. It's comfortable to wear with plenty of room to have unrestricted movement which is important when you're wearing the t-shirt down the gym to train or lift in.
Overall Opinion
With its simple yet striking logo design on the chest, the K.O. Classic T-Shirt is one of those t-shirts that look good whatever you're doing. It's eye-catching without being in-your-face and the hint of aqua blue spices the design up from being just black and white. The high quality tight knit construction means this t-shirt is made to last, which is what you want when purchasing garments.  Soft against the skin and comfortable to wear in the sun and shade, the K.O. Classic T-Shirt is a fantastic tee for those who love to train and represent their love of the fitness lifestyle.
K.O. Classic T-Shirt is available from KnockoutClothing.com in sizes Small to XXL
You can get 10% off your order at Knockout Clothing by using voucher code KO10PER
The code expires 31st December 2015.