It might be Summer but when you live in the United Kingdom, particularly as you head oop North, be prepared for high speed winds, hail, bitter chills and plenty of rain! Okay, I may be exaggerating a little but we're now in August and I've yet to see a proper decent week of non-stop sunshine and heat. So when I should be walking around in nothing but a strappy vest top, I'm wearing a tee with a hoodie over the top. This is great for my wardrobe though because I get to wear my hoodies for 85% of the year and I've recently been wearing the K.O. Grey Classic Hoodie from Knockout Clothing.
Design of the K.O. Grey Classic Hoodie
The grey marle K.O. Classic Hoodie is plain in appearance except for the striking black and blue K.O. Clothing logo on the chest. Emphasis is on the K.O. in black, bold capital lettering whilst the dots and Clothing text underneath are smaller and in blue capital letters. Most brands offer their own logo as the main design on some of their apparel and charge an absolute fortune for it but Knockout Clothing don't. Their clothing is very reasonably priced whilst maintaining very high quality.
The hoodie is rather thick in construction, thicker than a lot of the pull-over hoodies I've worn in the past, which is good for keeping you warm and snug. Like most hoodies out there, the K.O. Grey Classic Hoodie features a kangaroo pouch pocket on the front for storing items or for keeping your hands warm in the colder months, and a double fabric hood. The hood is quite fitted rather than huge and baggy which is so much better for staying up, covering your head, when you're caught in the rain. The hood has chunky drawcords to adjust the fit of the hood if necessary and also has grommets at the openings to help prevent the cord from riding up inside the hood whilst in the washing machine.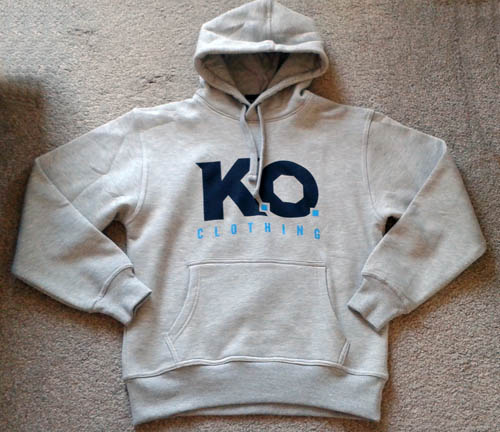 Fit of the K.O. Grey Classic Hoodie
As a small woman at 5'2″, I always wear Small when it comes to unisex or men's size garments. This hoodie is no different. On the Knockout Clothing website, it stated that Small fits up to 36″ chest, which is my usual measurement, so I went ahead with the size. Much like the other garments in their collection, their Size Small does come up smaller than many other brands but that works all the better for my petite size as clothing is usually a bit bigger than necessary.
The hoodie is quite a snug fit whilst a perfect length on the body. This particularly hoodie comes up to my hips in length, much like a t-shirt does, and actually looks as though it was made to fit my particular size and shape. I don't think a hoodie has ever fit me this well!
The hoodie features elasticated, ribbed hem and sleeve cuffs which gives a better fit on the body rather than being slack and baggy. The tight sleeve cuffs are ideal for my shorter arms and allow me to wear the hoodie without the sleeve cuffs slipping over my hands. Due to its closer fit too, the hoodie looks brilliant when paired up with a pair of jeans or tracksuit bottoms.
Here are the measurements for K.O. Classic Hoodie size Small
| Size Small | |
| --- | --- |
| Chest | 20 inches |
| Length from nape of neck (back of hoodie) | 24 inches |
The washing label on the inside of the neck advises a 40 degrees wash and it washes beautifully. Don't tumble dry it though, instead just dry on the washing line or on a clothes maiden to keep it in top condition. The label doesn't mention the fabric content but the website states that the hoodie is made from 80% cotton and 20% polyester.
Wearing the K.O. Grey Classic Hoodie
Heading to the gym isn't so bad but leaving the gym, it is important to wrap up warm so you don't catch a chill, particularly if there's no shower facilities there. One of the dojos I visit is at the top of my street so it isn't too bad but the other is in another town which is a 35 minute bus ride away so after I've got sweaty, grappling and practising positions and submissions, I need to stay warm. The K.O. Grey Classic Hoodie is perfect for this. It's a great fit, probably the snuggest fit I've ever had in a hoodie and the inner brushed lining is super soft against my skin. I need that closeness to help keep me warm and it provides me with both comfort and insulation until I can get home and shower.
As well as an important piece of apparel after training, the K.O. Grey Classic Hoodie looks pretty neat as a piece of every day streetwear. Like the K.O. Classic T-Shirt, the simple, bold K.O. Clothing logo in black and blue stands out on the grey marle jersey cotton hoodie and looks rather stylish. Grey hoodies aren't normally my first choice of colour but I must say that this blend of the marle grey and black works rather well and looks good paired up with most other apparel.
As someoneone who likes to wear hoodies every day casually anyhow, the length of the hood's drawcords is important. Long drawcords will get in the way and drop in your food when eating (yup, it's happened!) but this hoodie has nice short drawcords that don't get in the way at all. During the summer, I usually just wear a hoodie as my outer garment instead of a coat so it's great that the hood can be put up whenever the heavens decide to open.
Overall Opinion
The K.O. Classic Hoodie is a fantastic piece of apparel. It's so warm and cuddly to wear and has a simple yet striking design that it's ideal to wear day-to-day during the colder months. Due to its thickness, it's better to wear this on a colder day rather than a mild one as you might overheat but seeing as most hoodies tend to be more lightweight these days, it's great to have a thicker hoodie to wear on those chillier days, cos let's face it, we have plenty of those days in England!
The quality of the hoodie is top notch and the size Small is a brilliant fit for the smaller person. It's a solid, substantial hoodie that more than challenges the quality of the bigger and far more expensive brands. With a great design from the cut to detail, this is a hoodie worth getting your mitts on!
K.O. Classic Hoodie is available from KnockoutClothing.com in sizes Small to XXL
You can get 10% off your order at Knockout Clothing by using voucher code KO10PER
The code expires 31st December 2015.