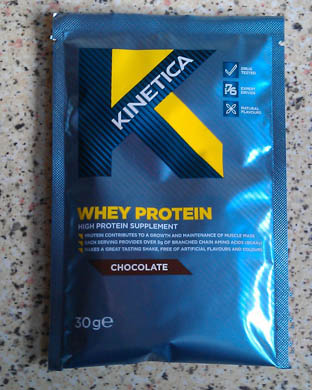 Whenever I've had a solid workout at jujitsu, I always take a hit of protein afterwards. More often than not it will be in the form of a whey protein shake. Back in the early days, I never liked chocolate protein shakes based on what I had tasted at the time. Since then, my feelings have changed having tasted various brands of delicious chocolate flavour protein shakes, but none that I have tasted match the magic of Kinetica Whey Protein.
Trying the Kinetica Whey Protein in Chocolate flavour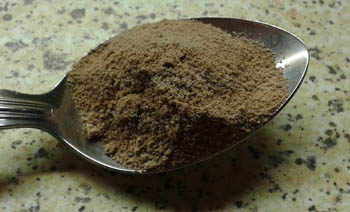 Opening the packet, the chocolate protein powder is pretty much what you expect it to look like. Chocolate brown in colour, relatively fine in texture. Dipping my nose into the sachet, I smelt that gorgeous chocolate smell but with a recognisable twist – it smelt just like a bar of chocolate.
I usually use around 300ml of water in my whey protein shakes but followed the advice on the back of the 30g sample sachet and opted for 200ml of water to mix with my powder in my shaker bottle. You can also use milk if you prefer. Mixing the protein shake was quick and easy and I was glad to see no clumps of damp protein powder at the bottom of the shaker bottle. The powder mixed incredibly well with the water, leaving a chocolate brown drink.
With 200ml of water, the Kinetica Whey Protein shake is a smooth, mid-range thick protein shake, just the right texture and density on the taste buds. Even just after one mouthful, I could taste that chocolate bar flavour which I had smelt from the powder before mixing. Now as a shake, the flavour revealed itself even more – it tastes just like a bar of Cadbury's Dairy Milk. Oh the joy!
It was a joy to consume every last drop, and even though it tasted a smidgen powdery at the end (only a tiny bit, probably could have done with another shake at end), it was a delicious treat that I'd love to try again. Tasting just like a bar of Dairy Milk means I'd be more likely to hit the protein shake instead of a real chocolate bar, particularly as it's the healthier option.
Nutritional Information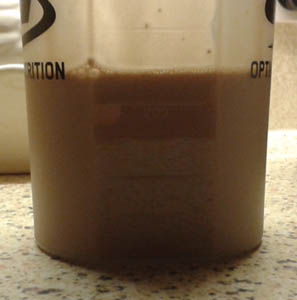 Kinetica Chocolate Whey Protein is more thank just a refreshing, protein-laden drink after training. Whilst the 30g sachet contains 22g of protein, it also contains 5.4g of branched chain amino acids, also known as BCAA's, which, along with protein, help the growth and repair of muscles. Kinetica's whey powder is ideal for those who compete, being a drug tested supplement that is also suitable for vegetarians. Those who are allergic to milk and soya (lecithin) with sweetener will want to avoid, however the supplement is suitable for coeliacs (the powder is gluten-free).
The Kinetica Whey protein contains Biotein Protein Blend (Ultra filtered whey protein concentrate, cross-flow-micro-filtered whey protein isolate, hydrolised whey protein concentrate, Emulsifier (Soya Lecithin)), Cocoa Powder, Natural Flavouring, Digestive Enzyme (Aminogen), Stabiliser (Caborxymethylcellulose), and Sweetener (Sucralose). Apart from the aforementioned protein and BCAA, the protein powder consists of 1.5g of carbohydrates (of which 0.8g are sugars), 2.6g of fat (1.8 of which are saturates), 0.8g of dietary fibre, 100mg of Aminogen, and 0.05g of sodium. All of the above constitute to 117kcal/488KJ of energy.
Overall Thoughts
Chocolate is fast becoming my protein flavour of choice and Kinetica's effort, with 73.3% protein per 30g serving, is a converter if ever there was one. This is probably my favourite version of chocolate protein that exists, purely because of the real-chocolate tasting edge it appears to have. Refreshing and smooth-tasting, Kinetica are onto a winner.
Rating:
Compare prices for Kinetica Whey Protein on our website.