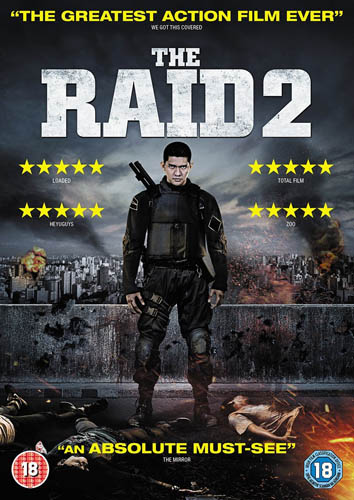 THE RAID 2 (2014)
Indonesian language with English subtitles
On Digital Download from 4th August 2014
On DVD, Blu-Ray and Steelbook from 11th August 2014

Set two hours after the events of the first film, rookie cop Rama meets up with a police chief with tape evidence of crooked cops within the police system. The police chief, who heads a small unit to crack down on the corruption within the police organisation, needs more concrete proof than the tapes can offer. With his life at risk from both the criminal gang which he just dealt with in the high rise apartment building, and the corrupt police officers, Rama is left with no choice but to go undercover and get close to gang boss Bangun's son, Uco, to uncover the depth of criminality and corruption that exists in the seedy underworld of Jakarta.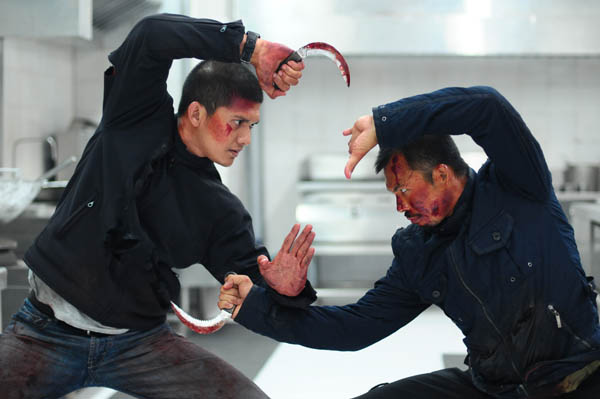 When The Raid first burst onto our screens, it presented us with something we'd never seen before. Directed by Welsh filmmaker, Gareth Evans, the film was tense with non-stop action and breathtaking martial arts in the form of silat with the added use of tonfa and knife. When sequels roll around, they never usually live up to the predecessor but this is certainly not the case with this sequel. THE RAID 2 blows the first film out of the water with explosive martial arts scenes, an intense, high-octane car chase sequence, lethal and more intricate martial arts fights than we could have imagined. Whilst The Raid was like a beast contained, THE RAID 2 is what happens when you let the beast out of its cage. A more developed plotline gives the opportunity for a better story to be told, and thus, a set up for incredible action sequences which will get the adrenaline pumping in all who watch it.
With bigger and better scenes come a collection of new faces. Uco, played by Arifin Putra, is the son of the local mob boss Bangun (Tio Pakusodewo). Uco is a young man who demands respect and yearns to take on more responsibility from his ageing father in a bid to finally take over the family business, but Bangun feels he's not ready yet and has too much fire in his belly and not enough calm which comes with experience. Rama (Iko Uwais) needs to get close to Uco in order to rise up the ranks to glean information about gang members and corrupt officers so convictions can be made. Becoming part of the pack though puts him against tough opponents such as the lethal sibling duo of Hammer Girl and Baseball Bat Man, who're exceptionally handy with their weapons of choice. Making a reappearance but this time as a different character is Yayan Ruhian, who previously played Mad Dog in the first movie. In The Raid 2, Yayan stars as Prakoso who's essentially a down and out, except he is one of Bangun's most deadly and skilled assassins. It's an awe-inspiring joy to watch the martial arts prowess of Yayan Ruhian and Iko Uwais, who both act as fight choreographers for the movie as well as performing as their characters.
With a story which takes the characters to a variety of locations in Jakarta, from prison to a warehouse building, karaoke bar and a subway train, THE RAID 2 never relents in delivering a hard-hitting story in which its fight scenes and car chases only help to develop and move the plot along.
Absolutely breathtaking with thrill-inducing fight scenes, THE RAID 2 is the must-see movie of the year.
Rating:
The region 2 DVD comes with a behind-the-scenes making of featurette and director commentary.